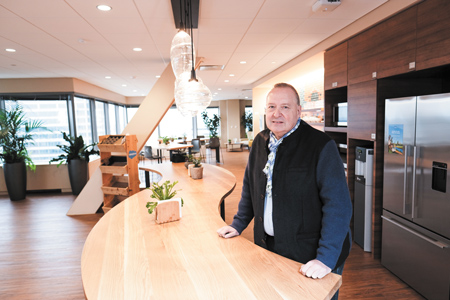 The driving force behind the explosive growth of Salesforce's Indianapolis-based Marketing Cloud unit stays out of the local spotlight but is internationally renowned in tech circles.
His name is Bob Stutz, and he's a lot of things: high school dropout, 22-year Army veteran specializing in intelligence and interrogation, self-taught coder and IT expert—as well as a lover of custom motorcycles, hiking, photography and drones.
There's one other thing.
"Bob is a legend in the software industry," said Ray Wang, CEO and principal analyst for San Francisco-based Constellation Research Inc.
"He's one of the smartest people in the customer-relationship-management-software space, and Salesforce is lucky to have him," added Wang, who has known Stutz for 20 years.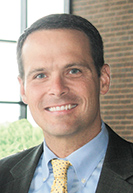 Galvin
Analysts say Salesforce Marketing Cloud is thriving under Stutz, 62, who took the helm in July 2016. The division of the San Francisco-based CRM software giant helps companies market and connect with customers through such channels as mobile, the web, email and social media.
Salesforce doesn't report revenue for that division alone, instead combining it in public filings with a smaller Boston-based unit known as the Commerce Cloud. Together, they generated $489 million in revenue in the latest quarter. That figure represented a 37 percent increase from the same quarter a year earlier and accounted for 15 percent of Salesforce's overall sales.
The Marketing Cloud and Commerce Cloud combined have grown from $505 million in 2015 revenue to a projected $1.8 billion in the fiscal year that will end in January. And industry analysts say Marketing Cloud has as much or more growth potential than any other company division.
"I'm not surprised," Wang said of the growth. "Bob is a no-nonsense guy and a hard worker who knows how to build a team. If you work for Bob, you know it's about commitment to the customer and not cutting corners."
To support its growth, Marketing Cloud is in the process of taking five more floors in the 49-story Salesforce Tower, adding 105,000 square feet. The move should be complete by the end of January.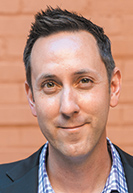 Burton
Salesforce already occupied seven floors, including deluxe common space complete with a coffee bar and hip, casual seating on the 47th floor. It also has space in the Century Building at 36 S. Pennsylvania St. and the Gibson Building at 433 N. Capitol Ave.
Most of its Indianapolis employees are in Salesforce Tower, and real estate experts told IBJ it's not inconceivable to think Salesforce someday might occupy the entire building, the state's tallest.
Stutz did not dismiss that notion.
"The beauty is, we have no shortage of ability to grow in Indianapolis," he said.
The company has 1,700 Indianapolis employees—700 more than when it established its presence here in 2013 by buying Indianapolis-based ExactTarget for $2.5 billion. Globally, Salesforce has 30,000 employees.
Indianapolis is the company's second-biggest location behind its San Francisco headquarters. And if the company fulfills its 2016 pledge to add 800 employees by 2021, local employment will surpass 2,100.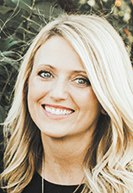 Kauffman
Stutz said Salesforce is on track to hit that mark.
Making a statement
The outlook wasn't always so bright for the Marketing Cloud unit, industry observers said.
When Stutz joined Salesforce in late 2015 and moved to Indianapolis in 2016, the division "had issues integrating recent acquisitions and scaling its product," Wang said.
"When a company brings Bob in, it's making a statement," he said. "You want to get the job done, and you want to get it done right."
Stutz himself was surprised he joined Salesforce. The company poached him from Microsoft, where he had spent four years overseeing a product that directly competed with Salesforce. Before that, he spent a combined 17 years in executive positions at Hewlett-Packard, SAP, Siebel Systems and Sybase.
"If someone had told me I'd work for [Salesforce founder and co-CEO] Marc Benioff someday, I would have said, 'No way.' I had a really good career competing against Marc," Stutz said with a laugh as he leaned back on a couch in his office on the 24th floor of Salesforce Tower.
Industry observers suspect Salesforce had grown weary of competing against the hard-charging Stutz, who still sports a high-and-tight military-style haircut despite retiring from the Army as a senior non-commissioned officer 23 years ago.
Stutz was attracted by the growth potential at Salesforce. But there was something else.
"At Salesforce, they believe in a higher purpose for tech," Stutz said. "When I talked with Marc, there was a lot of talk about using tech for the right purpose. And it's not just talk. They put that to action—and that meant a lot to me."
It's not long into any conversation with Stutz before he mentions Salesforce's 1-1-1 Philanthropic Model, established by Benioff when he founded Salesforce in 1999: 1 percent of revenue and 1 percent of software donated to not-for-profits, plus 1 percent of employee time donated to volunteer causes.
In Indianapolis, "we're pretty active in schools and building homes for Habitat for Humanity and several other not-for-profits across the board, and our people spend a lot of time volunteering in all those things."
Advocating for Indy
Stutz, who grew up in Buffalo, N.Y., acknowledges having initial doubts about moving to Indianapolis. His wife, Sandra, a native of Germany, had never heard of the place, and his initial impression wasn't great, either.
His only visit to Indianapolis had been in the 1980s, when he served on a military board at Fort Benjamin Harrison.
"It was like a two-day trip in and out, and all I could remember was, I arrived, I got to Fort Ben, and I said, 'Well, I really want to go downtown.' And … they said to me, 'Sorry, it's off limits past 8 p.m. Because back in those days, apparently downtown Indianapolis … was not exactly the safest place to be."
It didn't take long this time around for Stutz to become one of the city's biggest advocates. He and Sandra—who now works at The International Center—moved to Mass Ave, and he often touts the city vibrancy and burgeoning tech scene.
In a New York Times story last year posing the question whether the city was "cool enough for Amazon," Stutz said, "Indianapolis has done what may be the best urban redevelopment I've seen in the country."
In his interview with IBJ, Stutz doubled down on the praise.
"If you look downtown, even in the two years I've lived there, how it has changed has been pretty phenomenal," he said, emphatically waving his hands and arms.
"The urban young scene downtown is exploding, and it just continues," he said, referring to plans for the $260 million Bottleworks District development at the former Coca-Cola bottling plant along Massachusetts Avenue and the $1.4 billion Waterside project on the former GM stamping plant just west of downtown.
"All those things just keep adding to Indianapolis. It becomes a place where people want to live, especially young people. And that's really important for any city that wants to be big in the tech sector."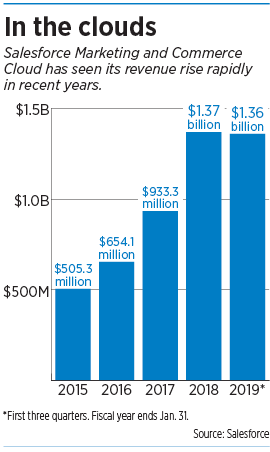 Even so, Stutz acknowledges persuading tech talent to move here can be a challenge, though he said the situation is improving.
"Now we've been very successful over the last six months or so, recruiting more and more tech talent out of the Bay area, out of Seattle," he said. "It's a good thing, but it's still not enough at the end of the day. We need more of an influx."
Stutz added: "When it comes to entry-level sort of people who have less than two years of experience, we have no problem whatsoever.
"It's more the mid-senior level, but even that's gotten much better over the last six months. We've recently had some people that moved here from some of the high-tech companies in Austin, Texas, and New York."
He said Hoosier leaders in the government and private sector are taking the right steps to address the shortage.
"There are great programs from TechPoint," he said. "The governor has put several programs in place. You have what Mitch Daniels is doing with Purdue and trying to drive that talent back here. I think the state has started to do a very good job of promoting itself outside of Indiana, and so all those things sort of help drive more people here."
Salesforce explained
Salesforce is best known for its cloud-based CRM software—which is sort of a database on steroids. It allows customers to maximize sales by storing data; monitoring leads; gaining insights through analytics; and delivering quotes, contracts and invoices.
As Salesforce grew organically and through acquisitions, it added other cloud-based offerings.
The range of services it provides has allowed it to build a dominant 20.3 percent share of the CRM market. Its nearest competitors are Oracle at 7.5 percent, SAP at 5.4 percent, Microsoft at 4.1 percent and Adobe at 3.6 percent, according to IDC Worldwide Semiannual Software Tracker.
The reason Salesforce is outpacing competitors is simple, said David Raab, a New York-based tech industry analyst who covers the company.
"They have by far the best product," said Raab, founder of Raab Associates. He added that Marketing Cloud is a growing part of the company's success and "the tool of choice for marketers.
"Digital marketing seems simple, but when you do it on a large scale, it can be very complicated and difficult, and no one does it better than Salesforce," he said. "They can make marketing very personal and very accurate. You have to have very specialized capabilities to do what [Marketing Cloud] is doing."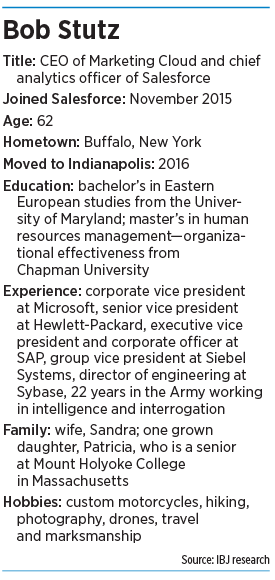 The fact that 60 percent of the market is controlled by either in-house services or small companies shows just how much potential Salesforce has for growth, analysts said.
Salesforce bought ExactTarget, a leader in email and mobile marketing, to build out its Marketing Cloud product. Today, Salesforce Marketing Cloud has grown far beyond the scope of ExactTarget, bulking up offerings in such areas as digital advertising and analytics.
Clients range from giant companies like Eli Lilly and Co. and Fidelity Investments to the Indiana Pacers, the Indianapolis Colts and the heavy-metal rock group Metallica.
"ExactTarget was doing great before the Salesforce acquisition, but Salesforce came in and poured rocket fuel on it with additional capital, increased executive expertise and a global presence," said Gary Galvin, CEO of Galvin Technologies, an Indianapolis-based tech consulting firm that specializes in implementing Salesforce software.
"Salesforce is constantly pouring money into research and development and continually revolutionizing the Marketing Cloud product."
With Stutz's help, Salesforce has made great strides in "integrating Marketing Cloud into the rest of Salesforce to solve very complex problems," said Michael Burton, CEO of Lev, a local technology consulting firm.
Burton said Stutz used his analytics background to become a "driving force in the integration of Marketing Cloud with other Salesforce clouds. That's opened up more opportunities than I thought was possible."
Finding his way
At one time, Stutz was more of a lost soul than a driving force.
He was a solid student, but found school boring. One year, he missed 100 days.
"I used to get dropped off at the front door and walked straight out the back door," Stutz said.
He dropped out at age 16.
"On my 17th birthday, I was on a bus going to Fort Dix, New Jersey," he recalled.
He eventually realized he needed—or at least wanted—a formal education.
"Got my GED while I was in the military and then took me … 10 years to get a bachelor's degree because I was deployed all the time," he said.
He later earned a master's in human resources management/organizational effectiveness from Chapman University, a private college near Los Angeles.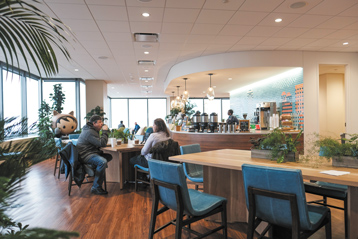 Common space on the 47th floor of Salesforce Tower includes an employee coffee bar. (IBJ photo/Eric Learned)
"I actually don't have any real high-tech training," Stutz said. "I taught myself pretty much everything."
Still, he said, his HR degree taught him "to look at organizations and people and tasks in a very different way. In all my years of building software, I have stuck to three principles: Keep it efficient, make it effective, and always build with simplicity."
Wang, the analyst with Constellation, called Stutz "the type of guy who doesn't care what everyone else is doing. He's not taking cues from his competition. He looks at the sphere from all angles. He blazes his own trail. And those that work with him very long, see that he knows where he's going—and they follow him."
Julia Kauffman, who worked as a Salesforce human resources manager for nearly five years and worked closely with Stutz for two, saw firsthand his unusual approach.
While the firm's Salesforce Tower digs would compare favorably to many five-star hotels, Stutz's semi-cramped office is more akin to a Howard Johnson's.
Kauffman said Stutz most often sits at a desk outside his office alongside rank-and-file staffers.
"He was never too busy to be a mentor," said Kauffman, who's now vice president of human resources for local venture studio High Alpha. "He's an excellent teacher, and when you sit down with him and have questions, he takes all the time to teach you."
Stutz deflects such praise.
"It's the team we have here," he said. "That's why we're successful—we have a great team."
Stutz typically dresses casually, and in conversation is mostly laid-back. But he has an intense gaze and can become suddenly animated when the topic excites him.
He talks with equal ease about the Lou Saban-era of the Buffalo Bills (he's a longtime fan of the team, though he now also roots for the Colts), the company's snack offerings and meditation rooms, and the complexities of scaling a company.
One of Stutz's biggest strengths, Kauffman said, is that "he knows his team very well, and he knows their strengths and opportunities. He knows how to get his team to work together in the best way possible. … He has a relentless focus on execution."•
Please enable JavaScript to view this content.