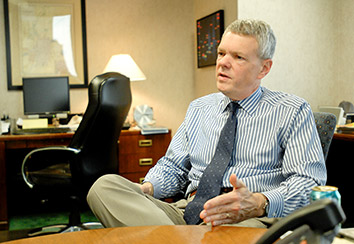 David Johnson, longtime president and CEO of BioCrossroads, an Indianapolis-based group that promotes and invests in the state's life-sciences sector, is stepping down Dec. 31 to lead its parent organization full time.
BioCrossroads announced the move Wednesday morning and said it would launch a national search for his successor.
Nora Doherty, senior vice president of BioCrossroads and managing director of Indiana Seed Funds, will serve as the organization's interim president.
Johnson will become full-time president and CEO of Central Indiana Corporate Partnership, the umbrella group of BioCrossroads and five other industry-sector and workforce initiatives in Indiana.
Johnson, 66, who has led BioCrossroads for 14 years, was named head of CICP in 2012, and has led both not-for-profit organizations in shared capacities since that time.
CICP has grown from 30 employees to more than 100 in the last five years. BioCrossroads is the oldest of CICP's six initiatives. The others are AgriNovus Indiana (agriculture), Ascend (workforce development), Conexus Indiana (manufacturing and logistics), Energy Systems Network (energy technology) and TechPoint (technology).
"It's definitely the right time for this transition, but it's still a bittersweet moment for me to  leave the professional team and life science leaders who have energized every day of my professional life for 15 years, starting in 2002 when I served as one of the community volunteers launching BioCrossroads," Johnson said in a statement.
Darren Carroll, chairman of BioCrossroads' board of directors and senior vice president at Eli Lilly and Co., credited Johnson for efforts that raised nearly $400 million for Indiana's life science sector, organizing and spearheading the Indiana Biosciences Research Institute and 16 Tech Innovation Community development, and "forging unique collaborations that have ensured the sector's statewide and national prominence."
"David Johnson's influence on Indiana's life sciences industry is beyond anything we could have hoped for at the onset of BioCrossroads," Carroll said.
Please enable JavaScript to view this content.