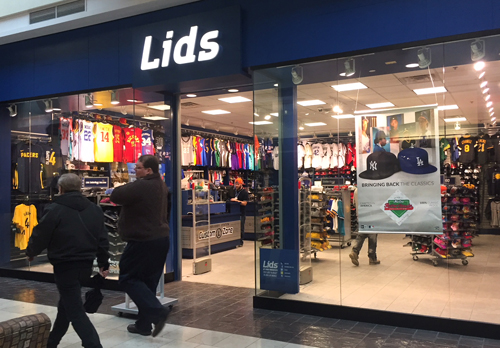 The parent company of Lids Sports Group announced Friday it has agreed to sell the struggling Zionsville-based headwear retailer for $100 million—40 percent less than it paid to buy the firm in 2004.
Genesco Inc. said Bethesda, Maryland-based Ames Watson Capital LLC—a company that also owns and operates licensed-sports apparel retailer Fanzz—will pay cash for Lids. The transaction is expected to close in early 2019.
Sports licensing and e-commerce firm Fanatics Inc. will also make a minority investment into newly formed FanzzLids as part of a partnership connected with the deal.
"We are pleased to have reached an agreement to sell the Lids Sports Group to a buyer with experience in the licensed sports industry," said Genesco CEO Robert Dennis in a statement Friday. "Under new ownership, the very talented team at Lids will continue to have the opportunity to realize the potential in this business."
Lids is the second-largest of Nashville, Tennessee-based Genesco's holdings, bringing in about a quarter of the company's total revenue, but the retailer has been struggling. Genesco reported a third quarter profit of $14.4 million, or 74 cents per share while Lids posted an operating loss of $388,000.
Genesco announced in February that it planned to sell Lids, but it took longer than the company expected to find a buyer for the firm, whose sales performance has been on the decline in recent quarters.
For the third quarter, Lids' comparable sales dropped  2 percent while Genesco's comparable sales rose 4 percent. Comparable sales, an important retail metric, includes sales from both physical stores and websites that have been in operation for more than a year.
Over three quarters this fiscal year, Genesco turned in a profit of $12 million while Lids took an operating loss of $4.6 million. 
As of Nov. 3, Lids operated 1,116 stores, including 119 Locker Room by Lids locations in Macy's department stores. The store count is down 10 percent from January 2017. Just two years ago, Lids built a $22 million headquarters in Zionsville.
Ames Watson Capital created the affiliate FanzzLids Holdings to operate Lids.
Lids has struggled in part because it hasn't had the scale or vertical integration of Fanatics, which is the No. 1 online retailer of fan gear. The company—which makes and markets merchandise for top sports leagues globally—zoomed past $2 billion in sales last year. It also scored a $1 billion investment from the Japanese conglomerate SoftBank Group that swelled its valuation to $4.5 billion.
In February, Ames Watson Capital bought Fanzz, which was founded in 1985 in Salt Lake City by a co-owner of the Utah Jazz, primarily to market that team's merchandise. It later expanded to sell licensed merchandise from the NBA, NFL, NHL, NCAA and other major sports organizations.
At the time of its sale, Fanzz had 120 stores in 22 states.
Please enable JavaScript to view this content.