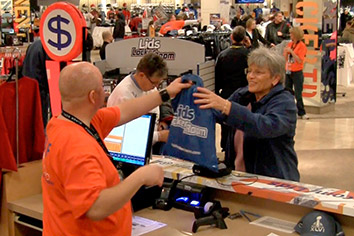 Struggling Zionsville-based retailer Lids Sports Group might soon be getting a new owner.
Late Tuesday afternoon, Nashville, Tennessee-based retail conglomerate Genesco Inc., which has owned Lids since 2004, announced it was "initiating a formal process to explore" the sale of Lids. 
"We believe Lids Sports Group is undervalued as part of Genesco and that its sale would generate capital that the company can deploy productively to further enhance shareholder value," said a written statement from James Bradford, Genesco's lead independent director and chairman of a special committee formed to explore the Lids sale.
"The Lids Sports Group has been an important part of Genesco, and we still see significant potential for the business," Bradford said. "We believe, however, that it is in the best long-term interests of the company and its shareholders to focus on building upon our core footwear platform, in which the businesses share common strategic characteristics and where we believe we can generate greater operating efficiencies and synergies."
The move comes less than a month after an activist investor group stepped forward to urge Genesco to sell off some of its holdings.
In a Jan. 16 filing with the U.S. Securities and Exchange Commission, California-based Legion Partners Asset Management LLC and Connecticut-based 4010 Capital LLC said they believed Genesco's shares were undervalued, and they urged the company "to monetize certain segments of its business and return a significant amount of capital to shareholders."
Legion Partners and 4010 Capital together own more than a million shares of Genesco, or just over 5 percent, of the company's total shares. 
That same day Genesco responded with its own filing, saying that the company had "engaged in various discussions with representatives of Legion Partners" and that it "values constructive input and suggestions that may advance its goal of enhancing shareholder value."
But until Tuesday's announcement, neither party had specified which parts of the company might be considered for a sale.
Genesco did not respond Tuesday to IBJ's calls and emails seeking further details, and Legion Partners declined to publicly comment on the matter.
Genesco said its board has established a committee of four independent directors to oversee the sale process and has retained the firm P.J. Solomon as an adviser in the matter. 
"There is no assurance that the process to explore the sale of the Lids Sports Group business will result in any transaction or the adoption of any other strategic alternative," Genesco said in the statement.
Genesco's holdings include five divisions. The two largest are Lids, which sells hats, accessories and sports team apparel; and Journeys Group, which sells footwear. Other divisions include Europe-based footwear retailer Schuh Group; Johnston & Murphy Group, which primarily sells men's footwear and apparel; and a licensing division that sells Dockers and G.H. Bass footwear.
Lids has been by far the weakest performer recently, posting sharp year-to-year sales drops that contrast with strong sales growth at Journeys. On numerous occasions, Genesco CEO Robert Dennis has compared Lids' and Journeys' performance as "a tale of two businesses" because of the sharp contrast between them.
In its most recent full quarter, ended Oct. 28, Lids reported a 9.5 percent drop in sales, to $181.3 million. Earnings tumbled 76 percent, to $2 million. Lids had 1,177 stores at the end of the quarter, down from 1,240 at the beginning of the year.
In a mid-fourth-quarter financial update last month covering the important holiday season, Genesco said comparable sales for Lids had declined 14 percent for the quarter-to-date period ending Jan. 4, compared with the same period a year earlier. 
In comparison, Journeys posted a 10 percent comparable sales increase. 
Comparable sales include both same-store sales and online sales. For Genesco as a whole, comparable sales increased 1 percent for the quarter-to-date period.
Genesco plans to release its fourth-quarter and full-year results March 15.
The news of Lids' possible sale came just after the stock market's close Tuesday. Shares of the company closed at $34.40 Tuesday, down 40 cents from Monday's close, but rose to $35.05 in after-hours trading. Shares of the company have traded from $20.90 to $60 per share over the past year.
Lids, which got its start as Hat World in 1995, had been Genesco's most successful subsidiary for years after it was acquired in 2004. But it has struggled in recent years after stumbling in a bid to diversify into apparel and equipment for youth and school sports teams.
Lids announced in 2014 that it would move is headquarters from Indianapolis to Zionsville as part of a $22 million expansion that would create 758 jobs by 2025. It opened the 150,000-square-foot office at Creekside Corporate Park in late 2016.
As of June 2017, Lids had more than 9,000 employees, including 471 at its Zionsville headquarters.
 
Please enable JavaScript to view this content.