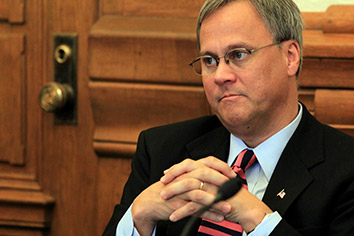 State Sen. Jim Merritt, R-Indianapolis, has left his role as Marion County Republican Party chairman as he mulls a run for mayor against incumbent Democrat Joe Hogsett.
Merritt announced Friday afternoon he would leave his role as party chairman immediately, saying he wanted to "pass the baton of leadership to those who will take our county party to the next level." Hogsett announced he was running for reelection in Dec. 5. 
He said in the statement that he wanted the party chairman to be led by someone "who is able to be laser-focused on winning back both the City-County Council and the mayor's office."
Merritt told IBJ on Monday morning that he wanted to be fair to other candidates who are considering running for mayor as he himself ponders a run.
"I wanted to allow someone else to be the referee," Merritt said. "I thought that was the best route to take."
Merritt said he plans to make his decision on a mayoral campaign by the first of the year.
"This is such a life decision, different from the state senate, that I'm going to take my time and make phone calls and see if the support is there, see if the funding is there, the whole thing," Merritt said. "Just all the underpinnings of a campaign."
Merritt also said he wanted to make sure the race was "winnable." Merritt is coming off a 2018 state senate reelection campaign, which he said was "a very tight win."
Merritt defeated challenger Derek Camp by a two-point margin, 51 percent to 49 percent.
If Merritt decides to run for mayor, he plans to remain a member of the Indiana Legislature during the campaign, he said. If elected mayor, he would give up his seat.
Meanwhile, the Marion County GOP is without a permanent leader at a critical time.
Bryce Carpenter, who served as vice chair under Merritt, has taken the role as interim county GOP chairman.
Carpenter will call a caucus meeting within 30 days to select a new chairman. GOP party members will get 10 days' notice about the meeting and will vote for the new chairman.
Please enable JavaScript to view this content.