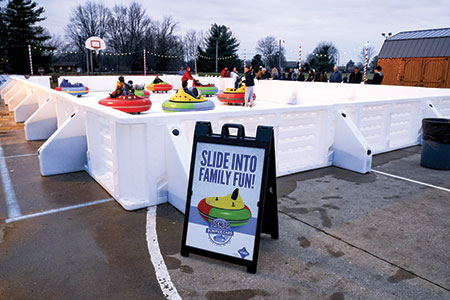 Nothing says, "Yay, winter!" quite like piling on the layers and heading outside for some cold-weather fun.
But there's more to enjoying the season than building snowmen, throwing snowballs and sledding down your go-to neighborhood hill.
Several temporary outdoor ice rinks return to central Indiana this winter, and communities are making changes to improve the experience for visitors.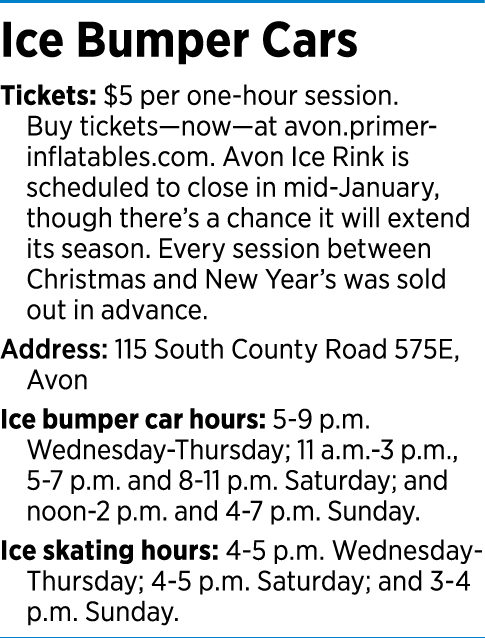 Noblesville increased the size of the Federal Hill Commons Ice Plaza 30 percent to accommodate more skaters at daily sessions through Jan. 7, for example. Carmel added online ticketing for its Ice at Center Green, open Thursday to Sunday through March 10.
The Avon Ice Rink went a different direction, introducing another use for its synthetic surface: ice bumper cars.
Premier Entertainment Group's mobile attraction—said to be the first of its kind—puts eight motorized bumper cars on the faux ice for a series of five-minute thrill rides.
Adventure seekers pay $5 for an hour of rink time and take turns at the helm of the one-seat wheeled wonders. An inflatable plastic "bumper" surrounding the plastic cockpit keeps the constant collisions from causing damage.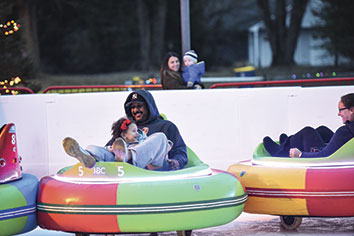 Drivers "control" their cars by using a pair of levers that determine the direction they move around the rink, which sits on a basketball court at Avon's Washington Township Park.
The soundtrack for this ride? Laughter, both from the lucky eight living out their rush-hour fantasies and the spectators waiting their turn in the driver's seat.
Coming soon: snow tubing
Mother Nature did not cooperate with plans to start Koteewi Run Seasonal Slopes' sophomore snow-tubing season in mid-December, but the forecast at press time suggested it could open as soon as Jan. 4.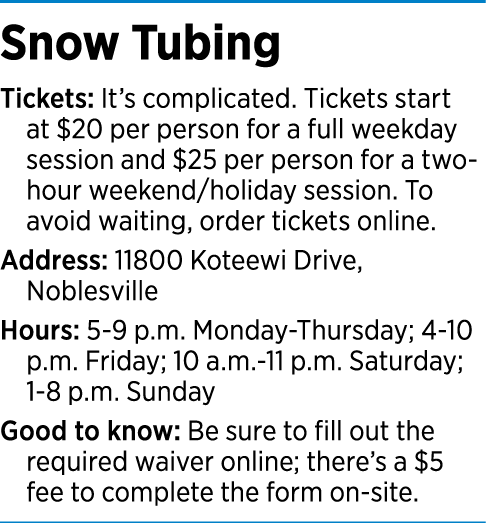 Located at Hamilton County's Strawtown Koteewi Park east of Cicero, Koteewi Run is a specialized snow-tubing hill—think groomed 700-foot lanes of manmade snow and a tow line that hauls tubes and their passengers to the summit to start their rides.
The county parks department built the hill with dirt removed while creating a 20-acre lake about a quarter-mile away; water from the lake is pumped to so-called Snow Guns, creating a mist that freezes to become snow. Once the Sno Cat groomer has packed down 3-4 inches of the white stuff and carves out the tubing lanes, the fun can begin.
December's combination of rain and above-freezing temperatures conspired to delay opening day, but Koteewi Run will stay open as long as the weather holds—possibly into March.•
Please enable JavaScript to view this content.