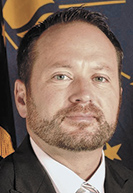 The town manager in Whitestown will resign his post on Jan. 27 to take a position in the private sector.
Dax Norton became the town manager in 2013 and led the Boone County community through a period of significant growth and booming economic development.
"This decision to begin a new a career in the private sector was not easy. It was certainly bittersweet," Norton wrote in a resignation letter he submitted to the Whitestown Town Council.
"I will miss this staff family, and I will always cherish our collective accomplishments," he said.
He was not specific about his new position.
Whitestown has been the fastest growing municipality in Indiana seven years in a row (2018 numbers aren't available yet). It grew 7.6 percent in 2017, to 8,179.
Meanwhile, retail and industrial development has exploded in the community. The massive Anson development along Interstate 65 was approved in 2004 but didn't really take off until about 2014. It includes fast food, retail and other commercial tenants in the south, residential development in the middle and industrial to the north.
"These past five years have been the best five years of my professional career," he wrote. "I have thoroughly enjoyed working for the residents of Whitestown on behalf of the Whitestown Town Council, and I will miss the day to day interaction with the people that have made this job so very rewarding.
Norton had experience with Boone County even before taking the Whitestown job. He served four years as the executive director of the Boone County Economic Development Corp. and then eight months as director of the Indiana Office of Community and Rural Affairs. He left the latter position abruptly and later told the Zionsville Times Sentinel that he did so to take the Whitestown position.
Please enable JavaScript to view this content.