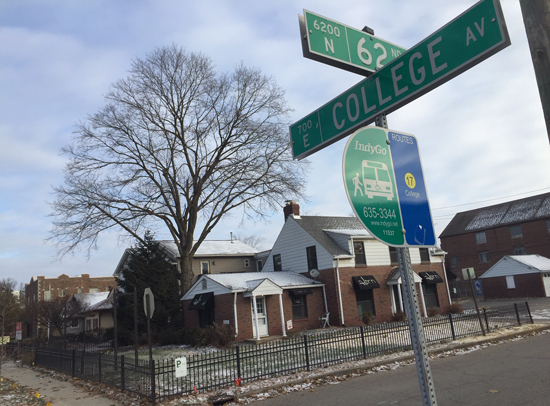 A developer that hoped to build a massive five-story, 164-apartment complex in the heart of Broad Ripple has called off plans for the project.
Indianapolis-based Buckingham Cos. notified the Department of Metropolitan Development in a letter last week that it was formally withdrawing its rezoning, variance and vacation petitions for the project.
Plans for the controversial development called for using eight parcels of land totaling nearly 1.5 acres between College and Carrollton avenues along a short segment of East 62nd Street—south of the Vogue nightclub, Lincolnshire Apartments and the Broad Ripple Village Retail Center.
The half-block development would have required land with frontage on College or Carrolton avenues currently used by a dentist's office, a hair salon and the New Paradigm Christian Church, among others.
The original plan for the development, filed by Buckingham unit BR Housing Partners LLC in October, called for 146 apartment units. It was met with concern by Broad Ripple residents over potential parking issues, the height of the proposed buildings and the future of the alley running north-south through the property.
The revised plan, which was presented to the Broad Ripple Village Association in late November, increased the density of the project but added setbacks, slightly lowered the height of the tallest buildings to about 70 feet and changed to the layout for parking lots and alley. The plan calls for 177 parking spots.
The BRVA tabled a vote on the project until Jan. 22 to allow for further modifications following a spirited discussion related to the impact the complex could have on the neighborhood. A BRVA vote on the project wouldn't be legally binding, but the group's decisions have historically served as a healthy indication of how city development officials will cast their votes.
Tim Ochs of Ice Miller LLP, attorney for Buckingham, declined to say why Buckingham called off the project.
"My client decided to withdraw," he said. "There is not much else to say, to be quite honest with you."
Ochs said he didn't have any comment on whether Buckingham would revamp the project and refile new plans.
Buckingham has been one of the Indianapolis-area's most active apartment developers in recent years. Its major projects include CityWay and Gramercy.
Please enable JavaScript to view this content.