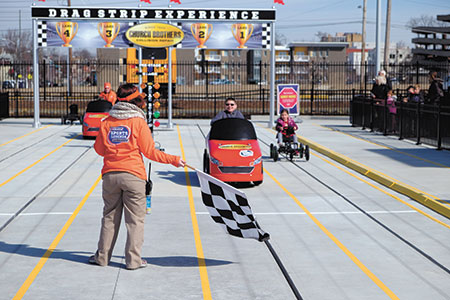 Several lawmakers, lobbyists and state officials are pushing for sweeping changes to the state's tourism bureau, a move aimed at increasing the amount of money available for marketing and attracting more visitors.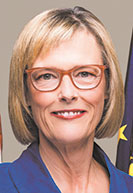 Crouch
Rep. Mike Karickhoff, R-Kokomo, filed a bill Jan. 7 that would refashion the Indiana Office of Tourism Development, which is under Lt. Gov. Suzanne Crouch and funded from the state budget, into a quasi-governmental corporation that could receive a mix of state allocations and funding from tourism-related businesses and organizations.
Under the legislation, the new Indiana Destination Development Corp. would be overseen by an 11-member board, including the lieutenant governor, the heads of several state agencies, and five gubernatorial appointees.
Karickhoff said the idea behind House Bill 1115 is to open dialogue between the agency and the industries it serves. He said it also could create opportunities for the group to raise funds beyond what's appropriated by the General Assembly.
"The industries themselves feel like they're going to have greater input into how these resources are used," he said. "I think you'll see [tourism entities] maximize on that and do things that tie regions together."
Indiana's tourism office is among the lowest-funded in the country. The General Assembly allocated $4.2 million a year for the Indiana Office of Tourism Development in the current biennium, a fraction of what many peer states receive. Still, that was a big bump from the prior two-year period, when lawmakers allocated only $1.2 million,
A study released by the Lieutenant Governor's Office last month reported that visitors to Indiana increased from 78.9 million in 2016 to 79.9 million in 2017, and that tourism spending rose in that period from $12.2 billion to $12.7 billion.
Karickhoff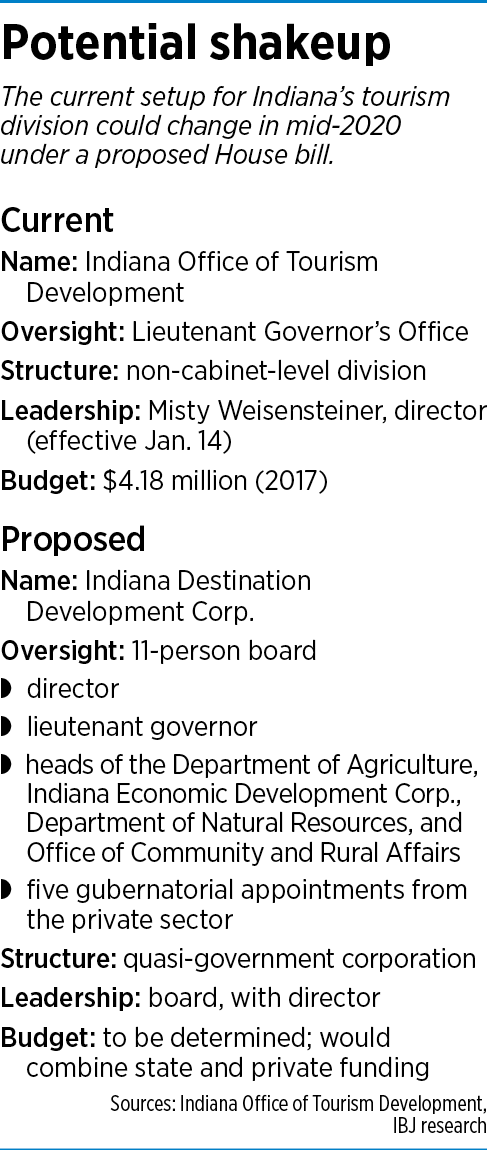 But a report commissioned by the General Assembly in 2017 and released three months ago noted that Indiana is capturing a shrinking slice of the national tourism pie. The report—prepared by a five-member Indiana Tourism Task Force with assistance from the real estate firm JLL—recommended creation of the quasi-governmental body proposed in Karickhoff's bill.
The task force "realized that the weakest point within Indiana's tourism effectiveness was its 1.17 percent share of the overall U.S. travel market, a figure that was declining by roughly 1 percent per year," the report said. "The opportunity to increase overall travel to Indiana while also influencing more Indiana residents to vacation at home would drive new market share growth."
One area in which the task force went further than the bill was the funding. The task force recommended exploring "models that are built on funding levels exponentially higher than current amounts," potentially tapping into such revenue sources as gambling receipts, rental car taxes and a ticket tax.
Crouch told IBJ that any discussion of new funding sources wouldn't occur until after the quasi-governmental agency was formed, which, under the bill, would be July 2020.
"The more resources we have available to put into tourism, the more we're going to be able to promote and support it," Crouch said. "As we look at tying tourism and economic development closer together, if the case is made that it's a good investment of state dollars, then that will be a case that we'll try to make to the Indiana General Assembly."
A new approach
In addition to supporting the bill herself, Crouch said it has the backing of Gov. Eric Holcomb.
The measure takes a page from the administration of former Gov. Mitch Daniels, who, in 2005, created the quasi-governmental Indiana Economic Development Corp. to replace the Indiana Department of Commerce. IEDC has about $1.5 million in its coffers from donations, much of that from utilities. It also receives state funding, including $6.7 million this fiscal year.
Karickhoff said while his bill doesn't explicitly state that the Indiana Destination Development Corp. is required to receive outside funding, it presents "an opportunity for private dollars to be commingled and then tracked in a public way."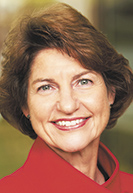 Bedel
The Indiana Tourism Task Force was made up of IEDC President Elaine Bedel, Schahet Hotels CEO Jeffrey Brown, Visit Indy Vice President Matthew Carter, IUPUI tourism professor Amanda Cecil and Pete Ashelman, CEO of Joseph Decuis, a farm-to-fork restaurant near Fort Wayne.
The group's 53-page report said that, while "there is no single overt or monstrous problem that needs to be solved within the state's tourism framework," creation of the Indiana Destination Development Corp. would better position the state to seize opportunities.
Restructuring the agency is not just about securing more money for marketing, the report noted. It's also about bolstering efforts to add amenities and attractions to Indiana communities that help make them more attractive places to live in and visit.
"Destinations are not able to depend solely on marketing as a driver of future business growth," the report noted in one section. In another, it said, "Quality of place is fully dependent on differentiation and compelling uniqueness. Creating distinctive destinations helps to grow travel spending while also engendering resident pride. These dynamic destinations become more impactful for their residents as quality of life and sense of place grows."
Bedel said lawmakers and the Lieutenant Governor's Office favor creating a quasi-governmental organization over approaches taken in other states, such as contracting with an independent organization or remaining a direct branch of state government, the most common structure.
"I think they felt the quasi-agency structure would be helpful in that there are some things you can do in fundraising and working with other organizations around the state that you can't do when you're strictly a state agency," she said. "I think they saw that flexibility in … operations, as well as funding, as attractive."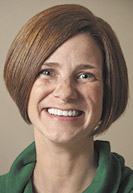 Lambert
One of several states that has adopted a quasi-governmental structure is Virginia. Its Virginia Tourism Corp. operates as a separate entity but still has oversight from the state's secretary of commerce and trade.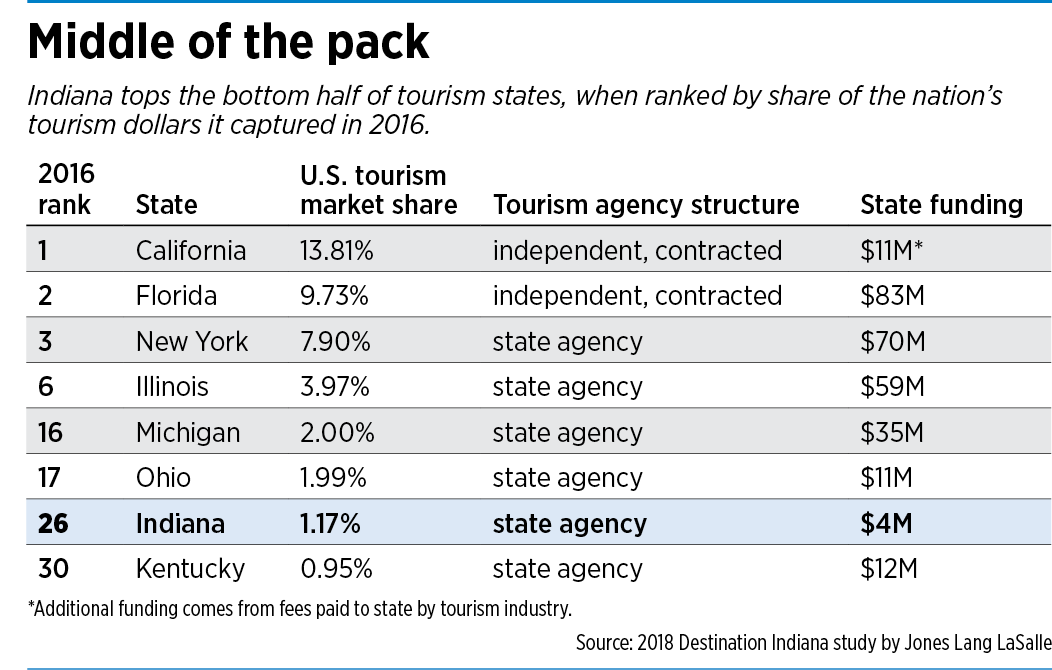 Industry support
Carrie Lambert, executive director of the Indiana Tourism Association, which represents county and other tourism bureaus throughout the state, said her group welcomes Indiana's going in that direction.
"We certainly are for anything that would elevate tourism in the state and give us broader opportunities to partner and work together," she said. "We have done that wonderfully over the past several years, but we also understand that changes like this could open the door for even more growth for tourism."
The bill would allow for the organization to offer grants that are matched at least 50 percent by the groups receiving them.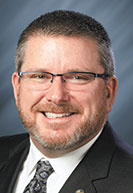 Mahan
Karickhoff authored the bill with assistance from the Lieutenant Governor's Office, as well as Reps. Edward Clere, R-New Albany; Steve Bartels, R-Eckerty; and Justin Moed, D-Indianapolis. It's been assigned to the Governing and Regulatory Reform Committee, which is chaired by Rep. Kevin Mahan, R-Hartford City.
Indiana's 1.17 percent of U.S. tourism business in 2016 put it at the top of the lower half of states' market share. One historical obstacle to moving up the list has been low funding for the state's tourism office.
Even the stepped-up funding to $4.2 million the department has received the past two years badly lags many peer states. For example, 2016 tourism funding was $59 million in Illinois, $35 million in Michigan, $12 million in Kentucky, and $11 million in Ohio.
All the surrounding states also have at least 10 full-time tourism staffers, while Indiana has just five, including its new director, former Orange County economic-development official Misty Weisensteiner, who starts Jan. 14. The Lieutenant Governor's Office said she would not be available for an interview for this story.
Weisensteiner replaces Mark Newman, who held the post for six years before stepping down in August to lead Indiana Public Broadcasting Stations.
The only Great Lakes state that has budget and staff numbers lower than Indiana's is Pennsylvania, which has two full-time employees and a budget of about $2 million.
It is not yet clear how much funding Indiana's tourism arm will receive in the next two-year budget, expected to be released in the coming weeks.•
Please enable JavaScript to view this content.