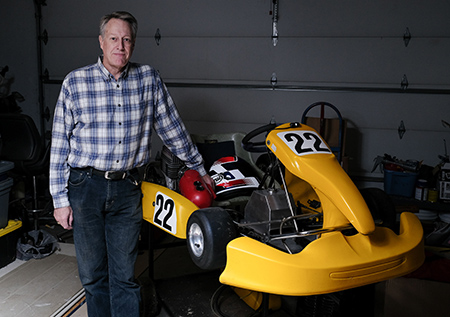 Mike Alley is a lot of things. The one thing he is not: a bank executive.
The 61-year-old owner and CEO of Resilient Strategies—who is also executive director of the Business Resiliency Alliance of Indiana—is a distant cousin of the local banking executive by the same name, and he laughs at the confusion over the occasional mistaken identity.
This Mike Alley is an Indianapolis-based emergency preparedness and cybersecurity expert. He's also had a career as a semi-pro go-kart racer and a motorsports photographer and plays no less than four musical instruments.
To clear up any confusion, what is your relationship to bank executive Mike Alley?
Our grandfathers' grandfather is one and the same. I was born in Evansville and he was born in Vincennes. All of our Alley family roots are in southern Indiana. The Alley farm is what is now Santa Claus, Indiana. That's where I learned to hunt and shoot. We have both done work for Health and Hospital [Corporation] of Marion County. We used to get each other's mail for that. I get great service at a couple banks when I walk in. He did work for the Department of Revenue and I've worked for Homeland Security. When Gov. Pence was here, he knew both of us by first name.
You're also an auto racing enthusiast; tell me about how you got into that.
I was a gearhead who got a yard kart, and then got a faster one, then a faster one—that you could actually put on the racetrack. I was going over 100 miles an hour out at Raceway Park before I had my driver's license. I won my first state championship when I was 17. Going to Purdue, I participated in the Purdue Grand Prix, both as a participant and also assistant race chairman my junior year. When I got out of college, I won three more local championships in the state in the 1980s, then started racing at the district level, where I won races and started racing on the national level.
What was your best finish in the Purdue Grand Prix?
Third. My sophomore year, I was running second when my kart column broke off; that was my race. My senior year, I went into the pits in first place, and it didn't go smoothly; I came out of the pits in seventh, and finished third. That's racing.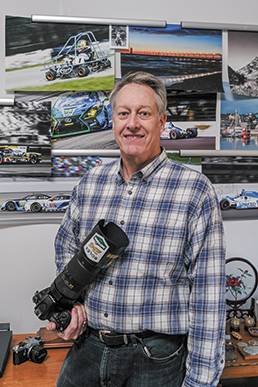 How did you get involved in motorsports photography?
I was part of the racing community and I was shooting some photography. Someone asked me to shoot some karting photos. The next thing I know, I had the opportunity to shoot for the Associated Press at the Brickyard 400 and Indianapolis 500. This year—in January—I'm shooting for the Associated Press at the 24 Hours of Daytona.
And you're a musician.
I play the cello and low brass—I play the trombone, euphonium and very occasionally the tuba. I started playing the cello when I was 8. A couple years later, when we moved to Carmel, they didn't have a symphony, so I moved to the trombone. I wanted more challenge, so I moved over to the French horn. Then I moved over to the tuba, and I didn't like where I was positioned within the voices of the orchestra, so I moved over to euphonium—which is like a very small tuba. At Carmel, I was in everything they had to offer … I went to college and just stopped playing. Then 20 years later, I picked it up as my kids started playing and have been involved in some amazing productions through my church.•
Please enable JavaScript to view this content.