A South Carolina-based firm has purchased a seven-building office park on the city's northwest side for $6.5 million.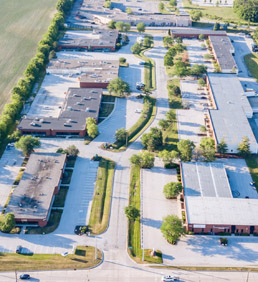 Commerce Park Plaza is home to a variety of firms in healthcare, construction and professional services. (Image courtesy of Colliers International)
Ziff Properties, which owns dozens of shopping centers, storage facilities and office buildings across the United States—mostly in the South—last month bought Commerce Park Plaza, a 133,750-square-foot amalgamation of low-rise buildings on West 86th Street, between Georgetown and Michigan roads.
Commerce Park Plaza was previously owned by Orton Development, a California-based developer. It was purchased by the company in November 2013 for a little more than $3.6 million, according to Marion County assessor's records. The park is home to several local firms, including Pentera and FME Studios, and tenants in health care, construction and professional services.
The acquisition is the second purchase for Ziff in the Indianapolis area. The company also owns Pyramid Place, a 52,000-square-foot strip mall about a half-mile east of Commerce Park Plaza.
That property has several big-name restaurant tenants, including Five Guys, Firehouse Subs and Noodles and Co. It was also home to Georgia Reese's north-side location until it closed in 2016.
Christian Chamblee, Ziff Properties' director of acquisitions, said in a media statement the company is "excited" for the future of Commerce Park, noting it meets "the core principles of our investment strategy." He said that strategy includes the purchase of small-bay warehouses in markets exhibiting strong job growth.
Ziff did not share plans for the office park, including whether any updates are expected for the 35-year-old property.
As a whole, Ziff owns 49 properties worth about $300 million in 11 states, including 27 retail properties; 17 self-storage properties; and five office and flexible-use spaces.
Orton was represented in the sale by Colliers International's Indianapolis office, with Alex Cantu and Alex Davenport taking the lead.
Please enable JavaScript to view this content.