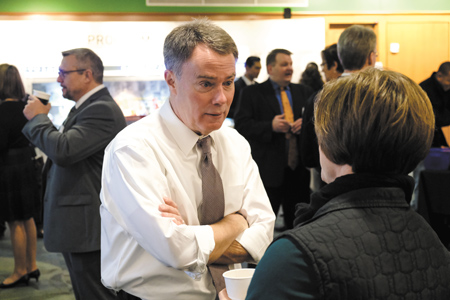 Indianapolis Mayor Joe Hogsett has a big campaign war chest and huge fundraising advantage going into the 2019 municipal election cycle and the Democrat's battle to win a second term.
Hogsett, through his campaign committee, announced his 2018 fundraising total on Wednesday afternoon. He reported raising about $1.1 million to go with $2.1 million he had banked prior to 2018. That made for a total of $3.2 million in cash-on-hand.
Meanwhile, Hogsett's Republican challengers are kicking off their campaigns in the four-figure range.
Republican Jim Merritt joked with reporters at his campaign launch last week that he had $10,000 in his campaign account going into the race. 
"The Duct Tape Campaign is very efficient," he told IBJ on Wednesday, referring to his campaign launch event at the space formerly occupied by Happy Brewing Co., where his staff had taped a sign to the wall behind him.
He filed for his candidacy on Jan. 10. On Wednesday, he told IBJ that he was starting his campaign with $8,500 in the bank.
Another Republican mayoral candidate, former City-County Councilman Jose Evans, reported raising $1,400 last year, ending 2018 with a total cash on hand of $1,788.
Wednesday at noon was the filing deadline for campaign finance reports.
Hogsett's fundraising advantage seems to be a trend. In the 2015 election cycle, he handily defeated Republican candidate Chuck Brewer, both in votes and in cash raised.
Two weeks before the 2015 election, IBJ reported that Hogsett had raised nearly $4 million in the race, whereas Brewer raised about $890,000.
Please enable JavaScript to view this content.