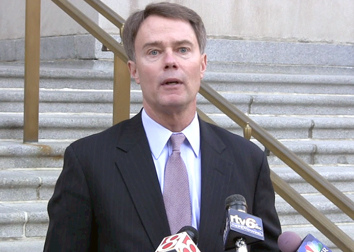 A little more than two weeks before Election Day, Democrat Joe Hogsett bolstered his already-sizable cash advantage in the Indianapolis mayoral race against Republican Chuck Brewer, reporting donations of more than $1.56 million in his most recent campaign finance filing.
Brewer's contributions during the same period paled in comparison. He raised $219,310 from April to Oct. 9. The reports were due to the Marion County Election Board at noon Friday.

Joe Hogsett
Hogsett ended the period with $862,042 in cash on hand. Brewer now has $192,101 in cash on hand.
"We are humbled by the excitement that continues to build behind Joe's vision for a safer, stronger Indianapolis," said campaign manager Thomas Cook in a written statement. "With this strong show of support, we feel confident that our campaign is well-positioned to continue communicating our positive message over these last two weeks."
The news isn't a surprise: Hogsett, a former U.S. attorney and Secretary of State, has enjoyed front-runner status in the race thus far, much to the chagrin of some Republicans, who hoped for a more competitive race in the election to succeed Mayor Greg Ballard, who is not running for reelection.
Hogsett, who has raised $3.96 million since launching his campaign last August, has enjoyed the benefit of having more name recognition from his many years in public office. Brewer is a small businessman and Marine Reservist who moved to Indianapolis about five years ago. He owns two downtown fast-casual restaurants.

Chuck Brewer
Brewer has raised about $890,000 since the start of his campaign.
"Like Mayor Ballard in 2007, I entered this race as an underdog, but there's plenty of time on the clock," Brewer said in a written statement. "We always said we would raise enough money to be in front of voters when they are paying attention and that's exactly what we're doing now. Voters can choose between a Marine entrepreneur and local business owner or my opponent who is a career politician. I don't believe a politics as usual approach is right for our city. For Indianapolis to reach its potential, it needs a fresh, innovative, business-minded approach."
Hogsett's significant cash advantage has allowed him to spend much more money on TV and radio commercials, granting him a much larger audience than Brewer.
In September alone, Hogsett spent more than $400,000 on TV ads with local stations. His campaign started advertising on TV in early June, and has released nearly 10 ads.
By contrast, Brewer's first ad ran in late September. His campaign adviser told the IBJ that Brewer's team is focused on conserving money to reach people closer to Election Day.
Hogsett amassed about 1,200 direct and in-kind donations from a diverse group, from large corporations to politicians, law firms, unions and developers. Among them were $10,000 donations from Colts owner Jim Irsay, Eli Lilly and Co. CEO John Lechliter and former mayor Bart Peterson.
One of Hogsett's largest donations, $50,000, came from a group called Indy Project Venture LLC.
Hogsett also reported two recent donations after the period ended: a $1,000 from Rep. Dan Forestal, D-Indianapolis, and $5,000 from Democratic U.S. Sen. Joe Donnelly's political action committee.
Brewer amassed only about 250 direct and in-kind donors. Notable contributions came from John Mutz at $2,000, the Committee to Reelect House Speaker Brian Bosma at $2,500 and the Indianapolis Motor Speedway at $2,000.
He also reported a few new large donations: $5,000 from P.E. McAllister and $1,000 each from groups including iLab LLC, Elements Financial Federal Credit Union and Citizens for Excellence.
Both campaigns will spend the last weeks until Election Day on a last-minute media blitz. Hogsett's campaign has so far spent $2.42 million with its Denver-based media production company Bluewest Media.
Brewer has spent about $323,000 with Indianapolis-based Nichols Media LLC.
The election is Nov. 3. 
Please enable JavaScript to view this content.