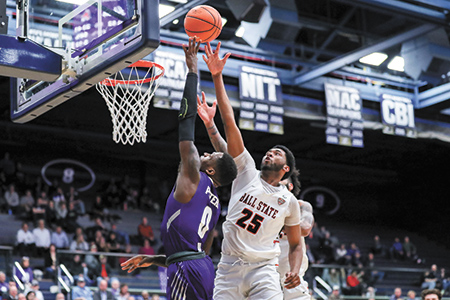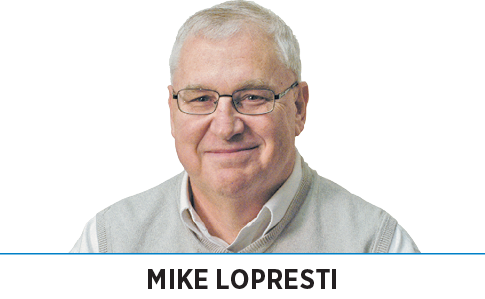 Here comes something called Basketball Day Indiana, and did you realize there are two of them this year?
Maybe you've heard of the official annual one on Jan. 19, when Fox Sports Indiana splatters the day with games, from high schoolers in Bankers Life Fieldhouse, to Indiana at Purdue, to St. John's at Butler, to the Pacers. Fourteen hours of hoops—requiring 160 bodies on the TV side to produce—celebrating a state's love affair with an orange ball. They got the idea from hockey day in Minnesota, and if the weather forecasts are right, Indiana might remind you a lot of Minnesota on Saturday.
But it's the second, unofficial, one we've come to discuss: Jan. 22, Miami at Ball State, Basketball Day Indiana II.
Maybe you're wondering why.
Introducing your Miami at Ohio RedHawks. There's Jalen Adaway from Logansport, and Isaiah Coleman-Lands from Indianapolis (by way of La Lumiere near LaPorte), and Darrian Ringo from Brownsburg and Myja White from Brebeuf and Mekhi Lairy from Evansville Bosse. He got more Mr. Basketball votes than anyone in Indiana not named Romeo Langford.
They're led by Nike Sibande, who, besides being a strong candidate for the all-name team in college basketball, was Mid-American Conference freshman of the year. He played for the 3A state champions at Crispus Attucks, and if you're curious how he got to Oxford, Ohio, the coach who recruited him is named Jack Owens, and he went to Attucks, too. It was a middle school then, but hey, once a Tiger, always a Tiger.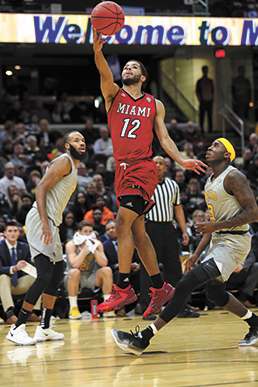 Miami RedHawks guard Darrian Ringo, of Brownsburg, shoots during a game last March against the Toledo Rockets. (AP photo)
Beginning to get the idea about the heavy Indiana flavor? And we haven't even gotten to Ball State yet. The Cardinals have seven Indiana All-Stars on the roster. By Ball State's count, that's the most for any school in the state since Purdue 20 years ago. And they all grew up within 80 miles of campus.
Between the two teams, seven Indiana native sons should start on Jan. 22. When Indiana plays Purdue on Jan. 19, there will probably be only four. Here we have two schools trying to put a dent in the MAC with Hoosier power.
"I've done a little research on our program," Ball State Coach James Whitford began, and then he started dispensing numbers. How the Cardinals brought in 19 Indiana All-Stars from 1985-2003 and produced five NCAA berths and four NIT trips. And then how they signed only two All-Stars the next 10 years and had but two winning seasons and no tournaments.
"It just didn't seem that complicated for me to say, 'OK, this program and this school, we have to make sure we're involved with the best players in the state,'" he said. "It was a conscious decision to recruit—the way we would frame it—from the inside out."
So Whitford put out the All-Star net, and they began rolling in. Kokomo's Tayler Persons, Pike's Tahjai Teague, Brownsburg's K.J. Walton and Carroll's Kyle Mallers are in the starting lineup. Persons and Walton transferred in. Persons, in particular, was a happy second chance for Whitford.
"We didn't offer him out of high school. He went to Northern Kentucky and we scrimmaged Northern Kentucky that year. He got 20 on us in a closed scrimmage. I figured out very early on that we blew it."
Now Persons is the leading scorer of this neighborhood bunch.
"It's really valuable because we're all kind of familiar with each other, just by growing up and playing against each other," Persons said. "It makes the relationship a little bit closer. They're the same kind of people, Midwest kids."
Down the road 70 miles in Oxford, Ohio, Owens had the same idea when he got the Miami coaching job in the spring of 2017. He knew the state, as a Purdue assistant. And something else.
"My middle school? Attucks and Oscar Robertson. My high school? Washington and George McGinnis and Steve Downing and Billy Keller. Great tradition, but as a young guy, I really didn't know that until George McGinnis started coming around our practice."
Owens knows something else about Indiana high school basketball. The heartbreak part.
There was that famous regional in 1995, when Washington—a school closing at the end of the year—played Ben Davis in a packed Hinkle Fieldhouse. Two ignore-the-pressure free throws gave Washington a one-point lead with seven seconds left—two Owens free throws. But then Ahmed Bellamy's 3-pointer won it for Ben Davis. The Giants ended up state champions; the Continentals were forever crushed.
"It was very difficult to get over. Not only you lost the game, your school was closing," Owens said. "I hit two free throws to go up one, Ahmed Bellamy hits a three to win the game. It's not like I don't remember."
If he needs reminding, he has Damon Frierson on his staff. Frierson, the 1995 Mr. Basketball—from Ben Davis.
So, Owens took all that local knowledge and started going after Indiana players, understanding how soundly they have been coached. "You know what you're getting with them. You're talking about players who have been around winning. You're coming across a lot of players who understand."
His first three recruits: Adaway, Coleman-Lands and Sibande.
"When I got here, I had a few close friends that said, 'You've got to take a look at this guy,'" Owens said of Sibande. "His high school coach sent film over right away, and the rest is history."
Sibande, who said he'll always remember watching Oscar Robertson leap out of his seat in joy when Attucks won the 2017 state championship game in the final seconds, barely knew where Miami was when he made his visit. "I'd never been in Ohio before," he said. "No, wait. Once, I played AAU."
But he found a comfortable fit with fellow-Indy west-sider Owens.
"I've got somebody who can understand where I come from and knows how it is to be from the 'hood," he said. "It's amazing to have somebody that can relate to you and understand you're not trying to go back to that type of lifestyle. I want to expand and go other places in life."
By the way, about that name Nike. His father's idea. "Everybody was looking at him like, 'That's kind of weird,'" Sibande said. "He liked the brand."
Owens hopes his Indiana haul can end a forlorn streak at Miami. The RedHawks, who came into this week 8-8, haven't had a winning season in 10 years.
"It starts there," he said. "We also have the big picture in mind. I truly believe the group in that locker room, this is going to be the group that gets it done."
Whitford hopes the long All-Star line keeps coming so Ball State—10-6 when the week began—can get back to the glory days. "What really helps us is when guys you're recruiting have a good experience. They help you because they know each other. I think you can build up goodwill. You can lose goodwill, too."
So, it'll be one pack of Hoosiers against another in Muncie. "Makes it fun, makes it more of a rivalry," Persons said. "Definitely bragging rights. A lot of Indiana players on that team," Sibande said.
Basketball Night Indiana. What other name for it?•
__________
Lopresti is a lifelong resident of Richmond and a graduate of Ball State University. He was a columnist for USA Today and Gannett newspapers for 31 years; he covered 34 Final Fours, 30 Super Bowls, 32 World Series and 16 Olympics. His column appears weekly. He can be reached at mjl5853@aol.com.
Please enable JavaScript to view this content.