4 Walls Etc.
Type of business: real estate marketing, digital floor plans and site plans
Address: 3836 Wyandotte Trail
Phone: 506-1802
E-mail: [email protected]
Web site: www.4wallsetc.com
Founded: May
Owner: Samantha Jameson
Owner's background: Jameson, 26, grew up in Indianapolis and studied studio art and art history at Indiana University. After graduating in 2005, she took a position as an intern with WXIN-TV Channel 59. After the internship, she worked as an advertising coordinator for Carpenter Realtors in Indianapolis before being recruited by a friend to join Indianapolis-based Tikijian Associates, a real estate brokerage specializing in multi-unit housing. Jameson spent 3-1/2 years with the company, helping market properties, meeting with property managers, and developing fliers. She also did free-lance work on the side.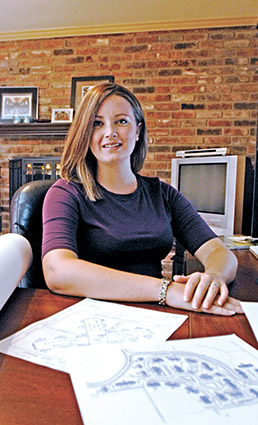 Samantha Jameson believes being independent in a slumping economy is a plus. (IBJ Photo/Robin Jerstad)
Why started business: Starting a family and wanting more flexibility, Jameson left Tikijian in May to launch 4 Walls Etc. "It's really great," she said. "I've worked as a free-lancer since I got out of school, so it was an easy transition for me."
Jameson already had a home office and felt more comfortable working for herself as she prepares to have her first child.
Competitive advantage: Being able to do Web work, graphic design and photo editing, Jameson said she believes she has much to offer clients looking to upgrade marketing materials.
"What's been great is that working real estate since I've been out of school, every time somebody asks, 'Can you do this?' I say, 'Yeah, I can do that,'" Jameson said.
In a slumping economy, Jameson said as a free-lancer she gives companies the temporary help that serves their interests best.
"There aren't a lot of people that are going out right now to hire a full-time designer," she said. "For marketing purposes, it's great to have me on the side. You don't have to worry about keeping an office space and giving me benefits."
Startup cost: $2,000
Funding source: self
Projected first-year revenue: $25,000
Potential problem and contingency plan: With dual responsibilities as business owner and mother, Jameson will have to balance two full-time jobs. Jameson said she still has to figure out how much she can expand her business.
Once she knows the amount of business she can sustain, Jameson said, she will have a better idea of how aggressively she wants to advertise. Continuing to market the company is a key component to acquiring clients, Jameson said.
First-year goal: Jameson hopes to continue to improve her product and resemble the kind of work being done by larger marketing firms.
Five-year vision: Staying a one-person shop and working from home will be essential for Jameson. "I'm not looking to start a booming business," she said. "I want to be comfortable and I want to be my own boss, which is great. That's my goal—to stay small and successful."
Please enable JavaScript to view this content.