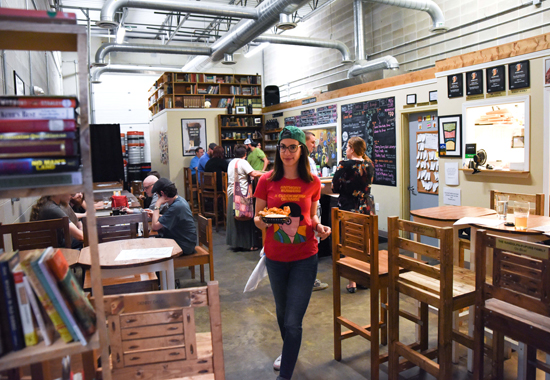 Indianapolis-based Books & Brews, the fast-growing used bookstore and brewpub chain, has acquired local craft brewery Flat12 Bierwerks, the companies announced Monday.
Financial terms of the deal were not disclosed.
Books & Brews said it plans to continue operating the acquired business under the Flat12 name.
Flat12 has been brewing all of Books & Brews' flagship and seasonal beers for the past two years. The two businesses formed a partnership when Books & Brews launched a strategy in early 2017 to open franchised and company-owned locations throughout Indiana.
Books & Brews has opened seven stores since then, bringing its total to nine. Its first out-of-state location is set to open later this year, in Oxford, Ohio.
"I have the upmost respective for the crew at Flat12," Books & Brews Founder and CEO Jason Wuerfel said in written comments. "When we were looking to expand our concept, they jumped on board to partner with us without hesitation. To be able to join forces with them and have a staff and facility of their caliber in the Books & Brews family is a dream come true. I'm extremely excited for the future."
Flat12 was founded in 2012 at 414 Dorman St. in the Holy Cross neighborhood east of downtown. It also has a taproom in Jeffersonville in southern Indiana. The brewery derived its name from a 12-cylinder racing engine developed in Indianapolis in the early 1900s and later used in European sports cars.
The company found some early success and notoriety with its Hinchtown Hammer Down beer, which was named for popular IndyCar Series driver James Hinchcliffe. But the company ran into financial trouble in 2016.
Its original shareholders lost their entire investment and a new investor recapitalized the business, court records show.
Andy Teed purchased the local Flat12 location in 2016, and Sean O'Conner, one of three cofounders, took over the Jeffersonville taproom.
Flat12 renovated its Indianapolis location last year by removing the bar from its former growler room and converting that room into an all-ages space for its in-house restaurant, Hoagies & Hops.
Hoagie & Hops owner Kristina Mazza plans to move the restaurant to the Butler area in early February, according to the eatery's website.
Books & Brews said has several promotions in mind for the new business that it will announce at Flat12's eighth anniversary party on Saturday. The chain also will begin offering Flat12 growler fills at several locations.
Books & Brews has five Indianapolis stores and additional locations in Zionsville, Brownsburg, Carmel and Muncie.
Please enable JavaScript to view this content.