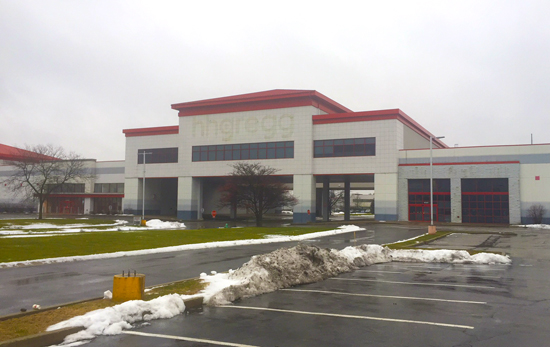 Napleton Automotive Group is no longer considering the former HHGregg Inc. headquarters and retail site on East 96th Street as home for one of its Kia dealerships, a company representative told IBJ on Wednesday morning—at least for now.
The Chicago-based, national car dealer recently won city approval for a zoning change to the 28.6 acre property at 4151 N. 96th St., with plans to move its nearby Kia dealership on Keystone Avenue into a 67,000-square-foot section of the 482,000-square-foot multi-use building on the property.
Rick Brandstatter, director of real estate for Napleton, said the group no longer has the property under contract and is looking at other options. IBJ reported on Tuesday that the dealership group had received the zoning approval and that its plans also apparently included other retail uses.
Brandstatter said the move away from the HHGregg site came after the company "ran into some other problems" with the property during a due diligence period, although he declined to elaborate.
The company is interested in finding a new location for the Kia of Carmel showroom that sits southeast of the Keystone Avenue and 96th Street intersection. The building is controlled by Butler Auto Group, which paved the way for Napleton's entrance into the Indianapolis market by selling most of its area dealerships to the Chicago company.
"We would like to relocate it, so we are pursuing those options," he said. "Sooner is always better than later, but we need to make the proper decision. We're researching the market and looking for sites."
The former Butler dealerships now carry the Napleton name, including Napleton Kia of Carmel on Keystone Avenue and Napleton Kia of Fishers, northwest of the intersection of State Road 37 and East 135th Street..
Brandstatter said the HHGregg building might still be considered, but not "under the same terms and conditions we had it under contract for." The company might still have interest in acquiring the street-facing portion of the building—about 130,000 square feet—but not the whole building, Brandstatter said.
He indicated a dealership could still go there if property owner Throgmartin Investments were to redevelop the building and approached the group with an offer to put the dealership there.
Napleton's decision to step back comes a week after the group's zoning request was approved by the Indianapolis Metropolitan Development Commission during a Jan. 16 meeting. A variance request for signage was pushed to the MDC's Feb. 14 Hearing Examiner meeting.
The HHGregg building is owned by Throgmartin 96th Street LLC, which is affiliated with the Throgmartin family that founded HHGregg in 1955 and ran it for decades.
David Mennel, chief operating officer for parent firm Throgmartin Investments, told IBJ on Tuesday that Napleton has expressed interest in the property, which is being marketed for sale. However, Napleton had not yet moved forward on a contract to purchase the property.
Please enable JavaScript to view this content.