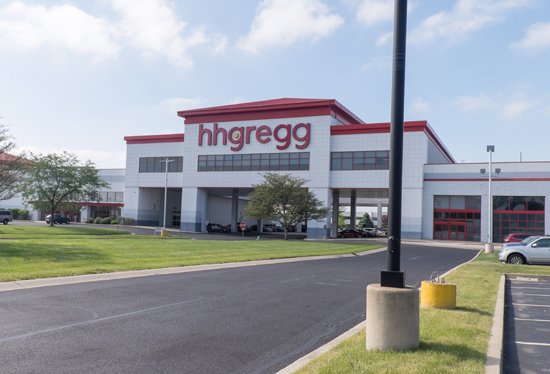 Editor's note: On Jan. 23, a representative of Napleton Automotive Group told IBJ that it was no longer interested in the HHGregg site and would not pursue the project. See story here.
Napleton Automotive Group, the Chicago-based dealership with a national footprint, is planning to open a Kia dealership in the mammoth former headquarters of now-defunct retailer HHGregg Inc. on East 96th Street, which could be revived for several other uses as well.
Napleton Acquisitions LLC on Jan. 10 received preliminary approval from Indianapolis' Metropolitan Development Commission Hearing Examiner for a zoning change to the 28.6-acre property at 4151 E. 96th St. that would allow for automobile, motorcycle and light vehicle sales, as well as vehicle rental and repair.
A site plan filed with the city on Nov. 18 shows a proposed remodeling by Napleton Automotive Group for the 482,000-square-foot building on the site. About 67,000 square feet of the building on its north-east side facing 96th Street would be set aside for a "new KIA car dealership," according to the site plan. Another 40,000 square feet on the northwest side could be "retail, possible used-car dealership."
The remainder of the space facing 96th Street would be earmarked for conference rooms and office space, with the rest of the huge, square-shaped footprint dedicated to warehouse and industrial uses.
Napleton Automotive Group entered the Indianapolis-area market with a big splash in late 2017, buying most of Butler Automotive Group's area dealerships. The former Butler dealerships now carry the Napleton name, including a Napleton Kia of Carmel with an 11,000-square-foot building located southeast of the intersection of East 96th Street and Keystone Avenue, and Napleton Kia of Fishers northwest of the intersection of State Road 37 and East 135th Street..
It was not clear whether either of those dealerships would move to the former HHGregg site under Napleton's plan, although relocating the Keystone dealership to the much larger space would seem likely. Phone calls to Napleton Automotive Group requesting comment were not returned by Tuesday morning.
The HHGregg building is owned by Throgmartin 96th Street LLC, which is affiliated with the Throgmartin family that founded HHGregg in 1955 and ran it for decades. David Mennel, chief operating officer for parent firm Throgmartin Investments, told IBJ that Napleton has expressed interest in the property, which is being marketed for sale. However, Napleton has not yet moved forward on a contract to purchase the property.
The property, which also was used for retail sales and warehousing as well as HHGregg's offices, was assessed for $16.8 million in 2018, according to the Marion County Assessors Office.
The building's hollow-square footprint is unique, with an inner open-air parking lot that can accommodate more than 200 cars. That parking, as well as parking fronting 96th Street, is expected to remain.
With approval of the rezoning request by the Metropolitan Development Commission earlier this month, the request will be heard for final approval by the City-County Council on Jan. 28.
However, a second request might stall Napleton's plans. The auto group also is seeking approval of three freestanding signs for the auto dealership—two of which already exist and were used by HHGregg.
That request—for which Department of Metropolitan Development staff has recommend denial—was spun off from the original filing before being continued to the Feb. 14 meeting of the Hearing Examiner.
Please enable JavaScript to view this content.