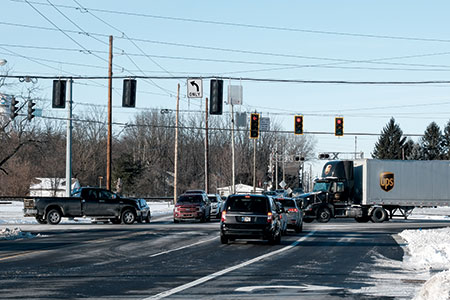 Mount Comfort Road in Hancock County could see an additional half billion dollars in economic impact by 2030 if community leaders capitalize on a plan to develop the busy corridor.
A report recently presented to community leaders said the north/south road, which runs for 15 miles through the county, could have a market value of $850 million to $900 million by 2030 if leaders are active in encouraging a mixture of housing types, mixed-use developments and new industry.
That's a value at least $500 million higher than if they do nothing, allowing the growth to occur naturally.
The potential market value comes from findings by the Urban Land Institute, a Washington, D.C.-based land-use think tank. The experts spent a week in Hancock County interviewing stakeholders and studying the corridor's strengths and weaknesses, then presented their findings and recommendations on Jan. 18.
For more than two years, Hancock County leaders have been eyeing the Mount Comfort corridor for the next wave of development. The road—also known as County Road 600W—runs through McCordsville, the state's third-fastest-growing community, and Mount Comfort, Cumberland and New Palestine. It intersects with Interstate 70, plus U.S. 36, U.S. 40 and U.S. 52.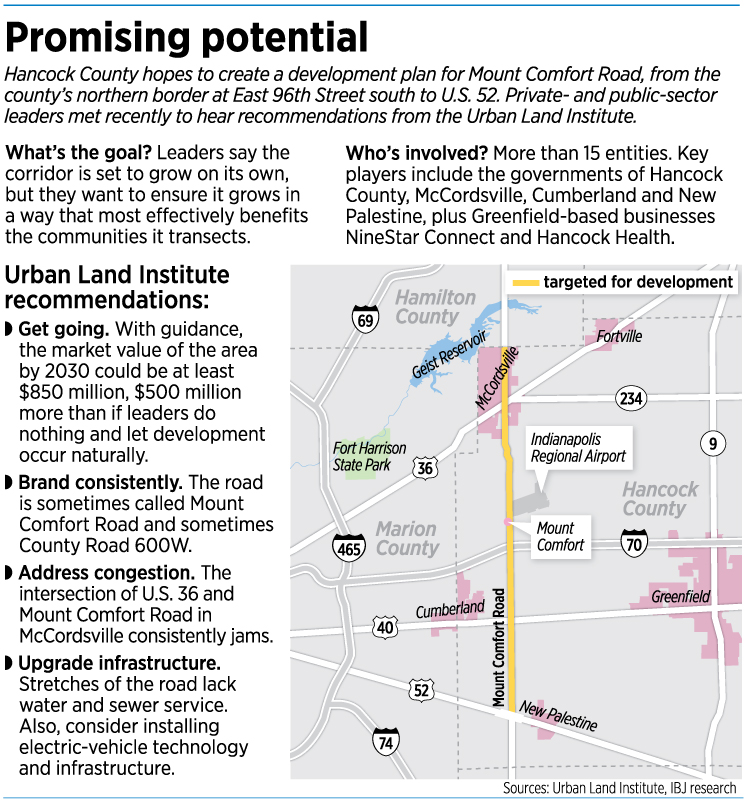 The county's communities have now paid for two separate studies of the corridor (the first cost $25,000; the second, $135,000) by experts who have given them insight on how potential developments could benefit the county of 75,000 people.
The first study, presented in 2016, was a fiscal analysis of development potential for certain building scenarios. That study evaluated several options with varying investments to determine the tax revenue and jobs they could generate. The scenarios included a 100,000-square-foot, high-tech manufacturing facility and a neighborhood of 200 2,400-square-foot homes.
The new Urban Land Institute study provided recommendations on land uses, collaboration, and ways to handle economic development constraints and opportunities.
The Urban Land Institute, established in 1936, is a widely quoted source of information on land planning, growth and development. It has more than 40,000 members worldwide who represent the entire spectrum of land use and development disciplines. Several times a year, groups of those members descend on communities as an advisory panel to provide advice and recommendations.
The experts who spent a week in Hancock County agreed: Development along the Mount Comfort corridor today might be sparse, but the road holds plenty of potential.
What's at stake?
Ed McMahon, a senior resident fellow at Urban Land Institute, told community leaders and stakeholders there's no question the corridor will grow.
Considering current growth and land-use patterns, Urban Land Institute's study found that, even if community leaders are passive in developing the corridor, it will be home by 2030 to 1,500 new single-family, detached homes and 200 attached residential units; 295,000 square feet of new retail space; 100,000 square feet of new office space; and 2.5 million square feet of new industrial space.
Through intentional planning, that development could increase significantly, said panelist Geoff Koski, a real estate market analyst and consultant.
Rather than 1,500 new single-family homes, there could be 3,000. And retail space could grow to 450,000 square feet. Industrial square footage could reach 4 million.
All that could mean $900 million of potential market value, as opposed to $350 million.
Randy Sorrell, the Hancock Economic Development Council's new executive director, told IBJ the entire county has seen investment nearly equal to that over the past six years or so.
"I don't think that is far-fetched," he said. "That investment is going to happen here or somewhere else. We can capture it."
Tonya Galbraith, McCordsville's town manager, told IBJ community leaders previously didn't have a frame of reference for the corridor's potential value. But she said $900 million is a good motivator.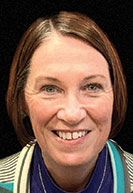 Galbraith
The Urban Land Institute experts recommended four planning districts—with clear guidelines for developers—that would accommodate a broad range of development types: McCordsville District, Airport/Industrial District, Cumberland Opportunity District and North of New Palestine District. While the four districts share some land uses, one that is prevalent in all of them is agriculture. The districts call for agritourism, agriculture retail and ag tech.
◗ The McCordsville District encompasses the U.S. 36 and Mount Comfort Road intersection, where the experts recommend the town encourage mixed-use developments on all four corners. The developments should include retail, office, small-scale multifamily and restaurants. The district should also encourage park space, such as pocket parks and other gathering spaces.
◗ The Airport/Industrial District includes the Indianapolis Regional Airport. The experts recommended that it be reserved for industrial and warehouse uses to allow walkable communities in the other districts. That district should also include restaurant and retail to provide amenities to workplaces, and flex and accelerator space, which the corridor is currently lacking.
◗ The Cumberland Opportunity District stretches from I-70 to U.S. 40. The experts recommended mixed-use development there and two specialty areas: a Hancock Health node for the health care provider that has purchased land along the corridor for future health care facilities, and the Cumberland Gateway node, where a small hotel with a conference room could be built—something currently lacking in the corridor.
◗ The North of New Palestine District runs from U.S. 40 to U.S. 52 and calls for mixed-use development and standard residential.
Addressing challenges
The study also said the communities need to remove some impediments to development before the corridor can reach its full potential.
The biggest challenge is one county leaders have been aware of for years: The intersection of Mount Comfort Road and U.S. 36 (also known as State Road 67 in some sections) in McCordsville gets congested frequently, particularly at rush hour.
Panelist Dave Stebbins, a city regional planner in Buffalo, New York, told community stakeholders gathered for the presentation that the corridor probably won't reach even the status-quo development of $350 million until something is done to improve traffic flow at that intersection, which is hampered by a railroad crossing just north of U.S. 36.
Hancock County officials have unsuccessfully applied for various federal grants to help pay for realigning the road to free up traffic on Mount Comfort Road.
Galbraith said improving the intersection is critical for McCordsville—which has a population of nearly 7,000—to continue its steady growth.
Finding a fix would "bring a lot of promise to McCordsville," she said.
Other impediments that need to be addressed are a gap in water and sewer service in some places along the road and lack of electric-vehicle infrastructure, which will become increasingly important as electric vehicles become more popular, said panelist Jose Bodipo Memba, director of sustainable communities at the Sacramento Municipal Utility District. Each of the four planning districts recommended by Urban Land Institute include areas for electric-vehicle charging stations.
Community stakeholders also need to brand the corridor consistently—and soon—the experts said. In some places, the road is called Mount Comfort Road, while in others, it's referred to as County Road 600W. Urban Land Institute experts have recommended the communities adopt Mount Comfort Road as the name for the entire corridor, and install branding signage that alerts visitors they're in the Mount Comfort Road Corridor. The experts pointed to a new monument at the Greenfield exit of I-70, where city leaders erected lighted pillars along both sides of State Road 9 to establish a gateway into the city.
The experts also recommended the group establish an entity whose sole focus is to develop the corridor. They complimented the region's coordination and cooperation but said a single organization laser-focused on development would be more efficient.
Galbraith said Urban Land Institute's report validated much of what community leaders already saw as challenges and opportunities, but it also provided them with many new considerations.
The next step for stakeholders is to debrief and start discussing ways to implement some of the recommendations, she said. A full report should be available in 60 days, but the experts have already given the group an implementation timeline that starts with forming a public-private entity or economic improvement district to help fund improvements. The second step is to address the Mount Comfort Road and U.S. 36 intersection. Beyond that, the group needs to create a vision and a strategy, then inventory properties along the corridor.
"Now that we have this info, what do we do with it?" Galbraith said. "We need to keep our group together, expand it and focus on the recommendations quickly."•
Please enable JavaScript to view this content.