As efforts intensify to make the state and its capital city a U.S. tech hub, so does the debate about whether the region is doing enough to fertilize home-grown companies or is instead selling off the harvest before it's ripe enough to yield a bumper crop.
More than 40 Indiana tech companies have been acquired in the last decade, 30 of those in the past five years, according to TechPoint, a state tech advocacy group.
In 2018 alone, 16 Hoosier tech companies sold—13 of which were in the Indianapolis area. Statewide, only eight tech companies made acquisitions.
Already this year, Fishers-based ClearObject—a well-known "internet of things" integrator with 52 employees—was acquired by two private equity firms, and 10-year-old DoubleMap Inc., an Indianapolis firm whose software lets people track buses in real time and use on-demand ride-hailing software, merged with a Utah company.
Few think the trend is about to slow and some worry the acquisitions could be eroding Indianapolis' tech ecosystem before it fully blossoms.
The rash of acquisitions means the Indianapolis area has fewer than 10 venture-backed companies with 100-plus employees. And midsize companies are deemed an important place to nurture a broader network of middle- and upper-management personnel who could grow into the next generation of tech industry leaders.
Andersen
Indianapolis has long had a preoccupation with being a headquarters, as opposed to branch, city.
During the last half of the 20th century, those concerns centered on industries like banking, retail and manufacturing. Now, they're spreading to tech.
"For Indianapolis to reach the next rung, we're going to need the founders to take an even longer view," said Kristian Andersen, partner with local studio and venture firm High Alpha. "We need a group of founders to build really large, durable businesses over a much longer period of time. That requires forgoing the shorter-term expedient windfall in exchange for building something that will have a much bigger impact."
The advantage of having corporate headquarters in any city is clear.
"There are certain things that can be accomplished when you're of scale," Andersen said. "I'm talking about cultural, economic and political change. The larger the business you build, the more ability you have to effect true societal change—change in the lives of your employees and the life of your home city. When a company stays in Indianapolis, think about how those decisions get made and how dollars stay in Indianapolis."
Plus, Andersen added, "Big companies draw talent, capital and attention."
That won't happen when an entrepreneur's original goal is an exit, he said.
"Every founder is looking for some end game," Andersen said. "Some entrepreneurs start their company and say right away, 'I'm going to have Google buy this.'"
But he was hesitant to vilify those who exit stage left.
"It's hard to say 'no' to a life-changing sum of money," he said. "A lot of these entrepreneurs have worked really hard. And artists aren't the only ones who are starving."
Finding religion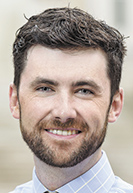 Langellier
Local observers are starting to see a mind-set change in the newest entrepreneurs, a good chunk of which is a product of the actions taken after central Indiana acquisitions.
"It's important to note that the founders and investors of the companies being acquired are not retiring to a beach in the Caribbean," said TechPoint CEO Mike Langellier. "They're staying engaged and helping grow the ecosystem."
That engagement comes in the form of reinvestments. Many executives who have sold their companies turned around and invested in other startups and scaleups.
Andersen called the sale of the city's biggest tech firm, ExactTarget, in 2013 "outstanding."
"With the sale of ExactTarget, we now have the opportunity for 10 more," he said.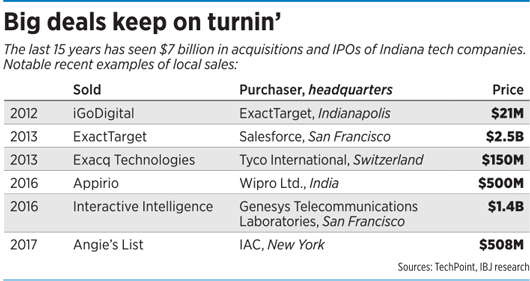 Scott McCorkle and Scott Dorsey, who both cashed out of ExactTarget, reinvested in High Alpha, which has given rise to myriad companies such as Sigstr and MetaCX. Chris Baggott, another ExactTarget alum, invested in ClusterTruck and 120WaterAudit.
Don Brown, who cashed in when Genesys Telecommunications Laboratories acquired Interactive Intelligence in 2016, reinvested in LifeOmic.
Bill Godfrey, who steered software company Aprimo Inc. to a $525 million sale in 2010, has assembled his former Aprimo lieutenants to form Carmel-based tech startup Lumavate.
And with this new wave of local tech companies, Andersen said, there's an unmistakable attitude adjustment.
"The founders that are building the next generation of tech [companies] in Indianapolis, the ones that are going to change the landscape of the city over the next 10 to 20 years, are driven by more than the opportunity to make money," he said.
As an example, Andersen pointed to Zylo and its co-founder and CEO, Eric Christopher.
"There's enormous interest in that company. But he wants to win the category, and you can't do that in five years," Andersen said.
Zylo—a software-as-a-service firm that helps companies manage their other SaaS subscriptions—launched out of High Alpha Studio.
Anderson also gave a nod to another High Alpha-backed company, Lessonly, and its co-founder and CEO, Max Yoder.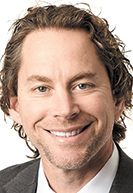 DeRam
"Max is not coin-operated," he said. "He's not looking to flip that company. He has religion about this."
David DeRam, co-founder and CEO of GreenLight Guru, an Indianapolis firm that makes quality-management software for the medical-device industry, is another owner devoted to staying independent.
"We like where we are," DeRam said. "Ours is a complicated market with a lot of regulations. We're uniquely positioned."
But DeRam isn't convinced that having tech giants in this market would be a panacea.
"Having that large tech headquarters can be a challenge for your startup and scaleup ecosystem," he said. "Big companies at times can be a black hole for talent."
Capital crisis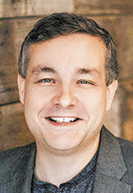 McDonald
The motivations that drive local tech company founders are as varied as the products they make and sell.
But they all face a common challenge: The need to grow and grow fast.
"Tech is an odd industry. Things change so fast, they become obsolete in five years," said ClearObject CEO John McDonald. "If you waited for a normal business cycle to collect enough capital to grow the business, you would under-optimize the value of the technology in the marketplace before it becomes obsolete."
That means tech companies need a lot more cash faster than firms in more traditional markets. Looking for capital is an almost constant obsession for any tech entrepreneur.
ClearObject, founded in 2010 asCloudOne, was in just such a position this month when it decided to sell itself to two out-of-state private equity firms.
"If cash is oxygen—the element necessary to grow—we just strapped on a big oxygen tank," McDonald told IBJ the day after the Jan. 17 acquisition was announced.

But the deal had another appeal for McDonald, a longtime local tech-scene advocate.
"The most important thing is that we're going to continue to be ClearObject and we're going to continue to be in Fishers," McDonald said. "We found a partner that wanted to grow here."
That can be easier said than done.
ClearObject could have reaped more money from an acquisition by a strategic buyer—a company that wanted either its customers, capabilities or wares, but that might have led to the dissolution of the company and almost certainly its Fishers headquarters.
Not all Indiana tech companies are fortunate to have the luxury of such a choice.
One big problem is Indiana's difficulty in attracting venture capital, McDonald said. According to the PwC MoneyTree report, Indiana is in the bottom half of states nationally at bringing in venture capital. In recent years, the state has ranked as poorly as the high 30s.
"The problem we have uniquely in Indiana is that we're so low in venture capital deployment," McDonald said. "The result of that is, we have to give away more for less. At some point, you give so much away, you no longer control the company; the venture capitalists control it."
Along with an ownership stake, the venture capitalists sometimes gain a board seat or seats, depending on the size of the investment. At some point, he said, the board can become too big and diverse, making it nearly impossible to build consensus and move the company forward. And, he added, venture capitalists aren't eager to bring on more investors because "it dilutes them." So the pressure to sell mounts.
"Whether a company is relatively small like Mobi or LightBound or large like ExactTarget, the size doesn't matter," McDonald said. "It's the dynamic behind it. Eventually … you have to put yourself up for sale to free yourself from that."
The ClearObject board decided to free itself by bringing in two large private-equity investors to buy out a multitude of small and midsize investors.
How to get it
Founders who want to build a large, stand-alone company often find themselves at odds with their investors.
"Investors want a return in three to seven years. The sweet spot is five years," said Chris LaMothe, CEO of locally based Elevate Ventures.
They generally have three ways to get that return.
◗ The company owners can pay them back, although few startups and scaleups generate that kind of cash.
◗ The company can go public. But an initial public offering costs $5 million or more, and publicly traded companies pay up to another $2 million annually for accounting services and other federally mandated administrative duties.
◗ The third option is an acquisition—which many investors prefer.
"An IPO can get messy. There are a tremendous amount of unknowns," said Ben Pidgeon, executive director of VisionTech Partners, an Indianapolis-based management consulting firm for early-stage tech companies. "Investors prefer an acquisition because it's not held to a lot of regulations."
And with the state's anemic venture capital scene, most Indiana companies can't get big enough for an IPO, McDonald added.
LaMothe isn't buying the lack-of-capital excuse.
"Capital follows successful startups," he said. "If we had more critical mass, believe me, venture capital would come here."
Not all local companies are having difficulty attracting investors. GreenLight Guru's DeRam said his firm has been approached—unsolicited—by more than 200 venture capitalists.
Despite the challenges, LaMothe said: "I'm very optimistic."
"This is a great city and a great state, and a lot of people want to be here. It's a maturation process for the entrepreneurial ecosystem," he said. "We're still in the early phases of introducing entrepreneurship and angel investing."
McDonald, too, is bullish—despite his sometimes stark assessments.
"I'm optimistic because we're ahead in intent to fix our shortcomings. Government leadership at the city, state, executive and legislative levels are enthusiastic about this," he said. "And we in the tech community are more organized than we've ever been."
Tech executives agree that one important tool in bringing more capital to the market is the state-run Next Level Fund, which has set aside $250 million to be invested in startups and scaleups.
"The Next Level Fund is a game-changer in Indiana," LaMothe said. "The Next Level Fund has caught the attention of a lot of private equity and large venture capital firms. It's a clear sign that Indiana is very serious about growing entrepreneurship. This is a significant tool in attracting capital outside of Indiana."
He said that since the fund's luanch, Elevate Ventures has been contacted "by a number of venture capital firms" that have inquired about the local startup ecosystem.
But even the Next Level Fund has raised some concerns. State officials hired Chicago-based 50 South Capital Advisors LLC to manage the money and invest the vast majority of it in other venture capital funds. Some fear the out-of-state firm will steer too much investment out of Indiana.
McDonald said other signs of progress include TechPoint's widening membership and formation of the Indiana Chamber's Tech and Innovation Committee and the Indiana Technology & Innovation Association.
"These things are all relatively new and show real progress in addressing our challenges," he said.
Successful exit?
The phrase "successful exit" is bandied about often among startups and scaleups. But how is an exit's success measured, and by whom?
"Rarely would an acquisition be deemed a success if it wasn't for the investors," McDonald said. "Hopefully, it's a success for company leadership, the founder and for the community, but regrettably, that's not always true."
It would be untrue, though, to categorize every acquisition as a death knell for the home city of the acquired company and unjust to blame the company board that pulled the trigger on the sale.
Some argue the plethora of tech acquisitions this market has seen is a healthy sign.
"The fact that these companies are being acquired is a good thing," said Frank Dale, a local tech veteran who has worked for several startups and early-phase companies and is now co-founder and CEO of tech firm Costello.
"It's not an indication companies aren't supported and can't grow here. It's an indication we're maturing as an ecosystem. We're making things people across the nation and around the world love, and it's giving us resources to grow to the next level," said Dale, who spent nearly two years as CEO at Indianapolis- based Compendium before its 2013 sale to California-based Oracle.
It's not fair, local officials said, to compare Indianapolis to the Silicon Valley region in Northern California and other more established tech markets. Silicon Valley has given rise to the likes of Apple, Google, Facebook and Netflix.
"In Silicon Valley, they've been doing this for 30 or 40 years. Indiana is newer to it and hasn't had time to ramp up venture capital," McDonald said.
He pointed out that, when companies like Apple and Google sprouted up, there weren't many companies around that could—or would want to—acquire them.
Also, those tech goliaths are business-to-consumer companies with mass appeal; many Indiana-born tech firms are business-to-business establishments. Some experts warn, though, that it's unwise to think consumer brands are inherently more attractive companies.
"We have to get around this idea that B-to-C companies are somehow more important than B-to-B companies," Andersen said. "B-to-B companies—like Salesforce—can be very large, impactful companies."
Acquisitions vary
The three common types of acquisitions can have profoundly different impacts on the company being acquired, its investors and its headquarters city.
Some companies purchase another to consolidate a market; others want to acquire a new market—as was the case when Salesforce acquired ExactTarget; and still others want to scoop up a market innovation and talent, as was the case when New Jersey-based Tangoe Inc., a maker of telecom expense-management software and services, in November acquired Zionsville-based Mobi Wireless Management LLC, whose software helps companies manage and analyze mobile devices.
"Market consolidations are the types of acquisitions we don't like to see," TechPoint's Langellier said. "Those can often mean cost cuts and layoffs."
Opinions differ on the pros and cons of the other two types.
The acquisition of local tech behemoth ExactTarget by San Francisco-based Salesforce in 2013 is an interesting case study.
With its marketing cloud technology rated by many as best in class, ExactTarget might have been able to stand on its own for a long time. But there's no arguing Salesforce has grown its presence in Indianapolis far beyond the size of ExactTarget before the sale.
Salesforce has 1,700 Indianapolis employees—700 more than when it bought ExactTarget. Globally, Salesforce has 30,000 employees.
To support its growth, Salesforce Marketing Cloud is in the process of taking five more floors in the 49-story Salesforce Tower, adding 105,000 square feet. The move is set to be complete by the end of the month.
Salesforce already occupied seven floors, including deluxe common space complete with a coffee bar and hip, casual seating on the 47th floor. It also has space in the Century Building at 36 S. Pennsylvania St. and the Gibson Building at 433 N. Capitol Ave.
Most of its Indianapolis employees are in Salesforce Tower, and real estate experts told IBJ it's not inconceivable to think Salesforce someday might occupy the entire building, the state's tallest.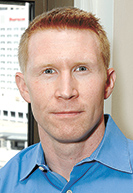 Dale
Indianapolis is the company's second-biggest location behind its San Francisco headquarters, although that could change when it finishes an expansion in Chicago. And if the company fulfills its 2016 pledge to add 800 employees here by 2021, local employment will surpass 2,100. Even with ExactTarget's strength, it's difficult to imagine that it could have realized that kind of growth here, industry sources said.
Salesforce is an interesting case study in another regard. ExactTarget was acquired for $2.5 billion, $1 billion more than Oracle paid for ExactTarget competitor Responsys just six months later.
Some tech insiders say ExactTarget would have sold for less if the acquisition had come after the Responsys deal.
"There are a lot of market forces and a lot of pressures at play for companies big and small," Costello's Dale said. "You can't just throw a blanket over all acquisitions and label them as either good or bad. If it was that simple, it would be an easy thing to address. But it's a lot more complicated than that."•
Please enable JavaScript to view this content.