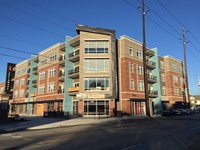 The Bloomington-based owner of three recently constructed apartment projects in downtown Indianapolis wants to unload them.
The three apartment complexes—The Delaware, 2205 N. Delaware St.; 632 MLK, 632 Dr. Martin Luther King Jr. St.; 946 MLK, 946 Dr. Martin Luther King Jr. St.—were put on the market in early January. The properties are a mix of market-rate and student housing.
Each of the properties, which total 100 units, are owned by Olaf Lava LLC, an entity of management and development company Cedarview Management Corp. Two of the complexes, 632 MLK and The Delaware, were built in 2016, while 946 MLK was completed in 2017.
The three properties are being marketed without a public asking price by Cushman & Wakefield's Indianapolis office.
Cedarview owner Elliot Lewis confirmed to IBJ on Monday that the company is looking to sell the properties, but declined to elaborate.
Cedarview co-developed The Delaware, a retail-residential complex in the Fall Creek Place neighborhood, with Indianapolis-based King Park Development Corp. The project includes 9,000 square feet of retail, 47 apartment units and a 54-space parking garage. Units there range from 552 square feet for a studio to two-bed, two-and-a-half-bath units with 1,239 square feet. The developers have not publicly stated their investment in the project, but they bought the 0.8-acre parcel for $1.75 million in 2015.
632 MLK is a 30-unit, four-story complex that includes 39 parking spaces. The project repurposed the old Willis Mortuary building, which is considered a significant part of the city's black heritage, as a leasing office and fitness center. The units go from 444 square feet for a studio to 2,178 square feet with four bedrooms and three bathrooms. Cedarview developed the project after spending $550,000 on the 0.55-acre parcel in 2015.
A few blocks north, the 946 MLK building is the smallest of the three properties, with 20 units and 26 parking spaces. The units range from 532 square feet for a studio to 1,639 square feet for a three-bed, two-bath townhouse. The 0.44-acre parcel on which the complex was built cost nearly $1.9 million.
It's unclear why Cedarview wants to unload the properties, but developers generally look to make such a move within a few years of completing a project and fully leasing them, with hopes of netting a profit that can be put toward future efforts.
Generally, Cedarview operates in Indianapolis as CV Indy Rentals, and also owns the Cali Townhomes development—a group of four single-family houses across from 946 MLK in the Ransom Place neighborhood, which also have been quietly marketed for sale.
Cedarview's biggest market is Bloomington, where it owns and manages more than two dozen multi-unit properties and multiple mixed-use, commercial developments on the perimeter of the Indiana University campus.
The group has invested in recent years in new housing projects throughout Bloomington, but has remained generally quiet in the Indianapolis market since the completion of the second MLK complex in 2017.
Please enable JavaScript to view this content.