As smart phones have become far more than phones, two Noblesville entrepreneurs saw a need for a new line of cell phone cases and accessories that help people hold, display, hang and use their ever bigger, more versatile devices in new ways. 
Matt Foley and John Stagge, who met through activities in a Noblesville youth soccer league, started selling a line of multi-use cell phone cases and holders under the Scooch brand name in 2015, and in the company's first four years they've seen revenue climb to nearly $6 million.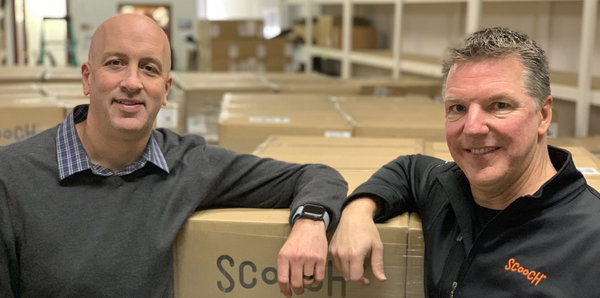 Scooch founders Matt Foley, left, and John Stagge (Photo courtesy of Schooch)
Scooch isn't in a league with industry behemoth OtterBox just yet, but Foley insists he and Stagge are intent on building "a powerhouse." 
The duo emphasizes that Scooch's biggest seller—the Wingman—is much more than just a case. 
"We noticed that when we started Scooch, there were just standard cases in the market—that were for looks and maybe offered some protection for your phone," Foley said. "Our emphasis was on functionality. We wanted something that allows people to more easily use the phone and watch streamed content."
The Wingman has a retractable piece in the back that can be used as a handle, hook or a sort of kickstand for almost any smart phone. Scooch also makes a case that doubles as a wallet, one that offers military-grade protection and a magnetic car mount.
The key to Scooch's fast growth, Foley said, is working closely with major phone manufacturers to make sure every time a new cell phone hits the market, there's a Scooch case that fits it.
"We need a six- to eight-week window to get a new product to market," Foley said.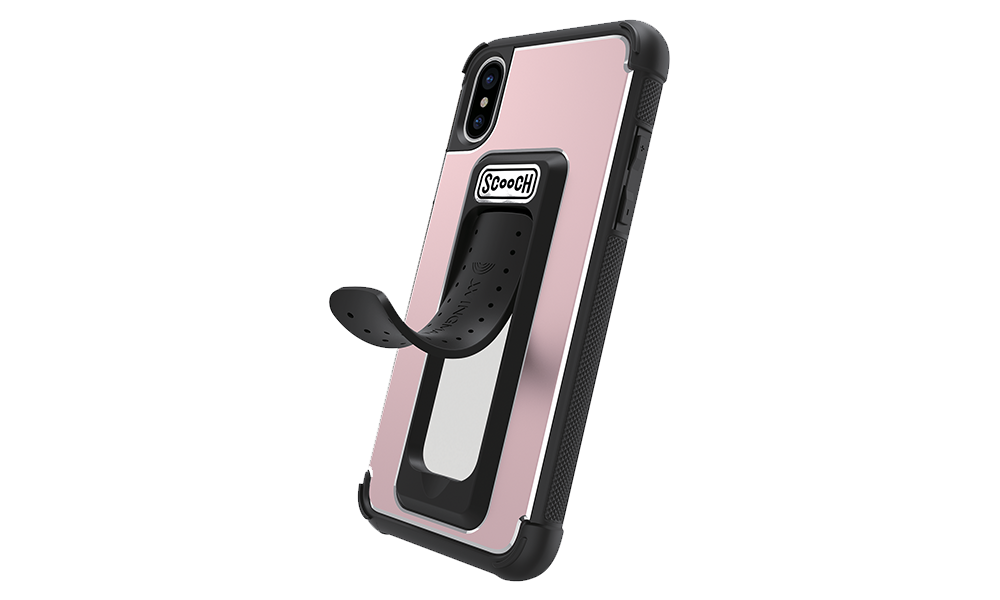 And that's about all the notice Scooch gets because phone makers are often making adjustments to their new models up to a couple months before they are at retailers.
"It's really a rush for every new device. A lot of companies can't make that tight turnaround," Foley said. "They don't have the supplier relationship to do so."
All the design work is done by Scooch's nine-employee staff in Noblesville. The products are made in China.
While dealing with constantly evolving cell phone models is a challenge, Foley added that it's also "a blessing" because it gives people reason to continually buy new cases and other accessories.
While Foley and Stagge are marketing their products as innovative, their distribution model is decidedly old school. And for good reason, the duo explains.
Scooch does sell its wares online, but relies on a network of brick-and-mortar shops for 90 percent of sales.
There are several reasons why Scooch decided to sell its devices through retail outlets—primarily cell phone stores.
First, Foley said, the sector is "ultra-competitive" and the internet is clogged with cell phone cases. Online, Foley said, it can be difficult to differentiate Scooch's features.
Instead, Scooch officials have gone into cell phone stores and sold the managers and other employees there on the case first and then count on them to sell it to their customers.
Once Scooch gets inside the store, it has far fewer competitors, Foley said. OtterBox is sold in retailers, though, so it's still no walk in the park for scrappy Scooch. 
"We really wanted to build a major consumer brand, and we felt the best way to do that was through brick-and-mortar retail, where there is a lot of foot traffic and consumers become aware through engagement at that level," Foley said.
While it was difficult at first to get cell phone stores to carry Scooch, once store workers understood the features the firm's products offered, it became easier.
"They can see the appeal for themselves," Foley said.
There is another reason why it was attractive for brick-and-mortar retailers, where most cell phones are still bought and sold.
"Phones aren't profit producers for retailers," Foley said. "They're reliant on accessories and activations."
Scooch's distribution strategy has kept it "relevant" with phone makers and retail stores, Foley said. Phone makers often have a stake in the retail stores.
Currently, Scooch products are sold in 6,000 North American retail outlets, including about 90 percent of Sprint stores, 2,000 Verizon retailers and Rogers Wireless, the biggest cell phone retailer in Canada.
While Scooch is bent on expansion, it is being selective. Two years ago, the company turned down a distribution opportunity with Walmart.
"That's not the appropriate retail venue for us," Foley said.
At first, it was the retailers who were turning away Scooch—in droves.
"We'd cold call distributors, and they would say, 'Great, another cell phone case.' That approach wasn't working. We couldn't get them to really look at it and try it," Foley said. 
So Foley and Stagge used some connections they had to get Scooch into "a couple" of central Indiana Sprint stores, Foley said.
That very quickly grew to 50 stores and within eight weeks, Scooch was in 400 retail cell phone stores. "Then distributors were calling us," Foley said.
Scooch's revenue grew from $250,000 in 2015 to $2.5 million in 2016 to $3.5 million in 2017 to $5.9 million in 2018.
Foley expects Scooch to see double-digit percentage growth this year. Scooch is getting ready to launch a new product in the next three months and for the first time is investing "a significant amount" in marketing, Foley said.
"Long term, our next goal is $20 million in revenue," Foley said. "I think we can get there in the next few years, but we want to be smart about it and do it the right way."
As for the name Scooch, that came from one of Stagge's children. While on a cruise with his family, Stagge told his wife and children to try to think of possible names for the new company. 
"We wanted something that resonated—something that was short and memorable," Foley said.
When a woman on the ship told Stagge and his kids to scooch over, one of the Children yelled "Scooch!"
"And that was it," Foley said. "We knew right away that was the kind of catchy, quirky name we were looking for."
Scooch is a bit unusual in the local tech scene. Most local tech companies are business-to-business firms, not business-to-consumer like Scooch. And most are focused on software or the internet of things.
And the two founders don't have tech backgrounds.
Stagge founded a business—Tekniks—on the city's east side that imported tools for computer-numerical-controlled machines. He later sold it to a New York-based private equity firm.
Foley previously worked in sales for Michigan-based hot tub manufacturer Viking Spas.
"I had a background in importing and introducing products to retailers, which has been helpful with Scooch," Foley said.
Some might even argue that Scooch isn't a tech company at all. Foley and Stagge—both in their 40s—aren't concerned about labels.
"We have our head down," Foley said, "and we're focused on getting to the next level."
Please enable JavaScript to view this content.