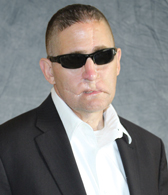 Jeffrey Mittman
Bosma Enterprises, the Indianapolis-based not-for-profit that provides assistance to people who are visually impaired, has named the first blind CEO in the organization's 104-year history.
Jeffrey Mittman, Bosma's chief operating officer, will become CEO on Aug. 1, the group announced Wednesday. He will replace longtime CEO Lou Moneymaker, who said in August 2018 that he intended to step down within a year.
Moneymaker has held the position since 2001. During his tenure, the organization's annual revenue has grown from $2 million to nearly $70 million. It is the 22nd largest not-for-profit in the Indianapolis area, according to IBJ research.
Mittman served for 21 years in the U.S. Army, including several combat tours. He was blinded in 2005 when the vehicle he was driving in Iraq was hit by an improvised explosive device.
After roughly 40 surgeries and years of rehabilitation, Mittman eventually returned to civilian life. Having earned a bachelor's degree in resource management from Troy University while serving in the Army, Mittman went on to earn master's degrees in both executive development for public service and business administration from Ball State University.
Before coming to Bosma Enterprises, Mittman held positions at the Defense Finance and Accounting Services and National Industries for the Blind, leveraging his experience in strategic planning, leadership, team building and management.
Mittman joined Bosma Enterprises' board of directors in 2012 and was hired as COO in July 2018. In that role, he has overseen a 25 percent increase in productivity in the organization's packaging and logistics operations, which last year packaged and shipped more than 480 million exam gloves to Department of Veterans Affairs hospitals throughout the country.
"Jeff has demonstrated unwavering dedication to our mission and is fired up about the opportunities that lie ahead for the company to expand employment and training for people who are blind," Moneymaker said in a media release. "Jeff's passion will be a valuable asset not only to Bosma Enterprises but to the community at large."
"This is a game changer," said Lise Pace, vice president of external affairs, who served on the executive search committee. "Jeff's appointment is indicative of a paradigm shift in the way disability organizations look today and into the future, where qualified individuals with disabilities are represented in greater numbers at the very highest level."
Please enable JavaScript to view this content.