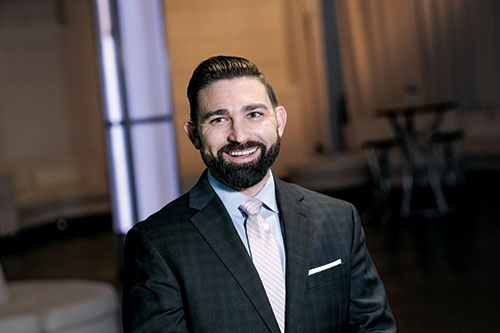 After time working at one of New York's most famous tourism locations, Lockett returned home, where he is now responsible for the daily sales efforts and overall positioning of one of downtown's flagship hotels. "I love welcoming people to Indy for possibly the first time," he said, "and hearing how surprised and impressed they are with the city and our people, what we all call Hoosier hospitality." 
Getting here: Lockett graduated with internship experience at General Hotels and Hyatt Hotels. He moved to New York City for the management development program at the Waldorf Astoria, working there in rooms operations, revenue management and ultimately group sales, where he became assistant director of sales. After five years, JW Marriott Indianapolis offered him an opportunity to sell large group conventions. He took the offer and was eventually lured across downtown by Hilton Worldwide to help lead the Conrad team.
Inspirational moment: "Almost every day at the Waldorf Astoria there was something inspiring," Lockett recalled. "One minute we were serving royal families and presidents and later that night you were listening to Liza Minnelli sing 'New York, New York' in the Grand Ballroom."
Mentors: "Professionally, I'm always inspired by my great friend/mentor and Purdue professor Anthony Cawdron," he said. "And I always find myself applying what I learned from my high school coaches, whether it be football, track or show choir."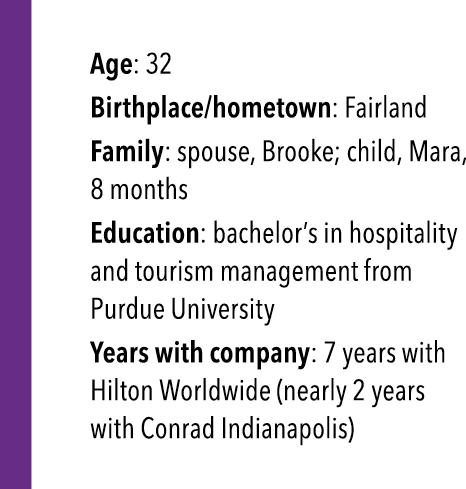 Recent business challenge: "In 2018, we modernized a lot of the marketing—new websites, moving advertising from print to digital, launching new digital campaigns and social media strategies—all of which were new to me and the hotel."
Givebacks: Lockett serves on the Purdue University Hospitality and Tourism Management Strategic Alliance Council and Downtown Indy Inc.'s marketing board.
Downtime: watching Purdue football games and attending country music concerts•
Check out more 2019 Forty Under 40 honorees.
Please enable JavaScript to view this content.