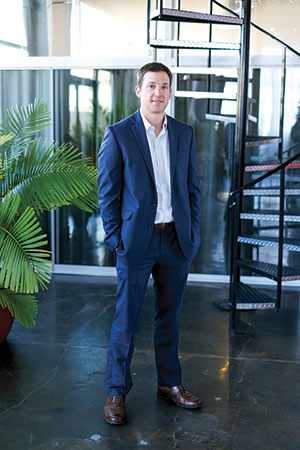 Meek likes the challenge of venturing into new territory, and he's helping guide Cummins—with locations in more than 190 countries—as it expands into the electrified power space. "I thoroughly enjoy the challenge of navigating through all those legal issues," he said, "while contributing to this major transformation of Cummins' core business. I find our company's pivot to electrified power very exciting." 
Getting here: Meek started as a summer associate at Pierce Atwood LLP in Portland, Maine, the largest full-service law firm north of Boston. Later hired as a full-time associate, he focused on management-side labor/employment representation. Following the birth of his son, the family moved to Indianapolis and Meek joined the labor and employment practice group of Hall Render Killian Heath & Lyman. In 2014, he went in-house at Cummins. 
Transitional moment: "I started to come into my own professionally during my second year with Pierce Atwood, when my mentor starting assigning me chief negotiator responsibility during collective-bargaining negotiations for some of our firm's biggest clients," he said. "Just two years in, and I was no longer in apprentice mode."
Mentors: Peter Jacobs at Pierce Atwood. "He diligently and humorously taught me almost everything I know about collective bargaining and traditional labor law." Also, his mother, "a single mom for most of my youth—several years of which weren't my best—who always worked extremely hard to provide."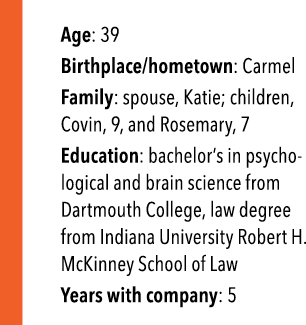 Givebacks: Meek leads the Indianapolis CIT, a group of employees dedicated to improving the community through high-impact relationships with not-for-profits. "This year alone, we've organized over 50 events with community partners. Over 300 employees volunteered, resulting in almost 3,000 hours of work for our most vulnerable and underserved populations." He has also tutored children at the Dayspring Center through School on Wheels since 2015.
Downtime: Attending live music, playing softball, working out at the Indy Bike Hub YMCA, and "setting up ninja courses for my kids in the backyard."•
Check out more 2019 Forty Under 40 honorees.
Please enable JavaScript to view this content.