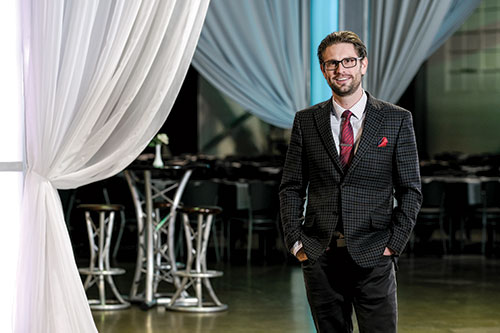 Leading efforts to recruit, grow and expand business in Indianapolis, Nicolini helped secure projects ranging from tech giant Infosys to the airport's first-ever international flight to Paris. "There's real alignment around the notion that building a more inclusive economy, leveraging partnerships to strengthen neighborhoods, and creating more opportunities for citizens to access jobs are winning strategies," he said. "When the city, businesses, philanthropic organizations and our citizens put their minds to something, we can make it a reality."
Getting here: After graduation, Nicolini was hired as assistant town manager for the resort community Cedar Lake. After a year, he was named town administrator there—at age 24. He was then hired as Speedway's town manager, which led to his work at Indy Chamber.
Transitional moment: His daughter's birth. "I gained an entirely new perspective on life," he said. "I recognized that I would have to both work harder and spend more time at home."
Mentor: His grandfather, Joe Nicolini. "He worked for 60-plus years at the same Mishawaka machine shop. … His dedication to his craft and to his family has always inspired me."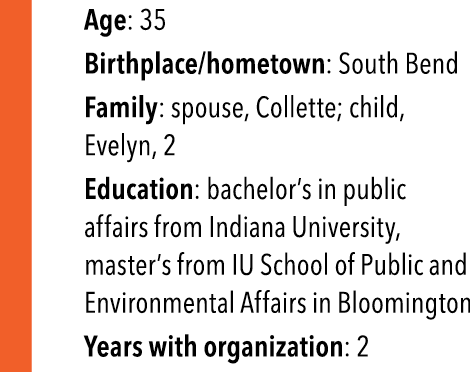 Major accomplishments: "The entrepreneurial restaurateur celebrating her first year in business and having a beer at a brewery whose project our team assisted. Meeting a new resident to Indianapolis who came here for their dream job and knowing that our work made a difference in getting that company to locate here… . I'm proudest when I can meet people whose lives our work has touched in a small way." 
Givebacks: Nicolini serves as a board member for IndyHub Foundation, Fathers and Families Center, and Indy Skatepark Advocates.
Downtime: Skateboarding. "But now that I'm getting older, falling has gotten a lot more painful. I try to run or cycle every day."•
Check out more 2019 Forty Under 40 honorees.
Please enable JavaScript to view this content.