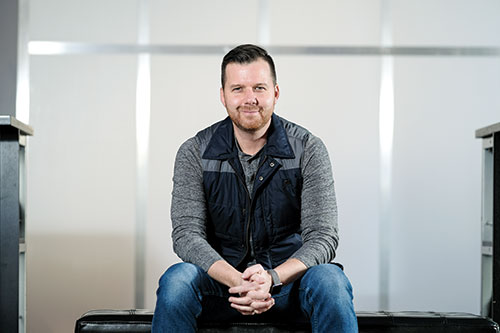 After building a successful service business, Schutt opted to help others, creating the first co-working space in the country focused on trades and home services. "Whether it's our part in the revitalization of 46th Street, creating new ways to bring in workforce to trades, or showing other companies integrity and profit can coexist," he said, "I am so grateful to have the platform to help bring some ground-up solutions to our city."
Getting here: Schutt's first job out of college was with Wells Fargo. "I was terrible working in a corporate environment," he said. "I wasn't very good at selling high-interest loans to people who didn't need them." He moved to Cabo San Lucas, Mexico, to help launch a beachfront hotel that supported a leadership academy. Having developed an interest in policy and politics, he returned to Indy and joined marketing firms Faulkner Strategies and then Element Three. "And then the bottom fell out of the economy," he said. "I had developed a knack for marketing strategy. I had personally experienced how a recession can hit a non-essential industry. I had recently married an only child from Indy so wasn't moving and had caught the entrepreneurial bug in Mexico. So naturally I started an HVAC company. There's really no segue here." Seeing others facing similar challenges to his, he launched Refinery46, which was "born out of our desire to create a collaborative space where great home-service practitioners can grow great companies."
Transitional moment: "My time in Cabo and its exposure to a diversity of thinking and cultures reset my vision for what was possible," he said.
Mentor: Jerry Nelson, a fellow Phi Kappa Psi alumnus Schutt worked for in Mexico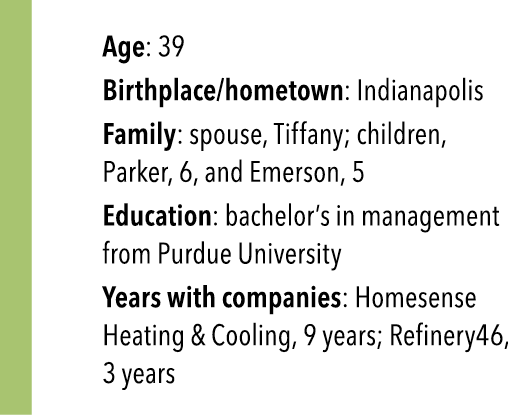 Givebacks: Schutt serves as board president for the Indiana HVAC Association and is a board member of Indiana Leadership Prayer Breakfast and Home Artisans of Indiana.
Downtime: "Regretfully, Twitter," he said, "… and being outdoors." He's also a Scotch enthusiast.•
Check out more 2019 Forty Under 40 honorees.
Please enable JavaScript to view this content.