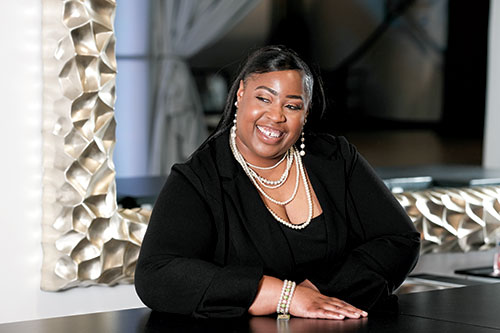 Scruggs' Bloom Project is providing service projects, college preparation, character building and career-exploration opportunities and scholarships to boys ages 12-18. The not-for-profit has reached more than 1,000 students. "I love watching their progress by visiting their schools and speaking with their schoolteachers," she said. "It brings me joy to attend their graduations and to smile to watch their accomplishments."
Getting here: Scruggs has experienced a lot of overlapping positions in her career. She worked as a transitional-living program case manager for Stopover from 2007 to 2014. But she also was summer academy director for 100 Black Men of Indianapolis in 2013 and 2014. She was pro bono and legal services coordinator for the Indianapolis Bar Association and Foundation in 2017 and 2018, while also working as a crisis call and intake specialist at the Julian Center—which she still does even as she runs Bloom Project.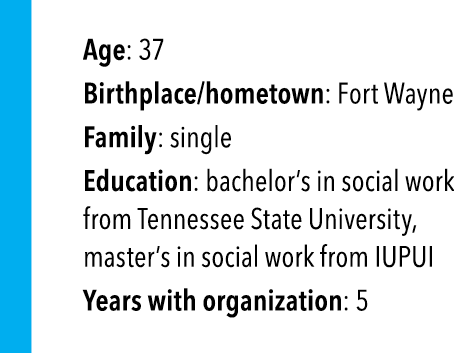 Transitional moment: A conversation she had with her cousin about starting Bloom Project. "A year after that conversation, I received my 501(c)(3) approval and that was confirmation that God's plan for my life is to guide our youth to use their voice."
Mentor: "My guardian angel, Ezell 'Bloom' Stephens, who passed away in 2000. His legacy lives on in naming my organization after him."
Recent challenge faced: "The stereotypes of our young men of color."
Givebacks: Scruggs serves as co-chair of the Alpha Mu Omega chapter of Alpha Kappa Alpha sorority and is a youth ministry co-leader for City of Hope Community Church.
Downtime: "Hanging with my family and friends for drinks and some good food. And traveling to Jamaica."•
Check out more 2019 Forty Under 40 honorees.
Please enable JavaScript to view this content.