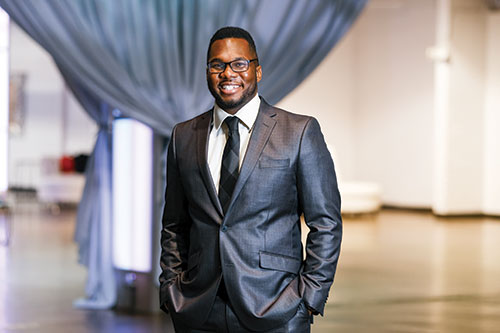 Since its inception in 2010, ProAct Indy—which engages at-risk youth in public service—has grown from serving 11 boys and girls to more than 10,000. It has expanded to 10 schools and, in just the past year, grew community and corporate partnerships from 54 to 142. "Seeing someone I taught teach someone else inspires and encourages me to be myself," said Slack, the group's founder. "And I now realize that, the more I am myself, the more courage I give to others to be unafraid to be themselves."
Getting here: After college, Slack founded ProAct but needed income a traditional job would bring. He worked as a server at Scotty's Brewhouse ("half of my tips were going toward the startup costs of the organization") and then at Community Health Network training medical personnel on an electronic records system. After three years, he was able to make ProAct his full-time job—almost. In May 2018, he added the position of senior director of training for the Jefferson Awards Foundation, a post he left this month to return to ProAct full time.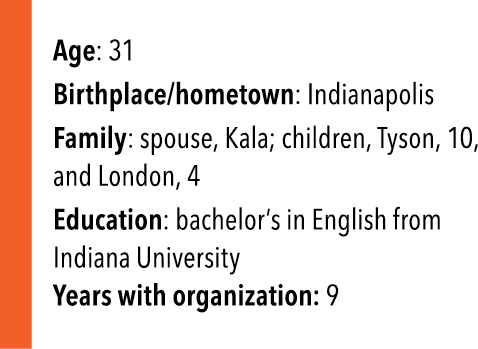 Inspirational moment: "When I was in college, I lacked an understanding of who I really was," said Slack, adding that most of that insecurity came from a struggle with stuttering. Then his college football coach sent players to Botswana on a mission trip. Slack initially declined, but his coach insisted he pack his bags. Two days after landing, he was told to speak in front of more than 200 people. "To my surprise, and to the surprise of many of my teammates, a story came out of my mouth without a stammer. … God was helping me find my people, and they were helping me find myself."
Givebacks: Slack serves on the Indiana Out of School Time Advisory Board for the Indiana Department of Education and the board of Catch the Stars Foundation. He is national chair for the Jefferson Awards Foundation Curriculum Advisory Board, President of Indy Progressive Rotary Club, and a board member of Youth Global Perspectives.
Downtime: reading, playing basketball, working out, watching movies, traveling, hiking and playing board games•
Check out more 2019 Forty Under 40 honorees.
Please enable JavaScript to view this content.