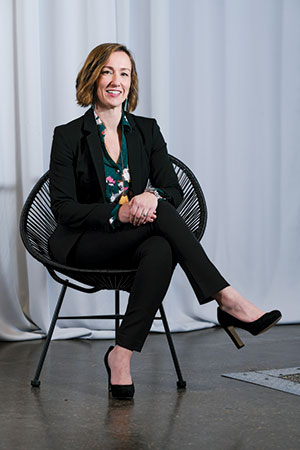 Taylor provides policy and strategic leadership to a Medicaid program serving 1.5 million Hoosiers. "I love the collaborative nature of my role, and the Medicaid program itself," she said. "In my job, I get to partner with other state agencies, stakeholders, providers and others to develop innovative ways to help Hoosiers live their best life."
Getting here: Shortly after graduating from DePauw, Taylor joined Baker & Daniels as a government affairs intern, pursuing a law degree at night. Drawn to health care clients, she worked with the Indiana Academy of Family Physicians and, after graduating, joined Hall Render Killian Heath & Lyman, where she was among those spearheading the 2012 passage of the statewide smoking ban. Appointed to the state's Medicaid Advisory Committee, she served as liaison to the state on Medicaid policy. "I was on the outside looking in," she said. That is, until she was offered the job of general counsel at FSSA, overseeing a $15 billion budget. In 2017, she became the state's Medicaid director.
Transitional moment: Being selected as one of six state Medicaid directors to participate in the 2017 class of the Center for Health Care Strategies' Medicaid Leadership Institute.
Mentor: Her grandmother, Ruth Cunningham, who passed away in December. "She served in the Coast Guard Women's Reserve during World War II and recently celebrated her 100th birthday. Several Coast Guard members were on hand to celebrate her as a 'trailblazer for women's equality.'"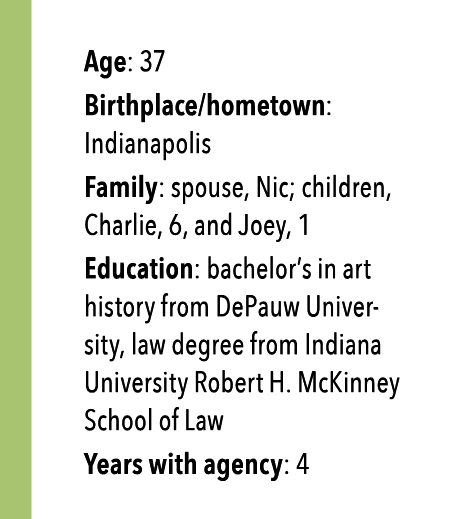 Major achievements: Securing renewal of the state's Healthy Indiana Plan in 2018 and seeing a significant decrease in
opioid claims.
Downtime: photography (she shoots weddings with her sister) and basketball•
Check out more 2019 Forty Under 40 honorees.
Please enable JavaScript to view this content.