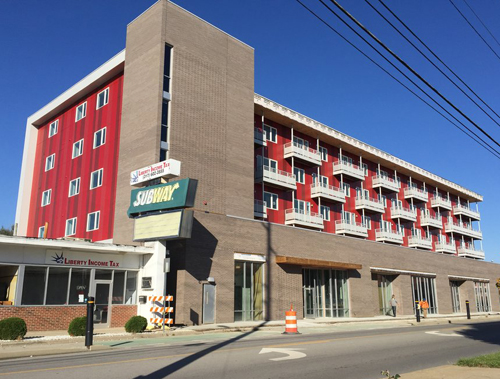 The fast-growing Scotland-based craft beer company BrewDog plans to open a bar later this year in Fountain Square, after receiving a critical mass of support from local fans in a crowdfunding campaign for the company.
BrewDog will set up shop in 4,000 square feet of retail space in the Forte Building, a mixed-use development that opened last year at 1140 S. Shelby St. The company, which maintains its U.S. base of operations in Columbus, Ohio, is shooting to open the Fountain Square location in September.
"BrewDog beer has been available in Indianapolis since January 2018, but thanks to the overwhelming support from Indy craft brew fans, it's time to offer a bigger BrewDog experience," said Tanisha Robinson, CEO of BrewDog USA, in a response to an IBJ query. "BrewDog's first U.S. bar outside of Ohio is coming to Indianapolis in fall 2019, and we can't wait to open the doors."
The Forte outpost will include a 24-tap bar, outdoor patio seating and a menu of what it terms "upscale bar food." Its signature beers will be shipped from BrewDog's U.S. brewery in Canal Winchester, Ohio.
Established in 2007, BrewDog has 65 locations around the world, including 34 bars it opened last year.
It plans to open another 20 or so this year, half of those in the United Kingdom. Its international sites will include two in the U.S.—Cincinnati and Indianapolis—along with one each in Toronto, Canada; Shanghai, China; Kuala Lumpur, Malaysia; Hamburg, Germany; Helsinborg, Sweden; Brisbane, Australia; and two in Paris.
BrewDog's business model includes a crowdfunding element which it calls Equity for Punks, and this helps explain why the company is setting up shop in Indianapolis.
According to BrewDog USA Inc.'s crowdfunder.com web site, BrewDog is focusing its U.S. expansion efforts on cities where it has gotten financial support from more than 500 people—and that list includes Indianapolis. Investors are eligible for a variety of benefits, including discounts on bar tabs and online merchandise and a free beer on their birthdays. The minimum investment is $50, and additional benefits are available for those who buy in at $100 or more.
Other locations on BrewDog's 14-city "hitlist" are Cincinnati; Cleveland; Chicago; Detroit; Louisville; Nashville; Austin; Boston and Gloucester, Massachusetts; New Orleans; New York City; Pittsburgh; and Washington, D.C.
BrewDog USA is currently conducting its second round of equity fund-raising, offering 800,000 shares priced at $50 each, for a maximum offering of $40 million.
According to an offering circular filed with the U.S. Securities and Exchange Commission, BrewDog USA's first capital raise, which closed in July 2017, collected more than $7 million from more than 8,000 investors.
It's had a presence in the U.S. since 2017, when it opened a taproom and its brewery in the Columbus, Ohio, area.
BrewDog has since opened two bars in Columbus, as well as a 32-room boutique hotel, the DogHouse, which opened in August 2018. Each of the rooms at the DogHouse comes equipped with a beer tap, a beer-stocked minibar, a beer refrigerator built into the shower and hops-infused shampoos and soaps.
The hotel is part of a 42-acre BrewDog development that also houses a 6,000-square-foot beer museum, a 100,000-square-foot brewery and a DogTap taproom and restaurant.
Please enable JavaScript to view this content.