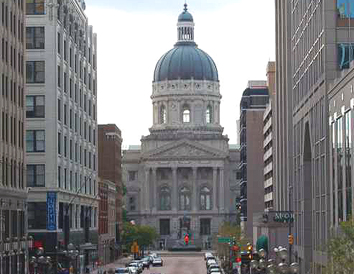 A bill that would end the prohibition on light-rail construction in Marion and six other central Indiana counties passed the Indiana House on Tuesday.
House Bill 1365, authored by Indianapolis Democrat Justin Moed, removes the existing state law from 2014 that bans light-rail mass-transit projects in Indianapolis.
"We need to make sure the city has the tools it needs to continue to be attractive and to compete," Moed said.
The House passed a similar bill in 2018, but it died in the Senate after Sen. Mike Delph, R-Carmel, added an amendment that would have required Marion County to first fix its potholes.
Moed is more optimistic about the bill this year because Delph is no longer a state legislator.
Proponents of the legislation argue that it gives Indianapolis more freedom in pursuing mass transportation projects that might be appealing to companies, like Amazon, for example. Amazon had included mass transit as one of the top factors for its HQ2 site. Indianapolis made the top 20 finalists for HQ2 but was not selected.
Rep. Ed Soliday, R-Valparaiso, said it is a key piece of legislation.
"It's just a tool. It's not a mandate," Soliday said. "Let locals decide what's best for them."
The House passed the measure 89-5, sending it to the Senate. One Indianapolis lawmaker, Republican Rep. Mike Speedy, voted against the bill.
Please enable JavaScript to view this content.