When Dale Chihuly's work is among the least interesting pieces on display, you know you've got a strong glass art show. Such is the case with Indianapolis Museum of Art's "Masters of Contemporary Glass: Highlights from the Marilyn and Eugene Glick Collection."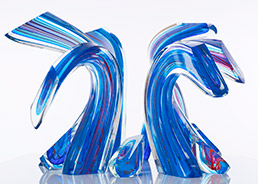 Harvey K. Littleton's "Blue Crown" showcases the talents of the influential teacher. (Photos courtesy of Indianapolis Museum of Art)
The collection, nearly 250 works mostly acquired by the Glicks during the late 1980s and 1990s, is now housed permanently at the IMA. The museum's CEO, Charles Venable, served as curator for the show, selecting 60 to showcase (they will be rotated periodically). They include works by Harvey Littleton, the Toledo, Ohio-based educator and artist who played a key role in making glass a studio art, rather than an industrial one. In the process, he helped free glass of its need to be functional, demonstrating that it could, in fact, serve as abstract sculpture.
To be sure, you won't find much functional here. I'm not sure whether it would even be possible to brew a cup in Richard Marquis' delicate "Murrine Teapot." What you will find are a smart sampling of styles in contemporary glass art, ranging from Therman Statom's shard-included "Ladder" to Stanislav Libensky and Jaroslava Brychtova's seemingly headless "Head VI." There's portraiture from Daniel Owen Dailey and others, a "Reclining Male Nude" from Richard Jolley, and striking work by Klause Moje that seems to be made from Play-doh rather than glass.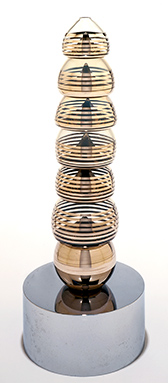 "Dr. Zarkhov's Tower" by Joel Philips Myers reflects at every level.
More than just a strong show, the exhibit enlivens an area of the IMA that's usually just in-between space. When hallways are called galleries, it sometimes can have the vibe of excess students taking over any available space in an overcrowded dorm. But here, the work comfortably upgrades an underused corridor and the space outside the Star Studio, a lively locale where young folks (and guileless grown-ups) create their own work inspired by the exhibitions.
__________
"Times have changed," goes the opening line of the classic Cole Porter song "Anything Goes." And the same can be said for the show itself, which seems to go through a different permutation every time it arrives on stages.
Songs from one version get cut from another. Characters are added or jettisoned. Jokes are tweaked. For the concert version of "Anything Goes" by the Indianapolis Symphony Orchestra (May 9-10), for instance, there was no sign of the "Public Enemy Number One" song. And "Most Gentlemen Don't Like Love," from 1938's "Leave It To Me" made a surprise second-act appearance.
While I might object to a more recent musical making fast and loose with the original text (Heaven forbid a song from "Company" shows up in "Sweeney Todd"), "Anything Goes"—built during a time of frivolous entertainments—gets a pass. Once the ISO launched into the overture, the musical champagne cork was popped and such matters as purity, consistency and logic headed straight for the lifeboats.
Of the passengers along for this voyage, Rachel York offered a street-edged Reno Sweeney, chummy enough that you can see why Billy (Max von Essen) loves her but doesn't LOVE her. Judy Kaye was a delight and woefully underused as the gold-digging mother of bride-to-be Hope, and Gary Beach (the only performer still on book at the opening performance) milked plenty of laughs out of Moonface Martin. 
Thanks to the Indianapolis Men's Choir and a team of joyful dancers, the ship felt appropriately populated. And a special shout-out to dancer Melissa Schott, who performed a remarkable save when a sailor lost a hat in the midst of a dance number. Not only did she gracefully snag the hat, but she also got it back to its proper owner without missing a step.
The real star of the show, though, was the Indianapolis Symphony Orchestra. No matter what order the scenes are in, which songs are included, and who's falling for whom, it's the music that's de-lovely. And the full-size ISO (compared to the 10-20 that filled the pit during Broadway incarnations) made this Porter platter de-licious.•
__________
This column appears weekly. Send information on upcoming arts and entertainment events to lharry@ibj.com.
Please enable JavaScript to view this content.