Dr. Hany Haddad and his partners saw the writing on the wall.

It was getting more costly and more complex to run their sleep therapy practice at the same time payments from public and private insurance programs were at best flat.

So in July, Haddad and his 15 partners sold their practice to Community Health Network—becoming some of the 250 physicians this year that have become employees or else signed "integration" agreements with Community.

Those agreements mean Haddad and his partners will work with Community to set and meet common goals. They also agreed to allow a chunk of their compensation to hinge on nontraditional measures, such as patient and staff satisfaction surveys, and quality measures.

Community, which operates five hospitals in Indianapolis and Anderson, began signing on doctors this year as part of a 10-year plan it believes will lead to better care at lower cost.

This stitching together of doctors and hospitals—two groups that historically have kept each other at arm's length—is a trend picking up speed locally and nationally and could accelerate even further if Congress passes health care reform. It could radically change the way hospitals and doctors serve patients and even how they think about their business.

"Hospitals are being asked to really coordinate care now," said Ken Kaufman, managing partner at Kaufman Hall & Associates, a health care consultant practice in suburban Chicago. He added, "Market share is going to be accounted for by how many patients you're accountable for."

Community is the leading example of this trend in Indianapolis. Its new CEO, Bryan Mills, rose within the organization by successfully building a primary care group of 200 employed physicians and by constructing surgery centers as joint ventures with independent doctors. Now Mills is spreading his skills throughout Community's $1.2 billion enterprise.

Mills
"The only way we drive costs out of the system is this—working in partnership with common goals and a common mission," said Mills, sitting in his longtime headquarters, a two-story brick building nestled in a sleepy office park off North Shadeland Avenue.

Other local hospitals are pursuing similar strategies. Clarian Health and the Indiana University School of Medicine have signed up 375 doctors as employees of a not-for-profit joint venture called the Indiana Clinic. Their goal is to have 1,500 doctors within two years.

And Clarian is trying to bring other doctors that use its hospital facilities to sign employment or integration agreements that give them incentives to work more closely with the hospital system.

St. Francis Hospital & Health Centers has dipped its toe in these waters, acquiring a cardiology practice earlier this year. St. Vincent Health already employs all or nearly all physicians at the rural hospitals it owns. In Indianapolis, it is seeking closer partnerships, but not employment agreements, with the physicians who practice in its hospitals.

"We'll probably see a lot of different models," said Doug Leonard, CEO of the Indiana Hospital Association. "We're being pushed and pulled and being given the opportunity to better align our organizations."

Filling hospital rooms

Hospitals have long styled themselves as institutions that heal sick people. But they operate more like a hotel—a building full of rooms that need to be filled every day.

Empty rooms yield no payments from health insurance plans.

Hospitals can only fill a room by having a physician send a patient to them. So running a successful hospital requires making physicians happy—not patients.

Because hospitals and doctors have been independent from each other, they often have different goals for how best to serve patients. For a woman giving birth, for example, her insurance plan will pay the hospital for only two days' stay. But insurance plans will pay her doctors for as many days as they see her in the hospital.

Not only that, communication between doctors and hospitals is notoriously poor, leading to duplicative services and hassles for patients navigating the system.

And, except for obvious mistakes, no one holds doctors or hospitals accountable for how healthy or sick their patients are after being treated at their facility.

But that's all changing. More and more, insurers want hospitals and doctors to work together for one goal—to oversee the entire health of patients, not merely to treat their malady of the moment.

To make that shift, insurers are toying with fundamental changes to the way they pay doctors and hospitals.

Community is trying to get out ahead of this trend. For both its employed doctors and the independent doctors who have signed Community's integration agreements, roughly 20 percent to 35 percent of their pay now depends on satisfaction surveys of patients, staff and referring physicians, as well as quality indicators being used by the federal Medicare program.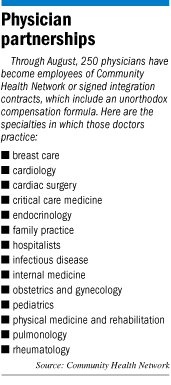 Of course, insurers are still paying Community's doctors under the old system. But in recent months, Community started discussions with some insurance plans—Mills didn't say which ones—to ask them to change the way they reimburse the hospital system.

"They're very interested in working with us," Mills said.

But for hospitals to shift from a hotel to a health model of business, changes will have to come from the biggest insurer of all, the federal government. The federal Medicare and Medicaid programs account for 50 percent of all of Community's revenue—and a similar amount for other hospitals.

Health care reform proposals pending in Congress would launch new experiments in different payment methods.

One program would bundle payments for some hospital procedures—leaving it to doctors and hospitals to decide who gets what, but also allowing them to keep any savings they can produce through gains in efficiency.

Another pilot program would ask for "accountable care organizations"—most likely a combination of doctors and at least one hospital—to come up with quality-improving and cost-saving methods. Then Medicare would give some of the savings as a bonus payment to the doctors and hospitals.

In its internal discussions, Community says it wants to be a mature "accountable care organization" by 2020—with or without health care reform.

"I've seen a lot of things come and go. This one seems like it's coming and it's not going to go," said Haddad, the sleep therapist. "It doesn't matter if there's any health reform or not."

Cutting costs

Indeed, even as Congress has been debating health care reform, the Medicare program under the Obama administration has proposed sharp cuts to Medicare payment rates—especially to specialist physicians.

Medicare payment rates have been stagnant for years, anyway, pinching doctors right at the time they're trying to pay for expensive electronic medical record systems they need to meet insurers' new quality-based payment programs.

The result this year has been a rush of doctors seeking the perceived security of being hospital employees.

In the short term, a hospital that employs physicians can boost revenue for both. That's because the arcane rules of Medicare reimbursement allow a hospital to receive much higher payments when they perform some of the same services as an independent doctor.

But with Medicare costs threatening to bankrupt the U.S. government, Mills holds little faith that Medicare will boost pay to hospitals at all.

So he's focused on using Community's integration with physicians to cut costs. Within five years, Community intends to reduce its costs about 8 percent, or $100 million a year.

The "early wins," Mills said, will come from cutting out duplicative equipment—doctors won't necessarily all need their own MRI machines, for example—and doing more volume purchasing by limiting the number of supply vendors the system uses.

Also, by putting doctors on one electronic medical record and basing some of their pay on communication, Mills is confident Community will cut out duplicative work—such as repeated blood and image tests—that now happen.

Further out, better communication and common scheduling systems could help Community's hospitals precisely adjust staffing levels—saving significant man hours and dollars.

"That can happen in a true system," Mills said. •