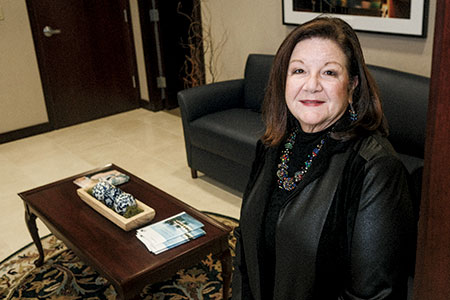 When Kathy Birk retires next month as manager of Morgan Stanley's local operations, she'll achieve a rare milestone in a stressful, competitive industry where most people wash out or get fired first.
"I think in 35 years, I've been to two retirement parties—and one of those was forced," Birk said. "The failure rate in this industry is high, period."
But being an outlier is nothing new for Birk.
She started her brokerage career when few women worked in the field. She describes herself as outspoken and competitive, but also "painfully shy."
Without benefit of a college degree, she climbed the ranks at Morgan Stanley to become complex manager and managing director—the most senior position that exists within the firm's branch network. From an office on 96th Street just east of College Avenue, Birk oversees some 250 people at 11 branches in Indiana and Illinois.
A by-the-book approach to her work, Birk believes, helps explain her longevity.
"I think I certainly have the reputation—and wouldn't have survived this long in the industry without—[of] playing by the rules," Birk said. "If you're a bad broker, you're not going to work here very long."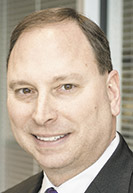 Maddox
Local securities attorney Mark Maddox agreed. "Quite frankly, I think it's one of the reasons she's lasted as long as she has."
Maddox, a former Indiana securities commissioner who now practices at the Indianapolis law firm Maddox Hargett & Caruso PC, said Birk is a standout. "There are very few branch managers that I've known as long as her that I'm so positive about."
At Morgan Stanley's local offices, "you can probably count on one or two hands the number of broker problems that I've seen. And, to me, that's a great result," he said. "If she had someone who created a problem for her—it could have been the biggest producer in her office—she got rid of them."
In an industry where bending the rules can lead to big trouble, Birk does her best not to let potential problem brokers in the door.
Keene
As a manager, Birk is judged in part on how much money her office brings in. But she's never let that pressure affect her hiring decisions, said colleague Lisa Keene, senior complex risk officer at Morgan Stanley.
"She's passed on people who had larger numbers that would make her look better. She's passed on them because they didn't meet her high expectations of business practices," said Keene, who has worked with Birk for 35 years.
An early career experience taught Birk a bitter lesson about what can happen if a firm puts profit above ethics.
Her first brokerage job was at Bache Halsey Stuart Shields, which later became Prudential Securities.
Birk is not a fan of risky investments, so she sold her clients a lot of annuities because she felt they were safer.
When the company behind one of those annuities went bankrupt, her clients lost money and Birk was suspicious that her firm had known about the company's troubles but kept quiet.
She started looking for another job. It was her pure stubbornness, she said, that led her to try another firm rather than leave the industry altogether.
The Maverick
Even though she's a stickler for playing it straight, Birk is also willing to buck the system.
When she feels her brokers and their clients aren't being served well, she won't hesitate to take her concerns higher up. "I think my reputation in New York is 'The Maverick.'"
Keene agreed.
"She's not afraid to jump in and fight for what she feels is right … . She just has a core belief of right and wrong."
As one example: Morgan Stanley phased out its trust department several years ago, forcing brokers to transfer their clients' trust accounts to an outside entity.
Birk didn't like how Morgan Stanley was winding down the business, and she said so. "I thought they were pretty callous."
In speaking up, Birk said, she convinced the company to make the transition more seamless for brokers and clients. If she ruffled some feathers in the process, so be it.
"I get fewer Christmas cards, but I'm OK with that," she said. "My number one job is to protect my brokers."
Protecting her brokers, though, does not mean sugar-coating the truth.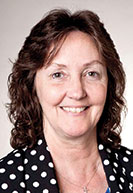 Ott
"She's very honest about her opinions," said Jene Ott, complex business service officer.
Ott came to work for Birk in 1990, when Morgan Stanley combined its downtown and north-side offices.
Ott had been the office manager downtown, but Birk told her she would need to switch to a new position. Keene was the north-side office manager, and Birk intended to keep her in that role. So Ott shifted to a job as a wire operator.
"She just sat me down and was very honest," Ott said. "Did I like it at first? No. But I'm glad she did it the way she did it."
Birk's honest yet caring approach also served the firm well through trying times.
On 9/11, Birk's office had special reason for concern—Morgan Stanley had some 3,800 employees at the World Trade Center, and in the confusion of that day, their fate was unclear.
"There were people in New York that we couldn't get in touch with that we worked with every day," Ott said.
Thirteen Morgan Stanley employees died that day, including security chief Rick Rescorla, who gained widespread posthumous acclaim for leading so many of his coworkers to safety. Birk, who travels to New York several times a year for business, knew some of the deceased.
But her focus was to reassure her employees and their clients as best she could.
As Ott recalls it, Birk urged her brokers to contact their clients and answer their questions. She also sought to calm her staff and acknowledge their emotions.
"She was just rock solid. She didn't fall apart; she didn't ever make us feel that we couldn't talk about it," Ott said.
'A natural leader'
A few years later, Birk took a similar approach during the financial crisis.
In the fall of 2008, when the crisis was unfolding, Birk was on a two-week vacation in Africa and had no contact with the outside world. "The world was falling apart and I didn't even know it."
When she returned to work and learned the depth of the crisis, Birk had private doubts as to whether Morgan Stanley would survive.
But to her employees and their clients, she offered a supportive face, keeping them informed on what she was hearing from the firm.
"She's just kind of a natural leader and tries to get out in front of what she can get out in front of," Keene said.
Birk said she drew strength in those times from a copy of the Serenity Prayer she kept on a shelf in her office: "God, grant me the serenity to accept the things I cannot change, courage to change the things I can, and wisdom to know the difference."
One topic Birk doesn't like to talk about much is the rarity of being a woman in a field that is still quite male-dominated.
When she joined Bache Halsey Stuart Shields in 1980, she was the only female among 30 financial advisers. When she left that job in 1983, she was one of two.
Birk said she's never considered her gender to be an issue in the workplace.
"At work, I'm not a female. I'm a worker," Birk said. "I don't like being differentiated."
But whether she acknowledges it or not, Maddox said, Birk has been a groundbreaker.
"My hat's off to her. She's had a really good career, and she has done it in an industry that's so male-dominated," Maddox said. "I can't emphasize this enough. Very few women, even today, are managing brokerage firms."
In Keene's estimation, Birk's gender provided her with early-career experiences that became helpful later. In her younger years, Keene said, Birk worked in a clerical role—typical for women at the time, but uncommon for management-track men.
"Being a woman, and being in different roles that men typically weren't at that time, has given her an advantage," Keene said. "She's walked in everyone's shoes, and so it gives her a perspective that I don't think a lot of other managers have."•
Please enable JavaScript to view this content.