Gov. Eric Holcomb is offering state lawmakers another option when it comes to bias crimes, but he's still adamant that the legislation include a list of victim categories.
Holcomb, who included passing a hate crimes bill in his legislative agenda this year, has said for months that he prefers language that lists specific characteristics, like race, religion, sexual orientation and gender identity. He has suggested that state lawmakers use the language already in the state personnel handbook, which includes such a list.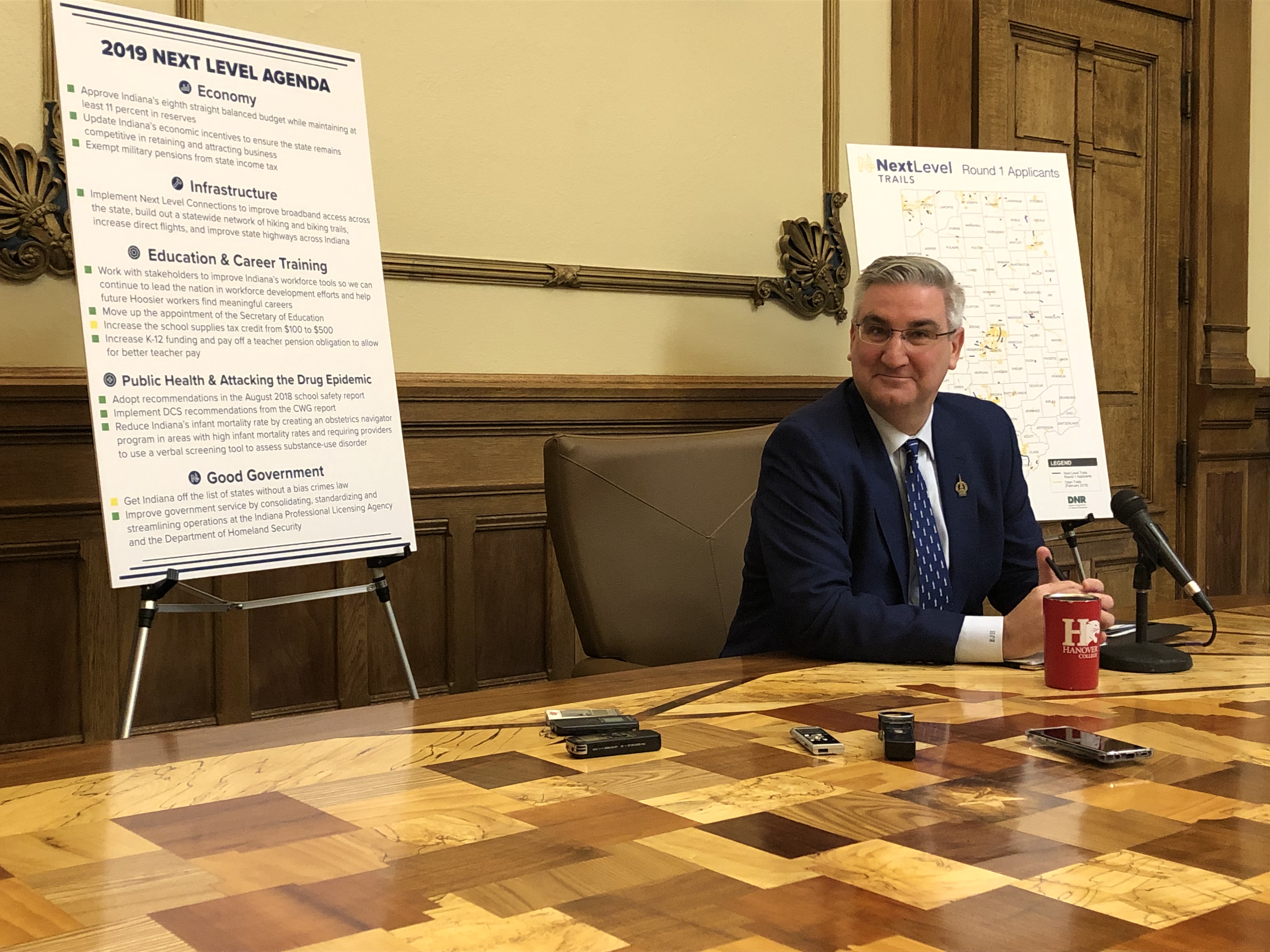 The Republican-controlled Indiana Senate initially moved forward with a bill that was similar to the state policy and would make crimes motivated by bias eligible for strong penalties, but then—to the surprise of some advocates—removed the list from the legislation before passing it out of the chamber.
Speaking to reporters Wednesday morning, Holcomb—in an effort to appeal to state lawmakers who insist Indiana doesn't need to take any action—recommended another option: Take the bias crimes language that is already in federal law and insert it into the sentencing portion of Indiana's criminal code.
The list in federal law covers bias based on race, color, religion, national origin, disability, sex, gender, gender identity and sexual orientation. The federal list includes all the victim categories that had been in the Senate bill except for bias crimes based on ancestry.
Holcomb said being vague won't get Indiana off the list of five states that does not have a hate crimes law. He said his goal is to remove Indiana from that because it is having a negative impact on economic development.
"Putting this language in the right place will get the job done," Holcomb said. "And we will do nothing new."
He specified that he wants state lawmakers to include the exact wording rather than simply referencing federal law.
"I would use the specific words," Holcomb said. "I want to get away from the vagueness."
Holcomb also dismissed the argument some Republican state lawmakers have made that having a list would make the law more complicated or less inclusive.
"We have all kinds of lists. We just passed a lot of bills with lists," Holcomb said. "We have a list in the First Amendment. We have 27 amendments."
House Speaker Brian Bosma has indicated that House Republicans don't have much of an appetite to reinsert the list, which means it could be an uphill battle for Holcomb and others who want to see that in the bill.
But Holcomb isn't willing to say he'd veto legislation without a list.
"We'll cross that bridge when we get to it," Holcomb said. "It's too early for the 'v' word."
Holcomb could testify during the House hearing on the bill, but he said he's not convinced that would have much impact given that lawmakers already know where he stands on the issue..
"I wouldn't rule it out," Holcomb said. "By the time we get to that point, if it's necessary, the answer's yes."
He said he thinks public testimony is much more powerful. He said he plans to spend the next two months trying to energize Hoosiers to contact legislators rather than only contacting his office. 
"They've got my vote," Holcomb said. "But they need to contact the legislators that vote."
Holcomb said he shouldered some blame for the result from the Senate. Some advocates for hate crimes legislation thought Holcomb's personal conversations with legislators and his talking to the public around the state about the issue would be enough, but it wasn't.
"I'm an optimist. I believe the session is half-full, not half-empty," Holcomb said. "We've got a lot of time to make additional progress."
Please enable JavaScript to view this content.