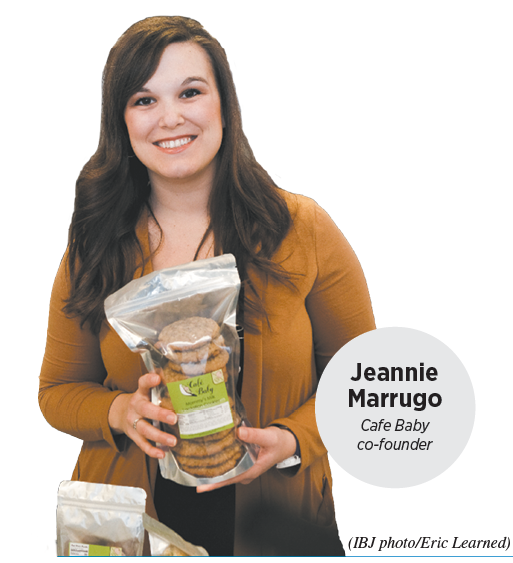 Jeannie Marrugo, 30, of Southport launched Cafe Baby three years ago with her mom, Sherri Sego. After having a baby of her own—Camila, who is 3—Marrugo wanted to make her own baby food but couldn't find the time. And she found few places she could buy freshly prepared food. So today, Marrugo and Sego cook, puree and freeze fresh baby food at the Circle City Industrial Complex and sell it online and at the Carmel Farmers Market. They hope to open a storefront soon on the north side.
What is Cafe Baby?
We give parents the convenience of having fresh baby food without taking the time or energy to prepare it. So we have three puree menus starting when babies start solids and then it goes all the way to toddler food. … The food in the grocery store is cooked at really high temperatures to preserve the shelf life, and that in turn cooks all the nutrients out. Our food is steamed or roasted from fresh fruits and vegetables, pureed and then frozen. So while the shelf life is a lot shorter than what's at the store, all the nutrients are intact, the flavor is different, the color is different.
How did Cafe Baby get started?
I'm actually an architect by training. I have an undergrad in interior design from IUPUI and a master's of architecture from Ball State, so I've been in the field for about five years. Once I got pregnant, I knew I wanted to make my daughter's baby food. I've always been kind of leery of canned and processed food, but I didn't have time because I was a full-time working parent. … My mom and I are really close, and we've always wanted to do something together. She loves to cook, and I have a business mind, so I brought her the idea, and here we are three years later. I work part-time as an architect, and Cafe Baby is pretty much full time.
What's Cafe Baby's mission?
I'm really passionate about healthy eating. I believe if you start a baby with a wide variety of fruits and vegetables in their diet, and you teach them from the beginning how to eat healthy, then they'll grow up to be healthy eaters. That's one of our missions at Cafe Baby—to partner with parents when their kids are young to help create a new generation of healthy eaters.
What else makes Cafe Baby unique?
We also try to design our menus around what babies can digest at different ages. So our 4- to 6-months menu is much different than our 10-months-plus menu, because the flavors start mixing, you start adding mango and kiwi and things babies might not be able to eat at 4 months. We really try to take the guesswork out of starting a baby on solids because it's overwhelming.
Is your product sold in stores?
Our store is online right now, and we do home delivery. We're also at the Carmel Farmers Market, and we're in the process of starting to look for a storefront right now. We've enlisted a broker, and she is currently looking.
What else is in Cafe Baby's near future?
We never want to lose our local touch. As a parent, I want to see who is making my baby food, so we always want to be available for parents to come see who is making it. Once we get our storefront up and running, we'd love to start franchising in different cities across the country slowly.•
Please enable JavaScript to view this content.