When Dale Nash of Vincennes deployed to Iraq with the Army National Guard in 2003, he wore military-issued earplugs meant to protect his hearing from explosions, weapons fire and other combat noise.
Nash says the earplugs, made by Indianapolis-based Aearo Technologies LLC, didn't work. Now 50, Nash was diagnosed with hearing loss and tinnitus in 2006, and last month, he filed a product-liability suit in Marion Superior Court against Aearo and its corporate parent, St. Paul, Minnesota-based 3M Co.
More than 200 current and former members of the military from multiple states have filed similar suits in federal and state court in recent weeks.
The lawsuits come on the heels of a $9.1 million settlement 3M reached with the federal government in July to resolve allegations related to the same earplugs.
The tinnitus, Nash said, is what affects him most.
"You've just got a constant roar in your ears," he said. "It makes it difficult for me to keep a good conversation in a noisy area, or if there's more than a couple people talking."
Nash served in Iraq from 2003 to 2005 and again in 2008. He was honorably discharged from the National Guard in 2008 and currently works as a truck driver.
In his lawsuit, Nash is asking for monetary damages and compensatory relief in unspecified amounts, along with court costs and attorney's fees.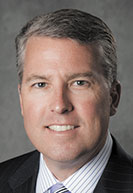 Reese
"We anticipate that there are going to be thousands of these filed across the nation," said attorney Jason Reese of Wagner Reese LLP, the Carmel firm representing Nash and numerous other plaintiffs. "This is a significant case, with significant injuries."
As of Feb. 26, Reese's firm had already filed 31 lawsuits against 3M and Aearo in state court on behalf of Indiana plaintiffs, and another 23 in federal court on behalf of out-of-state plaintiffs. Reese said his firm represents clients nationwide and expects to file additional suits.
Aearo referred media queries to 3M, and 3M officials declined to be interviewed. Instead, the company sent the following statement:
"3M has great respect for the brave men and women who protect us around the world. We have a long history of serving the U.S. military, and we continue to sell products, including safety products, to help our troops and support their missions. We are not commenting on specific litigation matters at this time."
3M has not yet filed a legal response to Nash's case.
But according to legal filings, 3M appears braced for a large number of lawsuits.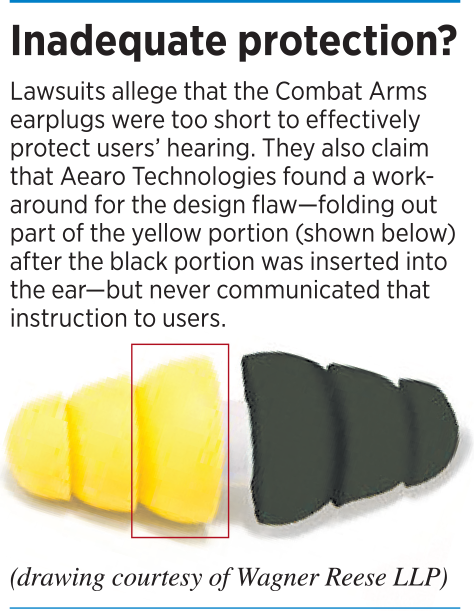 According to a document the manufacturer filed with the U.S. Judicial Panel on Multidistrict Litigation Feb. 19, 3M referenced more than 200 legal actions that had been filed against it to date, and "the 'thousands' of additional similar cases plaintiffs' counsel have stated they intend to file in the future."
In that document, 3M describes the Combat Arms Version 2 earplugs as a "revolutionary breakthrough in hearing protection for the military" that was designed by Aearo "at the request of and in consultation with the United States Military."
One side of the Combat Arms earplug was designed to block or reduce combat-related noises such as ammunition fire while still allowing the wearer to hear quieter noises such as vocal commands—a feature called selective attenuation. The other side of the plug was designed to function as a traditional earplug, blocking or reducing all noises.
Aearo discontinued making the Combat Arms Version 2 earplugs in 2015.
Aearo history
3M purchased Aearo in 2008 for $1.2 billion. At the time, Aearo had $508 million in annual sales and 1,700 employees globally, including more than 300 at two neighboring facilities on the northwest side of Indianapolis—5457 W. 79th St. and 7911 Zionsville Road.
According to 3M's website, the Indianapolis operations are part of its personal safety division and make various types of hearing protection. The operation started in 1972 with the invention of the yellow foam earplug and went on to secure more than 90 patents for hearing-protection products, the website says.
Aearo went through a series of owners before being acquired by 3M.
Boston-based Cabot Corp. spun out Aearo in 1995, selling it to New York-based Vestar Capital Partners.
New York investment firm Bear Stearns bought Aearo in 2004 for $381 million.
Aearo filed the paperwork to go public in late 2005, but abandoned that plan after British private equity firm Permira purchased it in 2006 for $765 million.
3M declined to say how many people work at Aearo currently. But according to an IBJ report, Aearo had 354 employees and another 134 contract workers as of August 2014.
The basic argument in the cases against Aearo and 3M is that the earplugs' stems were too short, preventing many wearers from being able to insert the plugs deep enough for a proper fit. As a result, the suits claim, the plugs allowed sound to enter the ear, causing the plaintiffs to develop hearing loss and/or tinnitus.
The cases also allege that Aearo's in-house testing of the earplugs revealed the design defect in 2000, but that Aearo did not disclose this defect when it won a contract to supply the Combat Arms Version 2 to the U.S. military.
By rolling back the flanges on the earplug, users could effectively lengthen the plug's stem for a proper fit, the suits say, but Aearo never gave this information to the military even after it won the bid, the suits say.
Whistleblower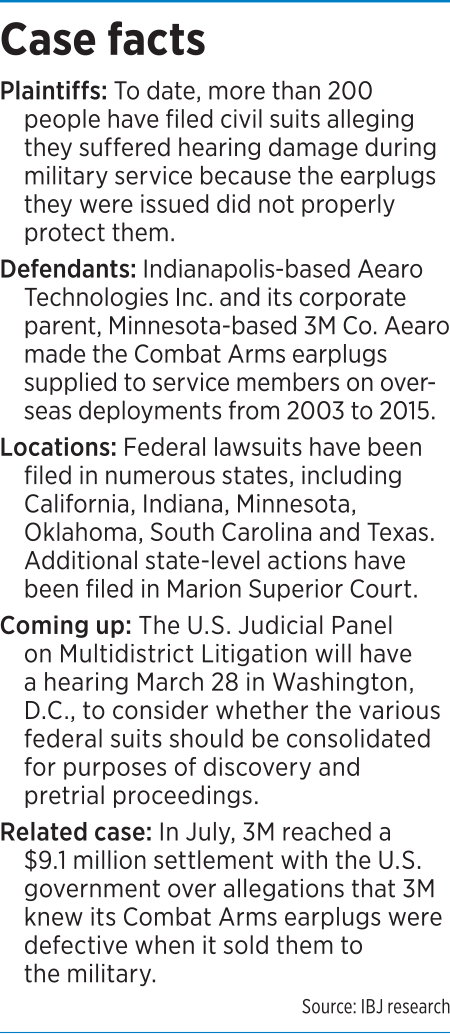 The current wave of product-liability lawsuits follows 3M's settlement of a separate federal lawsuit last year.
In July, 3M agreed to pay the federal government $9.1 million to resolve allegations that it had sold the earplugs to the U.S. military without disclosing defects that hampered their effectiveness.
Those allegations first came to light in a whistleblower lawsuit filed in U.S. District Court in South Carolina in 2016. The plaintiff in that case was Moldex-Metric Inc., a California-based company that brought the case in the name of the U.S. government. Moldex-Metric makes BattlePlugs, a competing earplug introduced in 2011.
According to the Moldex-Metric suit, Aearo was the exclusive supplier of selective attenuation earplugs to the U.S. military from 2003 to 2012.
It was last summer's settlement that paved the way for the suits now being filed by individuals around the country, Reese said.
"It kind of got the facts out there as to what was going on," he said. "It made it public."
The U.S. Judicial Panel on Multidistrict Litigation will take up the issue at a March 28 hearing in Washington, D.C., considering whether to consolidate the federal suits for the purposes of discovery and pretrial proceedings.
In a memorandum of support filed in January, 3M said it supports moving pretrial proceedings to the U.S. District Court for the District of Minnesota because that court is closest to 3M's headquarters and because that district has the necessary resources and expertise. As a neutral alternative, 3M said it would also support the U.S. District Court for the Middle District of Tennessee as a venue.
Reese said his firm has also filed a motion in support of pretrial consolidation and is asking to make the U.S. District Court for Southern District of Indiana the venue because Aearo is based here.
Still undetermined is whether the federal cases would be taken back to their respective states for trial. Also unknown is whether the judicial panel's decision will affect cases filed in state court.
"It's just kind of a wait-and-see issue right now," Reese said.•
Please enable JavaScript to view this content.