Kerauno, a maker of communications-workflow software, is super-charging its growth with what many believe is a record haul of venture capital.
Officials for the Indianapolis-based company—which has existed as a stand-alone business just 14 months and until now has been self-funded—told IBJ it recently closed on a $25 million Series A round of funding.
Series A rounds represent a firm's first wave of venture funding. Sources in the central Indiana VC and tech industries said it's the largest Series A haul ever by an Indiana-based software company.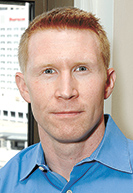 Dale
Frank Dale, a local tech veteran who has worked for several startups and early-phase companies and is now co-founder and CEO of the sales-software firm Costello, called Kerauno's raise "unprecedented."
"For a software company, that's an exceptionally large Series A round not just in Indiana but anywhere," Dale said.
Since the start of 2018, just 7 percent of all Series A raises worldwide have been $25 million or more, according to Crunchbase, an investment research firm. Of 4,200 Series A fundings worldwide, only about 300 were $25 million or more.
Many of the biggest Series A raises are in life sciences, where firms must spend massive sums to develop products and bring them to market. In that realm, Indianapolis-based Outpost Medicine, which is developing treatments for urologic and gastrointestinal disorders, set the state's Series A record, raising $61 million in 2017.
Investors opted to bet big on Kerauno because they're jazzed about the potential for its software platform, which helps companies manage and streamline communication through email, text, voicemail, social media and private chats. The company's clients range from Andretti Autosport and Ace Rent a Car to Jackson Hewitt and Meineke.
Kerauno officials said all of the $25 million raised will fund growth, as opposed to other uses, such as buying out owners.
They say the 50-person company will plow the money into hiring workers, launching a massive headquarters expansion, and ratcheting up global marketing.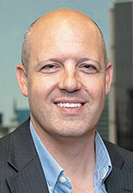 Josh Ross
The firm in January announced that it will spend $5.2 million to open a new downtown headquarters and said it plans to add 112 workers in the next two years.
Kerauno—which currently has annual recurring revenue of $4.5 million—plans to grow from within and through acquisitions.
Much of the $25 million came from connections the firm established in the IndyCar Series, said Josh Ross, who founded Kerauno with his brother Jason and serves as CEO. The brothers remain majority owners.
Company officials said the round included institutional and individual investors, but would identify only a few notable ones, including race team owner Michael Andretti and The Joan Hanley (Steinbrenner) Trust.
Hanley is the mother of George Steinbrenner IV, grandson of the late legendary Yankees owner George Steinbrenner III. The younger Steinbrenner last year became the youngest team owner in IndyCar history, at age 22. He had previously been involved in the Indy Lights feeder series.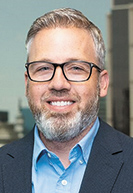 Jason Ross
Andretti, a retired championship open-wheel racer, is now chairman and CEO of Andretti Autosport, a powerhouse team in IndyCar, and an Indianapolis 500 winner.
The Ross brothers, who grew up as race fans in Danville, met Andretti seven years ago, when another firm they own—the business-to-business data and voice network company Axia Technology Partners—got a shot to be his team's internet provider. Axia later became an Andretti team sponsor.
The Rosses launched Kerauno as a communications-workflow platform within Axia in 2016 and spun it out as a separate company in January 2018.
Last May, Kerauno signed a deal with Andretti Autosport to help the team better communicate with its sponsors, hospitality guests and other corporate partners and fans through a variety of electronic channels.
Kerauno also became a sponsor for the team, including primary sponsorships for certain races for cars driven by Marco Andretti and 2016 Indianapolis 500 champion Alexander Rossi.
"I've been fortunate to watch this company grow into what it is today," Joan Hanley said. "And I'm excited to see how Kerauno can change the industry. The way they connect business and improve business processes is so valuable for companies."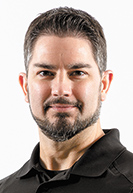 Bresnahan
Andretti Chief Marketing Officer Doug Bresnahan said it's exciting to hear that Kerauno's involvement in the series has helped it raise venture capital.
"It's a testament to the environment of IndyCar, but the Ross brothers attended races and other racing events and worked hard to take advantage of the opportunity—and of course, they have a great product," Bresnahan said.
"Being involved in IndyCar is about a lot more than stickers on cars. That doesn't get you very far. We're constantly brokering introductions and meetings. We're in the business of connecting people."
Josh Ross agreed.
"The relationships that we made through racing are certainly a big part of this fund-raise, but it's the platform and what it can do that sold it," he said. "There's great demand for this because it's new to the market. This is about creating convenience and better relationships."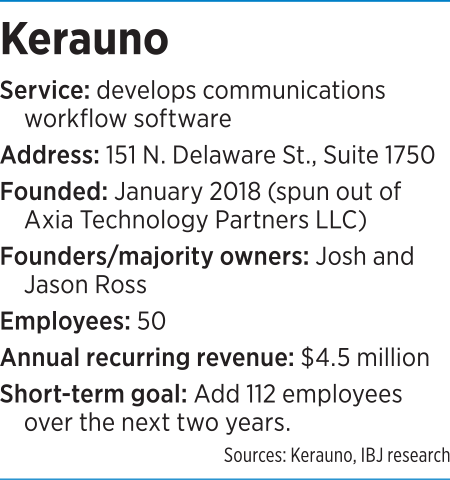 Ross told IBJ he wasn't surprised by the size of the capital-raise. He said Kerauno was almost immediately profitable and had a $20 million valuation after six months.
The company remained in the black until early this year, when it began to accelerate growth.
"To be able to raise this level of capital in this short amount of time … that's quite a testament to the track we're on," Ross said.
Already, the Ross brothers are making plans for more fundraising to fuel even faster growth.
"I'm taking 10 to 15 calls a week from interested investors," Ross said. "I think there will be subsequent raises that will be larger."
Kerauno currently is on the 17th floor of downtown's Gold Building. The Rosses are looking for at least 40,000 square feet to house Kerauno and Axia.
The firm wants to hire a range of personnel, including software developers and engineers, quality assurance employees, marketers and project management staff.
Kerauno, which already does business in nine countries, is seeking to move into many more.
"It takes money to expand globally," Ross said.
The company also has one acquisition target in its sights and hopes to close on a purchase within a month. Ross declined to identify the company.
"We think by making the right strategic acquisition—and we think that will happen pretty soon," Ross said, "that will help us launch the next generation of Kerauno."
He said that next generation of software will be able to seamlessly integrate any unified communication system worldwide.•
Please enable JavaScript to view this content.