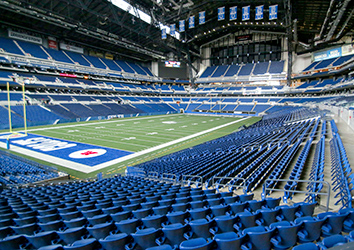 The wireless infrastructure at Lucas Oil Stadium could see significant improvements in the coming months as part of a nearly $7 million, three-way deal between the Colts, the Capital Improvement Board and Verizon.
The new Wi-Fi system would add and relocate wireless access points—used to connect to the internet—to the entire 67,000-seat venue, with the parties expected to split the cost of the improvements evenly.
Barney Levengood, executive director of the CIB, said during a public meeting Friday that each group will pay up to $2.33 million toward the costs of the upgrades, which are expected to be completed by the start of NFL preseason games in August.
He said the deal stems from months-long conversations between the CIB and the Colts about improving the fan experience at the 11-year-old Lucas Oil Stadium, with wireless technology being only one of those components.
Levengood said the enhancements to Wi-Fi would improve connectivity throughout the venue for fans and stadium personnel, among others, helping "meet the demands" placed on the wireless system on game days and during other events hosted at the venue.
Fans often connect to the stadium's Wi-Fi on game days to follow other games on social media and other applications, as well as keep up with their fantasy league games—features that hadn't quite taken off at the time Lucas Oil Stadium was designed in the mid-2000s.
The move is also part of an ongoing effort by the CIB to implement modern technologies at each of the venues it owns.
He said the Indiana Convention Center also is in need of upgrades, and those discussions will likely take place after Lucas Oil Stadium's wireless improvements are completed.
The proposed enhancements at the stadium would rely on hardware manufactured by San Jose, California-based Extreme Networks and move away from the current Wi-Fi setup relying on back-wall access points throughout the stadium.
The new infrastructure would see an unspecificed number of modern wireless access points placed beneath the stadium's seats, which Levengood described as "an under-seat solution," designed by Extreme Networks and Verizon.
The improvements would position Lucas Oil Stadium "in the top half" of the NFL" in regard to Wi-Fi capabilities, he said.
The CIB's board authorized Levengood and President Melina Kennedy to work toward completing a contract on the improvements, which is expected to be finalized within the next month.
The improvements would come as an amendment to the existing Wi-Fi agreement between the board and the Colts. The deal would carry a seven-year term.
Levengood said additional improvements may be required before that span ends, if technology advances enough.
"We are hopeful this is at least a seven-year solution," he said. "But we could have to make more changes sooner, or they could last longer."
The Colts declined to comment on the proposal.
Please enable JavaScript to view this content.