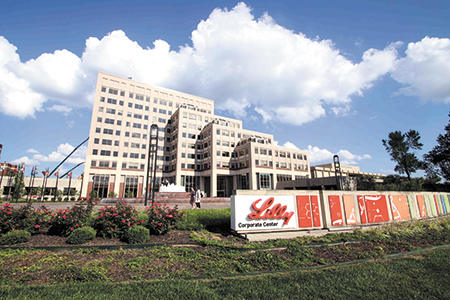 The Indianapolis City-County Council on Monday night approved granting Eli Lilly and Co. a tax abatement worth $7 million over the next 10 years, even though several council members expressed concern about the proposal.
The council voted 19-6 to approve Lilly's request, which is tied to the firm's pledge to spend $91 million on a building at its Lilly Technology Center on Kentucky Avenue that will house the company's biosynthetic human insulin production operations after a renovation.
The company also received a $9.3 million tax abatement in 2017, in exchange for investing $159 million in other insulin manufacturing operations.
Mayor Joe Hogsett's administration supported the tax abatement request, with deputy mayor Angela Smith-Jones stating earlier this month that Lilly's corporate citizenship "absolutely pays more than whatever the abatement benefit is in a dollar amount."
The city also signed an agreement with Lilly in 2017 supporting Lilly's "efforts to obtain future tax abatement" for new development or rehabilitation of property or equipment, and to "expedite the process for approval of future tax abatement."
The proposal on Monday passed after no discussion at the council meeting, but a bipartisan group voted against it: Democrats Zach Adamson, Stephen Clay, Jared Evans and Christine Scales, along with Republicans Susie Cordi and Marilyn Pfisterer.
Opponents previously said they would vote against it in part because of concerns that the tax abatement isn't being given in exchange for additional jobs.
Michael O'Connor, Lilly's director of state government affairs, said earlier this month that Lilly, rather, was "committing [that] we're not going to lessen manufacturing jobs."
Lilly now employs 680 fewer Marion County residents than it did just a year ago. As of December, Lilly had 3,647 employees who live in Marion County.
But O'Connor said that some of those people are likely currently employed at animal-health business Elanco, which was recently spun off from Lilly.
Please enable JavaScript to view this content.