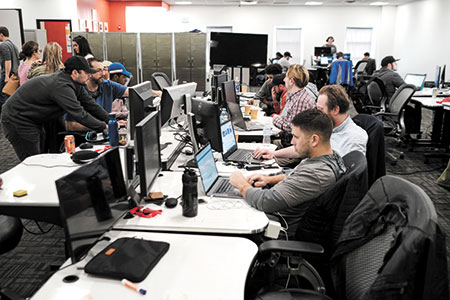 Eleven Fifty Academy has recently ramped up efforts to put students through its coding boot camps, with about 150 students graduating in the last six months—the same number who went through the program during the previous four years.
Now the Fishers-based academy wants to reach even more students and is introducing new efforts to bring them on board. Eleven Fifty Academy is offering part-time boot camps for the first time, introducing a new way for students to finance tuition, and targeting veterans for its programs.
Those initiatives come on the heels of news that Eleven Fifty Academy is looking to expand outside of Fishers by launching boot camps in Evansville, Fort Wayne, Gary, and other Indiana cities and towns. Soon, it could also expand outside Indiana's borders.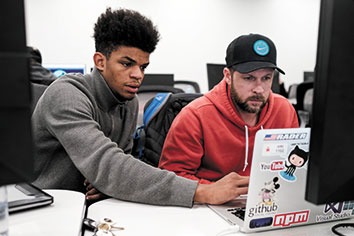 Students William Flowers, left, and Chad Rader work on a coding assignment.
Eleven Fifty is one of two growing Indianapolis-area coding academies striving to create a pipeline of experienced technology professionals ready to meet the needs of Indiana's growing tech sector.
Kenzie Academy in Indianapolis offers courses similar to those at Eleven Fifty, except Kenzie's classes last at least one year. The school debuted in 2017 and launched its first class last year with 120 students, who are preparing now to graduate. Kenzie will launch its next class in April with at least 90 students. Students can earn certificates through the downtown campus at 47 S. Meridian St. or the full-time online course.
Serial entrepreneur Scott Jones started Eleven Fifty Academy at his Carmel estate at 1150 W. 116th St. in 2014 as a not-for-profit coding school to help meet growing demand for experienced programmers. Eventually, the academy grew out of Jones' home and into coworking space at Launch Fishers. It has since outgrown its original space at Launch Fishers and taken over what had been cafeteria area for tenants. The school is leasing additional temporary office space nearby as it looks for a larger home.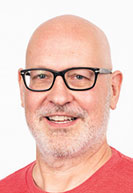 Jones
Jones, who spent a few years living in Hawaii, has been hyper-focused on growing Eleven Fifty since returning to Indiana last May.
Three-hundred students have already "graduated" from the academy, and leaders hope to put 1 million through the program over the next decade.
Considering the academy's recent growth, Jones predicted that it won't be difficult to hit that goal.
"We think we have an engine that's really got gas in it now," he told IBJ.
Tapping into the market
Jones estimates Eleven Fifty is currently serving only 10 percent of the potential market. The remaining 90 percent includes people who would benefit from coding education but don't have the time or resources to dedicate to Eleven Fifty's immersive 12-week course.
Beginning next month, Eleven Fifty will offer part-time courses. The classes will target people who are employed but see value in learning coding to complement skills they already possess and people looking for an opportunity to find better jobs through coding.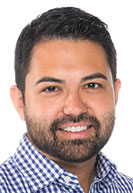 Huer
Jones said those students might also have families and other responsibilities that keep them from being able to participate in a full-time course.
JavaScript, one of Eleven Fifty's most popular classes, will be the first offered part time. Students will meet two evenings a week and on several Saturdays over a 24-week period. Even though the course will take longer than the traditional class, the focus will be the same.
Newly hired Chief Learning Officer Jonathan Blake Huer said the part-time course allows Eleven Fifty to give everyone an opportunity to learn to code.
"There's an overwhelming need for programming. Period," Huer said. "In every business. In everything. Technology is impacting everywhere. It doesn't matter where you are, you should learn to code."
Huer said he hopes employers see value in putting employees through the course because anyone who does routine tasks on the computer can benefit from it, he said.
Jones hopes the part-time courses open new doors for people who feel trapped in current jobs. Eleven Fifty has a job placement rate above 81 percent, with most graduates finding jobs with salaries starting at $50,000. Many, however, are earning $70,000 to $80,000 to start. The courses Eleven Fifty offers can be "quite transforming" for graduates, he said.
To make the course even easier for parents to attend, Eleven Fifty is also considering offering child care that would be tech-oriented.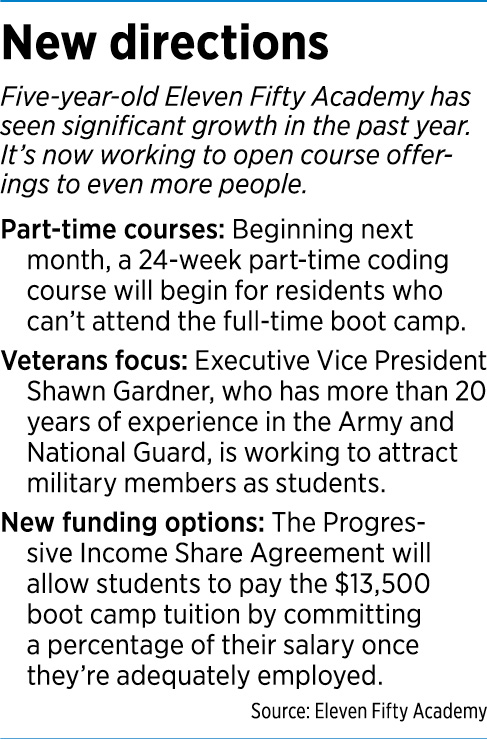 New funding options
Because the academy isn't accredited, its students don't qualify for traditional student aid offered at colleges and universities.
Since many people can't afford $13,500 upfront, the academy does offer scholarships and financing. In fact, Eleven Fifty is preparing to launch a financing option called a progressive income share agreement, which Jones estimates will be used by at least half the academy's students going forward.
Known as PISA, the arrangement will enable students to borrow the money needed to pay tuition interest-free. Once they graduate and land good jobs, they'll make payments based on their income. The structure is similar to income-share agreements offered by some colleges and universities, including Purdue University, as an alternative to student loans.
With the PISA, students will make monthly payments equal to 5 percent of their income until the loan is paid off. For someone earning $36,000 annually, the payment would be $150 a month. A graduate earning $72,000 would make a monthly payment of $300.
Students who don't graduate or don't land a job earning at least $36,000 won't pay anything back, Jones said. The agreement puts the risk on Eleven Fifty, he said.
"We have to make sure we educate you with the skills you need to graduate, to be placed and to be placed in a high-paying job," he said.
Jones said he's in the process of finding funding for the program through federal, state and charitable dollars, but eventually it will be self-sustaining because students would take from the pot and then reimburse it once they're working.
"We have a mechanism now that, when you support us, it's the gift that keeps on giving," he said.
The Kenzie Academy also offers a way for students to pay for their tuition after finding a job. Kenzie's income share agreement, which the academy already offers, allows students to pay $100 upfront toward their $24,000 tuition and pay the rest once they land a job earning at least $40,000.
Kenzie also has a payment option that allows students to work remote, part-time jobs that fit around their class schedule to pay their tuition or their general living expenses. The earn-and-learn program through Kelley Services is similar to a traditional work-study program
Reaching veterans
Jones said the academy is also focused on reaching underserved populations, including veterans.
Currently, minorities make up about 30 percent of the academy's students, women represent 25 percent, and veterans represent 8 percent. By the end of the year, the academy hopes 25 percent of its students are veterans, and leaders are taking steps to educate former military members about the academy.
Eleven Fifty now accepts G.I. Bill benefits, which provide funding to veterans to pay for tuition, housing and books.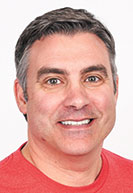 Gardner
Eleven Fifty's executive vice president, Shawn Gardner, served in the Army for 24 years and worked with the Indiana National Guard before transitioning to his role with Eleven Fifty in June. He's been meeting with military units to find active-duty members preparing to transition to civilian life to alert them to courses they can take at the academy to launch a private-sector career.
Veterans are perfect candidates for Eleven Fifty because they've been through tough boot camps, demonstrated grit and stayed focus, Jones said.
As Eleven Fifty beefs up the number of veterans graduating, it's also planning to introduce courses they might find appealing: an immersive cybersecurity-specific curriculum. Cybersecurity is one of the fastest-growing sectors of technology and one that resonates strongly with the defense sector, Gardner said.
When he came to the academy, Gardner said, he saw how 12 weeks can change people's future and that's what drew him in.
Now, he said, he's excited to build a "groundswell of opportunity" for transitioning military members.•
Please enable JavaScript to view this content.