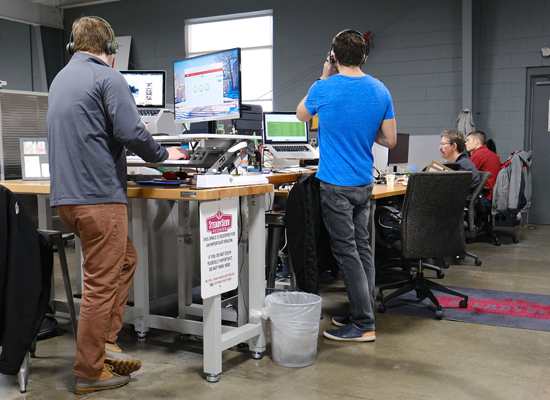 A longtime leader of Indiana's tech community has stepped in to attempt to turn around Fishers-based SteadyServ Technologies LLC, one of the most-ballyhooed startups in state history but one that has perennially underachieved while burning through more than $30 million in capital.
David Becker, 65, a serial entrepreneur who serves as CEO of Fishers-based First Internet Bancorp and has invested in many software startups, recently became chairman and co-CEO and is seeking to raise $3 million to $5 million to inject into SteadyServ in the next 90 days.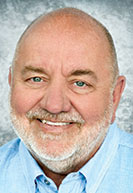 Becker
Becker didn't respond to requests for comment but laid out those plans in a Feb. 28 bankruptcy hearing for SteadyServ, which filed for Chapter 11 bankruptcy on Feb. 7, according to an audio recording of the proceedings reviewed by IBJ.
In the hearing, Becker said he's confident it's not a case of throwing good money after bad, despite SteadyServ's dubious record of missing sales projections nearly every quarter since its founding seven years ago. The firm has just 14 employees and posted 2018 revenue of only $379,010.
"There is a lot of investment in this company to date, and I think it would be a shame for it to implode when it is that close to the finish line," Becker said.
"It would be a tremendous black eye to the technology industry here in central Indiana, and I think as a going concern it can get to the finish line and turn a profit for the shareholders and pay the creditors and be a thriving company."
The company initially focused on a system, known as iKeg, that monitors the amount of beer remaining in kegs at taverns, stadiums and restaurants—and sends digital alerts when levels are low.
About a year ago, its priorities shifted to developing data-analytics software that bars and restaurants integrate with their point-of-sale systems. The sales effort for the software—which allows the retailers to boost profitability by evaluating their product mix and pricing structure on a nightly basis—began in earnest in late 2018.
Becker said the service is inexpensive—averaging only $150 a month—and the rollout coincides with a push throughout retailing to gather and analyze data to better understand what's happening inside stores and to drive better business decisions.
"You can go in and help a gentleman improve his business by 25 percent to 30 percent for probably less than he is paying for his cell phone on a monthly basis," Becker said in the court hearing. "It is pretty hard not to make that sale."
Prominent investors
Dozens of prominent central Indiana businesspeople have ownership stakes in SteadyServ—from founders of The Finish Line Inc. and principals of Periculum Capital to software entrepreneur Mike Simmons and mAccounting founder Tom Gabbert.
According to the Indiana Economic Development Corp.'s transparency portal, SteadyServ also received a total of $1.5 million in awards in 2013 and 2014 from the state's 21st Century Research and Technology Fund, which helps develop and commercialize advanced technologies in the state.
But the businessperson who put the most on the line was Robert Eveleigh, 61, president of Indianapolis-based Lawler Manufacturing Co., a century-old maker of flow-control and mixing valves for the plumbing industry.
He's out more than $13 million. That includes $8 million in equity and another $1.5 million through a series of loans. In addition, he agreed to personally guarantee a $4 million Centier Bank loan that went into default, forcing him to ante up that entire amount to make good on his guarantee last year.
Eveleigh, who owns about 20 percent of the company, referred questions to his attorney, Jim Knauer, a partner in the law firm Kroger Gardis & Regas.
Knauer told IBJ that Eveleigh "has been investing in the company almost since it started. They kept telling him success was just around the corner. They kept convincing him they were about to be successful, so he kept putting more money in."
"He believed for a very long time they were going to be successful, and obviously he has been successful, or he couldn't make an investment like that. Finally, he ran out of patience."
Eveleigh was far from alone in having high hopes. In 2013, CEO Steve Hershberger predicted the company would rack up $25 million in annual revenue within a couple of years, and in 2015 Red Herring, an international media company that covers technology investments, named SteadyServ to its 2015 "Global 100" list, which identifies the most promising startups from Asia, Europe and the Americas.
The company's bankruptcy filing listed assets of just $54,999 and liabilities of $6.5 million, much of it in the form of secured debt owed to Eveleigh and one of his affiliated companies, RBE Investments LLC.
Polishing up the pitch
In the Feb. 28 court hearing, Becker said he's confident that success is finally arriving. He said that just in February the company lined up 22 new customers.
He laid out a scenario where the company—which has been burning through $200,000 per month—could reach break-even within a year and achieve annual recurring revenue of $4.5 million in three years. That would push the company's value past $16 million, based on the low end of multiples used to value software-as-a-service companies, Becker said.
One reason for the sudden spike in sales, he said, is a simpler, more effective sales message.
"We spent a lot of time cleaning up the sales presentation," Becker said in the court hearing. "The first one I saw was 45 slides. And even having an understanding of what the company does, I was so confused by the time I got through it that I wouldn't buy the product."
Knauer said he isn't persuaded.
"There was a lot of what I would call speculative testimony by a company that never once met its projections in all these years," he said.
On Feb. 5, Eveleigh sought to cut his losses by suing SteadyServ in Hamilton Superior Court. The case alleged breach of contract and sought the immediate appointment of a receiver to operate the business, with the goal of finding a buyer that would continue it as a going concern.
SteadyServ's bankruptcy filing two days later automatically put that lawsuit on hold.
Eveleigh and SteadyServ soon were sparring on a different legal front. In bankruptcy court, Becker and the investment arm of The Indiana Spine Group offered to provide $1 million in financing to SteadyServ but only with the unusual condition that the loan be placed ahead of Eveleigh's secured claims in repayment priority.
They argued that no other loan options were available to the company under more conventional terms and that, without the financing, the company would have to shut down, permanently destroying a business on the precipice of a turnaround.
At a Feb. 28 hearing, Knauer fought against the loan proposal, but a week later Judge Jeffrey Graham approved it, apparently swayed by Becker's optimistic outlook.
If SteadyServ's turnaround fails, "my client is going to lose a million dollars because of that hearing," Knauer said.
Storied career
In the court hearing, Becker pointed out that his 40-year career in the technology industry includes experience successfully turning around struggling companies—including a money-losing division of Greyhound Dial Corp. he bought in 1989 and sold in 2004 for $24 million.
Becker has racked up a long list of other successes, including Indianapolis-based re:Member Data Services Inc., a provider of data processing for credit unions that Becker founded in 1981 and sold in 2004 for $20 million. In 2006, he founded First Internet, which today has assets of $3.3 billion and a stock market value of $207 million.
Becker does not have ownership in SteadyServ but began talking with Hershberger last fall about the company's problems and how to address them.
He joined the board in December, and by January moved up to chairman and co-CEO. Hersberger—who could not be reached for this story—remains with the company as the other co-CEO.
Becker's next step is providing the company with a cash infusion. He envisions raising the $3 million to $5 million from a range of sources—including himself, the Indiana Spine Group affiliate (which already is a major backer) and other original investors.
"The analogy I used with Steve is, the company is in the 24th mile of a marathon," Becker said at the Feb. 28 hearing. "They are closing in on the finish line, but they are not quite there yet. But I think the company can get to the finish line."•
Please enable JavaScript to view this content.