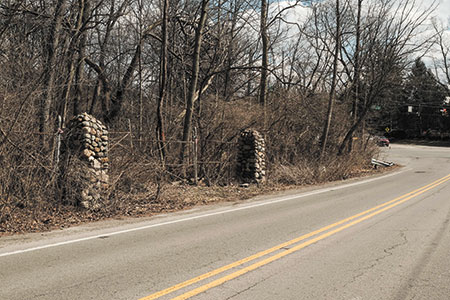 A 4.3-acre, wooded site along Meridian Street in Washington Township that has sat vacant and undeveloped for decades is on the market for $1.9 million, likely finally setting the stage for additional high-end residential development in one of the ritziest parts of Indianapolis.
The property at the northwest corner of Meridian and Meridian Hills Boulevard has raised eyebrows for decades, since there would have been no shortage of interested buyers had the owner sought to sell. It sits within the town of Meridian Hills, a 1.7-square-mile enclave where many homes are valued at more than $1 million and the median household income is $151,563, more than double that of Indianapolis as a whole.
The listing agent on the property, Cushman & Wakefield Director Bo Leffel, said the property owner—whom he declined to identify—is "aware of the high-profile nature of the site and wants to do what's best for the neighborhood, within reason."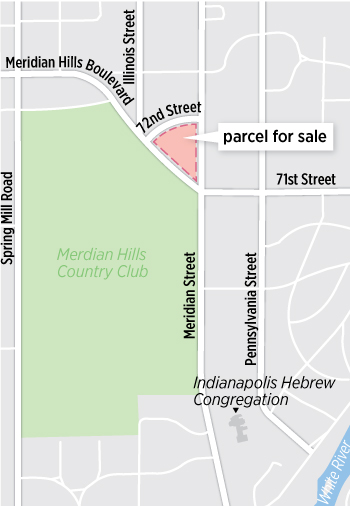 According to Marion County property records, the parcel is owned by Eagle Standard LLC, which state filings indicate serves as a holding company for land owned by Elizabeth Johnson and immediate family members, including her son John Johnson.
John Johnson—who manages the limited-liability company's assets on the family's behalf—could not be reached for comment.
Leffel said that, since Cushman and Wakefield erected a for-sale sign on the corner last fall, he has received dozens of calls from potential buyers, as well as from people curious about the site's future.
"It's a small buyer pool that could afford … this property and has a vision for it that will work," Leffel said. "We're looking for the unique buyer out there."
Leffel said that, because the property sits in a residential neighborhood and is zoned R2—which permits homes and duplexes—it likely would be developed for single-family homes. However, he said he's also received inquiries about commercial or multifamily residential development.
The town's historic stringency on zoning and the demand for more housing in the corridor probably make commercial development a long shot, Leffel said.
Development of homes in Meridian Hills began about a century ago. The town incorporated in 1937 and today has about 1,800 residents and 715 homes, according to its website.
The site up for sale already is divided into nine parcels—which suggests residential development was contemplated at some point. If a buyer followed that plan, most of the parcels would be three- to five-tenths of an acre, though one at the southeastern edge of the property—bordering Meridian Hills Boulevard and Meridian Street—is 1.14 acres. Four additional parcels face Meridian Street, while two face Meridian Hills Boulevard and 72nd Street.
"Those all seem plenty big enough to have new, nice family homes on them. It's really dealer's choice," said Chris Short of Werk, a custom-homebuilding firm that is not contemplating an offer for the property.
Greg Cooper, who specializes in high-end sales for Berkshire Hathaway HomeServices, said that, if a buyer proposed something "wildly outside of the boundaries of what's already around there … some people aren't going to be very happy."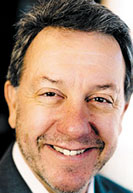 Cooper
Any development would be a sharp departure from the status quo.
The property was first purchased, from the federal government, in 1834 by Thomas Jackson. The land changed hands several times in the decades that followed, though details are hard to find.
"Since it was outside the old city limits, it's hard to find records," said Sharon Butsch Freeland, who conducted research on the property for the website Historic Indianapolis.
Freeland said that, since at least the 1940s, the property has been owned by the family of Lafayette Andrew Jackson—it's unclear if he was related to the site's original owner—who founded the Standard Grocery Store chain and built it to 226 locations before being killed during a robbery at one of his stores in 1931.
Several members of the family moved into a home that already was on the property and lived there until the early 1960s, when a fire destroyed the house.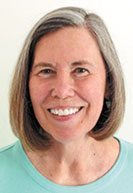 Freeland
Elizabeth Johnson, one of the current owners, is the granddaughter of Lafayette Andrew Jackson, and took ownership after the death of her brother, Edward Wiest, who inherited the land from his aunt, Charlotte Baldwin.
The property generally sat untouched in the decades after the fire, Freeland said, noting most of the land had been cordoned off from the outside world by fencing along its perimeter. Several tall stone pillars run along the perimeter as well.
"In recent years, people have forced some of those gates open," she said. "But people see deer and other animals in that area, all the time. They have free run of it, really."
The woods—or at least a portion of them—are likely to be razed as part of any development, real estate observers say.
Leffel said he has heard from people concerned about the loss of the trees and from others who would like to see the site turned into a park. He told IBJ "that's probably not a realistic use," given the demand for new housing and the price tag for the land.
Cooper said he's confident the land will sell. It's just a question of how soon and at what price.
"But what I'm seeing right now is that, for optimal pieces of ground, especially, the sky is somewhat the limit," he said.•
Please enable JavaScript to view this content.