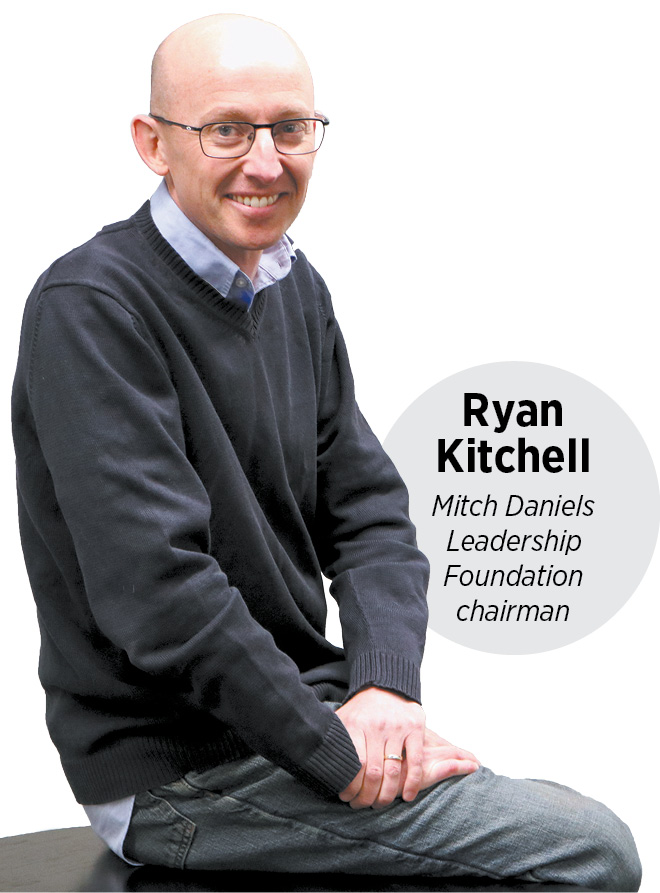 Ryan Kitchell took over as chairman of the Mitch Daniels Leadership Foundation board two years ago and led the creation of a fellowship program meant to nurture leaders and drive change.
The foundation's first class of fellows is preparing to graduate, after working on projects related to hunger, infant mortality, hate crimes legislation and talent recruitment. Now, it's looking for as many as 20 innovators for its next class.
IBJ talked to Kitchell, who is also the executive vice president and chief administrative officer of Indiana University Health, about the foundation and the types of fellows it's seeking.
What is the Mitch Daniel's Leadership Foundation?
It's a not-for-profit launched shortly after Gov. Daniels left office, with the goal to enable leaders and drive change and continue progress in our state that was evident when Mitch was governor.
What has the foundation done over its six years?
In the first phase of the foundation, we were focused on identifying accomplished leaders. We did that with [Pacers Sports & Entertainment Vice Chairman] Jim Morris and [former Cummins CEO] Tim Solso. They won the first two Daniels Leadership prizes. Then they both identified an innovator in the not-for-profit space that we were able to give a $100,000 grant to try to accelerate the good work that they were doing. [ExactTarget co-founder] Scott Dorsey was our third winner.
We have expanded the foundation to doing other things as well. One of those is to recruit and develop leaders who want to drive change in Indiana.
What are you looking for in a fellow?
We want people who don't accept the status quo, who have a track record—certainly a desire—to change Indiana for the good. We want folks that are committed to the program and have the time to do it.
There's a one-on-one mentorship those fellows will have with our network of supporters. There are monthly meetups as well as quarterly Aim Higher events where we have speakers come in. And then at the end, they will all be pitching to their fellow colleagues a change that they would like to see happen. Then, with our network and resources, we want to partner with them and try to drive that change.
Are there examples from the first class?
We did the first class a little differently. We were actually directing those efforts. One area was the hunger and infant mortality issue, so there were five fellows who we charged with trying to figure out how to advance that work. They partnered with the Indy Hunger Network and Shepherd Community.
There was also an effort that was kind of a talent opportunity. Mitch calls it "brain gain." We had each fellow identify a talented person not living in Indiana and work to recruit them back to Indiana. We had some good progress there, as well as that spinning off into, in one instance, finding a company that had already signed a lease in Boston. They were leaving, and we got them to stay. They moved from Lafayette to Fishers, but they stayed in the state.
Are the fellows young?
We don't have an age restriction. We're looking for folks that want to drive change. No age requirement, no party requirement, no Purdue linkage requirement and we want to be statewide as well.
How is the program different from other leadership programs in town?
Two things that we hope are different. We are trying to do this kind of action element and actually drive some change. Then we're trying to make it statewide, which is challenging to do. Mitch has been really adamant about that.
When do the nominations or applications close?
April 10 is the last day. And then May 1 is when we will announce the winners.•
—Lesley Weidenbener
Please enable JavaScript to view this content.