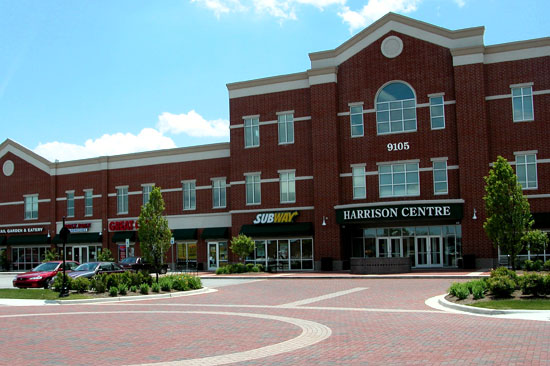 An office and retail building at Fort Benjamin Harrison in Lawrence is once again up for sale, with an asking price of almost $6 million.
Harrison Centre, 9105 E. 56th St., anchors the 20-acre Harrison Commerce Park development at the former military base, and is directly across 56th Street from the 1.5 million-square-foot Maj. General Emmett J. Bean Federal Center.
The building, constructed in 2003, contains 61,477 square feet of office, retail and restaurant space. It is 89 percent occupied. Major tenants include PNC Bank, Indiana Department of Child Services, Eddy's Sports Pub and Jack's Donuts.
The 3.8-acre property has changed hands three times in the past eight years. The latest sale was in 2017, when South Bend-based Great Lakes Capital acquired the building for more than $2.8 million from Cincinnati-based Financial Way Realty Inc.
The Harrison Centre and the rest of the business park are in an area designated as an opportunity zone to encourage private development. Among the projects planned for the area are a new cultural plaza, arts district and outdoor amphitheater. Lilly Endowment gave the city of Lawrence a $5.9 million cultural innovation grant last year to help fund the new projects.
The former base—now a 1,700-acre state park—has been revitalized over the past few decades through private and public funding initiatives and development efforts, including the creation of the Fort Harrison Reuse Authority.
David Ellis and Janice Paine, both of Indianapolis-based commercial brokerage Bradley Company, are the listed agents for the property.
Paine, senior vice president at Bradley, said in a written statement the building offers "a stabilized investment with quality tenants," noting there is still room to grow profit margins.
The section of 56th Street that passes between the federal center and the Harrison Centre is traveled by about 25,000 vehicles per day, according to traffic studies.
Please enable JavaScript to view this content.