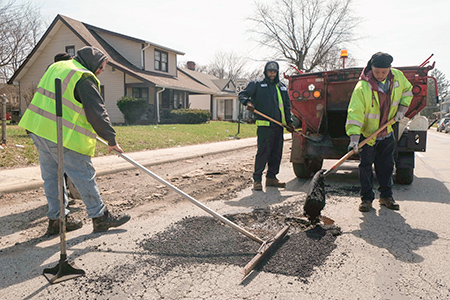 As city crews race to fill the potholes on Indianapolis streets, Mayor Joe Hogsett's likely Republican challenger in this fall's municipal election is racing to define the mayor by those same pockmarked roads.
State Sen. Jim Merritt has held two campaign events in as many weeks focusing on the city's pothole crisis, laying the blame squarely at Hogsett's feet.
"The pothole crisis we are facing today belongs to Mayor Joe Hogsett and only Mayor Joe Hogsett," Merritt said. "He alone is responsible for this mess."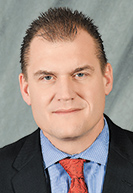 John
Though Hogsett's camp is pushing back hard against the criticisms—and his Department of Public Works is out smoothing over the potholes with asphalt—some Republicans are hopeful they can harness voter unrest the same way they did the last time the GOP captured the Mayor's Office.
"It looks an awful lot like 2007," said Thomas John, who ran the Marion County Republican Party during Greg Ballard's underdog campaign that year against then-Mayor Bart Peterson—and caught the city by surprise by winning. "There are a lot of similarities."
Back in 2007, voters were angry. Peterson, the well-funded Democratic incumbent, had pushed through an income-tax hike in an election year, even as property taxes skyrocketed for some residents. Ballard painted him as out of touch with working people, and it worked.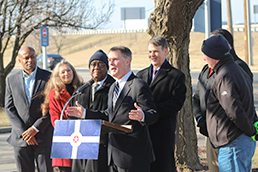 Mayor Joe Hogsett appeared at a press conference with City-County Council members to announce road-repair plans. (Photo courtesy of Indianapolis Mayor's Office)
Voters are angry now, too, Merritt's allies say, as drivers constantly dodge potholes on city streets. A music video lampooning Hogsett over the pothole crisis has more than 6,000 views, and Hogsett's social media posts are littered with comments from angry drivers. A Facebook post encouraging people to register to vote garnered comments like this one from teacher Ken Rohrer: "Unless you fix our roads, you've lost my vote."
Taking a page from Ballard's playbook, Merritt is painting Hogsett—who, like Peterson, is a well-funded incumbent in a city growing more and more Democratic—as out of touch with the challenges of everyday residents. Merritt said voters "deserve a mayor who will not forget them."
Merritt also has highlighted that just over a dozen of more than 1,300 people who filed claims against the city for pothole damage received compensation last year, calling them the "forgotten residents of Indianapolis."
"Potholes are relevant because they're terrible right now because the mayor did a poor job of planning before the pothole season," said Greg Lannan, a former spokesman for the Marion County Republican Party who's now political director for Merritt's mayoral campaign.
A winning issue?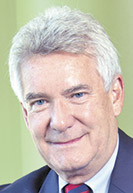 Helmke
Political experts say focusing on the city's pothole problem—and how it affects average Indianapolis residents—is a smart strategy.
"People get more upset about things that affect them daily—and potholes affect you daily," said Paul Helmke, former Republican Fort Wayne mayor and professor at the Indiana University O'Neill School of Public and Environmental Affairs. "They want to blame somebody, and they're likely to blame the mayor."
But it's unclear whether the relentless attacks will stick to Hogsett, who dedicated more money to the city's roads this year after the disastrous pothole season of winter 2017-2018.
City officials have said that, as a result, they are ahead of last year in filling the holes and strip-patching roads. So far this year, DPW said it has filled almost 200,000 potholes.
"Is it the same? I'm not sure the condition of roads reaches voters the way the tax issue did," said Andy Downs, director of the Mike Downs Center for Indiana Politics at Purdue University Fort Wayne. "Peterson, a lot of people believed, misread the level of anger and did not treat the tax issue with the importance and deference it deserved. I think Hogsett comes across as more empathetic."
Hogsett's campaign team and allies are fighting back against Merritt's criticisms.
They say Merritt, as a member of the General Assembly since 1990, has not done enough to advocate for Indianapolis to have adequate road funding.
Hogsett's campaign spokeswoman, Heather Sager, said in a statement that "Merritt's failure to lead when it comes to Marion County's infrastructure speaks volumes."
The statement added: "The fact remains that of the 52 bills he filed in the Legislature this year, not one addresses road or street infrastructure—or the tort claim process Indianapolis must follow under state law" to repay people for pothole damage costs.
The city of Indianapolis is spending $126 million this year—about $30 million more than last year, cobbled together from a variety of sources—to address transportation infrastructure, including the 8,400 lane miles of Marion County roads.
But part of the challenge is the wear and tear caused by the nearly 200,000 commuters who live outside Marion County but work in Indianapolis. Because Hoosiers pay income taxes in their county of residence, not where they work, none of those taxes help maintain Indianapolis roads.
Hogsett and other Indianapolis politicians have been highlighting that perceived inequity for years. However, the concept of changing the distribution of income tax dollars to benefit commuter-heavy urban areas has gone nowhere at the Statehouse.
State distribution
Some say another challenge is that the formula Indiana uses to distribute tax revenue is unfair to Indianapolis. The awards are based on road miles, not lane miles, which puts larger cities at a disadvantage because they generally maintain wider roads, said Matt Greller, executive director of AIM, a lobbying group for cities and towns.
"Think about Illinois Street, with three lanes," Greller said. "Illinois Street is getting the same level of funding as a one-way street in Huntington, even though there's three times as much asphalt and road bed."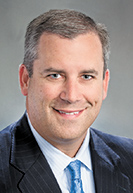 Greller
For most municipalities, the state distribution system provides a "good chunk" of road funding, Greller said, but "the larger your community and the more lane miles you have, the less percentage of your road funding money comes from the state."
Of Indianapolis' $126 million infrastructure budget this year, $52 million comes from the state, according to the city.
That has led cash-strapped Indianapolis to turn to additional funding sources, such as tax-increment financing funds and federal grants.
But Greller said supplementing state revenue has gotten harder since the Legislature in 2008 passed property-tax caps, severely restricting municipalities' revenue-raising options.
Zach Adamson, a Democrat and vice president of the Indianapolis City-County Council, said former Republican Mayor Greg Ballard paid for road resurfacing by "selling off every asset that wasn't nailed down"—a reference to such moves as privatizing the city's water utility and its parking meters.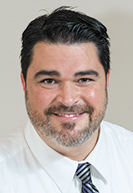 Adamson
"There's nothing else to sell," Adamson said. "We've got a large number of roads to deal with, and we're not given an equitable share of the resources to manage them. We've had to dig and scrounge and check the couch cushions for any available coin we can find to address the infrastructure needs. Those dollars just aren't there."
Adamson said Merritt's role as a longtime Statehouse leader makes his attacks on Hogsett over road funding "disingenuous."
"The irony of Merritt's position on a lot of this is that, as a state senator, one that's been there for a very long time, he has had more influence on the availability of resources than the mayor of Indianapolis has ever had," he said.
Lannan, the Merritt campaign's political director, said Merritt has backed bills that provided road funding to the city. In addition, he voted for a major infrastructure bill that raised the gas tax and generated $1.2 billion in funding for roads across the state.
"I'd ask Mayor Hogsett why he isn't lobbying," Lannan said. "[Merritt] has done several things to advocate for the city."
Reimbursing for damage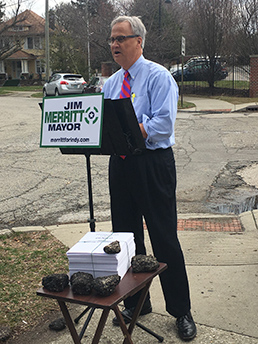 At a press conference, Sen. Jim Merritt criticized the Hogsett administration for not reimbursing many drivers for pothole damage. (IBJ photo/Hayleigh Colombo)
Merritt said that, if he becomes mayor, the city will do a better job reimbursing residents who've suffered pothole damage.
"If you have a claim and the city is negligent, we will order that claim be paid," he said, promising to "throw out this archaic system we have."
But city officials say they are simply following a process set out in state law when they decide whom to reimburse.
"The process is the same and the standards are the same for the state, as well as on highways and state-owned roads and every county, city and town that builds roads," said Andy Mallon, corporation counsel for the city. "We don't do anything different than anybody else does."
Under Indiana's tort claims statute, drivers who believe the city is at fault have 180 days from the date of an incident to file a tort claim, a first step that must come before the filing of a lawsuit. The city, in turn, has 90 days to respond. In that span, city employees investigate the claim.
It's true that the city has "discretion on which claims we settle," Mallon said, but it only does so "where it's clear we've done something wrong."
The city would "rather spend resources on fixing things than just paying every claim that comes in," he said. That would likely result in the city's paying for false claims, he said.
"The mere existence of a pothole isn't something the city has screwed up," Mallon said. "You have to show … that we knew about it, had the opportunity to fix it, and then we just didn't."
Lannan said that, as mayor, Merritt would "utilize those relationships" gained at the Statehouse over the past three decades to change the tort claim process.
Asked why Merritt didn't file a bill this year to address the issue, while he remains a senator, Lannan said Merritt "was laser-focused on re-election at the time."
'The basics'
Helmke said Merritt's attacks on the upkeep of city roads is really an attack on Hogsett's overall competence.
"It basically raises the question of, is the city doing a good job with the basics?" Helmke said. "The only thing worse than potholes is if a blizzard comes."
Lannan said that, in the coming months, Merritt's campaign will move beyond potholes to challenge other aspects of Hogsett's record.
"It's the basic duties of the mayor–plow roads, pick up trash, fill potholes," Lannan said. "There's where we feel we've been let down."
But even some Republicans caution against drawing too many parallels between the voter unrest that swept Ballard into office and unrest today.
"It was a different time," said John Cochran, who was Ballard's campaign manager in 2007. "I've heard people who say there are similarities. That's true to an extent. The transportation issue is something people see every day, and they're constantly reminded of it. But it's a slightly different issue than the tax issue. People were paying a lot more money than they had expected to. The magnitude of that was greater."
It's early, Cochran said, but in 2007 he remembers an "enormous amount of grass-roots support from folks that weren't necessarily activists."
"The City-County Council meetings were packed that summer," he said. "It was just very tangible. I don't know if I see that now."
Hogsett's campaign also might be more prepared to weather the attacks than Peterson's was, Republicans say.
The grass-roots nature of the Ballard campaign "kind of caught [Democrats] by surprise," said John, the former county party chairman. "I wouldn't expect to surprise the Hogsett campaign."•
Please enable JavaScript to view this content.