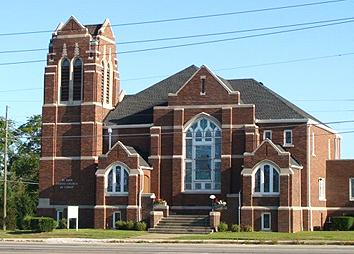 Local developers last week received approval for $107,000 in tax breaks for a $10 million project now under way that would preserve a historic, far-east side church and create 60 units of senior housing on its grounds.
Plans for the redevelopment of the former St. John United Church of Christ building and grounds in Cumberland have been in the works since 2016 but were delayed for about two years while the developers awaited federal affordable housing tax credits. They were awarded nearly $900,000 in credits in 2018.
Last week, the Indianapolis Metropolitan Development Commission approved two real property tax abatements for the project that will save about $107,000 over 10 years.
TWG Development LLC and T&H Investment Properties are partnering on the project, which entails investing $8.5 million in the construction of the 60-unit senior housing project. It will be constructed directly north of the vacant church on the northeast corner of German Church Road and East Washington Street, west of Marion County's border with Hancock County.
In addition, another $1.5 million will be spent for preserving the church, which will be separate from the housing complex.
German Church Senior Apartments, whose units will average around 875 square feet, will be available to low-income seniors. The development will include a fishing pond, a fitness center, community gardens, a walking trail and a dog park, along with other outdoor amenities.
Work on the project began last week, with plans to complete construction within "12 to 14 months," said Johnathan Ehlke, development director for TWG.
Ehlke said there are talks under way to make the church building a headquarters for a local not-for-profit, but he declined to comment further.
T&H Investment Properties made the request for tax abatements on the project. T&H officials did not respond to IBJ's request for information on the partnership and ownership of the development, and Ehlke forwarded related questions to T&H.
According to a staff analysis from the city, the abatements would save $77,208 in real property taxes on the senior apartments over 10 years and $29,947 in real property taxes on the improvements to the church. T&H still would pay about $246,000 in real property taxes over the course of the abatements, and then about $48,500 annually afterward.
The last service at the Tudor Gothic Revival-style church was in October 2016, following a steady, steep decline in membership. The first church on the site, once known as Deutsche Evangelische St. Johannes Kirche, opened in 1855, but the current structure was built in 1914.
Efforts to save the church building have been ongoing for several years, with TWG agreeing to buy the building and land in September 2016, contingent upon it securing the federal tax credits.
The project has received other forms of assistance, including $50,000 from the town of Cumberland; $25,000 from Indiana Landmarks; $500,000 from Indianapolis, in the form of federal HOME funds for low-income housing; and $25,000 collectively, from more than 100 individual donors.
Please enable JavaScript to view this content.