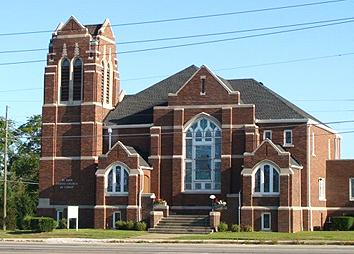 After a drawn-out drama concerning the structure's fate, a local developer has agreed to purchase the St. John United Church of Christ building in Cumberland and plans to convert the historic structure into senior housing.
TWG Development LLC, along with the town of Cumberland and the city of Indianapolis, on Wednesday announced the deal, contingent upon the awarding of affordable housing tax credits for the project.
Recipients of the next round of federal credits are scheduled to be announced in February.
TWG's agreement with the congregation to buy the building and adjoining land could end months of uncertainty surrounding the future of the historic church structure at German Church Road and Washington Street.
For more than a century, the land in question has been the site of the Tudor Gothic Revival-style church, which once was known as Deutsche Evangelische St. Johannes Kirche. It opened in 1855, initially serving German immigrants who farmed the surrounding area. That structure was replaced later that century, and the current building opened in 1914.
Amid dwindling membership, the congregation in October conducted its last service in the church. It meets at a temporary site, the Muesing Activity Center at Prospect Street and Carroll Road, until funds can be raised to build a new and smaller church.
Officials had said they would likely demolish the building to make the property more attractive to sell.
A previous agreement to sell the land and building to Giant Eagle Inc. fell apart in July 2015, when the Pittsburgh-based company said it wouldn't pursue plans to knock down the church to build a Get-Go gas station and convenience store on the site.
TWG's plans call for 60 income-based senior units and retail.
The city of Indianapolis and the town of Cumberland said they both will provide financial incentives to support the project.
 
Please enable JavaScript to view this content.