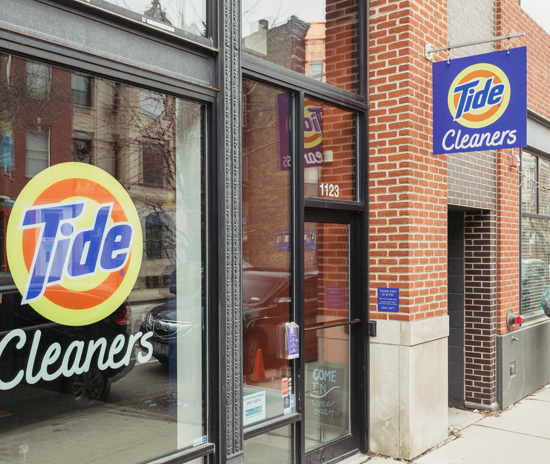 The best-known name in washing machine detergents is about to arrive in Indianapolis with its latest line of business—dry cleaning and laundry franchises.
Tide Cleaners, a fast-growing subsidiary of Cincinnati-based Procter & Gamble, plans to open five area franchised locations within the next few months after acquiring all four Deering Cleaners Downtown stores and the sole location of Meridian Heights Cleaners.
A franchisee team consisting of brothers Jon Shuel and Mike Shuel bought the five cleaning businesses in February and has been working to convert them to Tide Cleaners stores behind the scenes. A full switchover is expected to take place in June or July.
The four Deering Cleaners Downtown sites are at 602 N. Capitol Ave. and 3838 N. Illinois St. in Indianapolis; at 14753 Hazel Dell Parkway in Noblesville; and at 640 S. Main St. in Zionsville.
Meridian Heights Cleaners is at 4915 N. Pennsylvania St. in Indianapolis.
The Shuels acquired the Deering Cleaners Downtown locations from Greg Rankin, who has owned the business since 2003. Meridian Heights Cleaners was acquired from Rankin and other owners.
Financial terms of the transactions weren't disclosed.
The Shuels aren't strangers to bringing new franchises to Indiana. The brothers opened the only MacKenzie River Pizza Grill & Pub franchise in the state in 2011.
The 7,200-square-foot restaurant at 82nd Street and Allisonville Road in Indianapolis is one of 28 franchises in the nine-state chain, which is owned by Montana-based Glacier Restaurant Group.
The Shuels plan to maintain all 50 or so full-time and part-time Deering and Meridian Heights employees after the conversion to Tide Cleaning.
Procter & Gamble, a multinational consumer goods corporation that had $67 billion in revenue last year, founded its laundry franchising unit under the Tide Dry Cleaning name in 2008 and slowly began adding stores.
Growth has picked up in recent years, with more than 30 stores opening in 2016. There are now 128 Tide Dry Cleaning stores nationwide in 18 states. The nearest locations are in Ohio, Illinois and Michigan.
In addition to Tide Dry Cleaners stores, Procter & Gamble has several hundred Tide-branded stores that offer a range of laundry services. The company said Feb. 19 that it was moving all of its dry-cleaning and laundry-services stores to the Tide Cleaners name. P&G said its goal is to double "the size of its current out-of-home laundry footprint by the end of 2020, making Tide Cleaners' services available in more than 2,000 locations nationwide."
Those services include app-operated 24-hour drop boxes in apartments, offices and retail centers, 24-hour stores, valet drop-offs and on-campus van delivery.
Jon Shuel said he could envision his team eventually operating 10 or more Tide Cleaners stores throughout the Indianapolis area. Future stores could be opened through acquisitions of existing cleaners or brand-new locations, he said.
Shuel said the Tide name provides an instant advantage with customers because it has 94 percent brand awareness and a likeability score higher than Starbucks and Chick-fil-A.
"We're really excited to be bringing the Tide Cleaners brand to Indianapolis," he said.
Please enable JavaScript to view this content.